I've been enjoying a lot of afternoon iced AeroPress flash brews as the weather warms. I love mixing new flavors with the coffee from boozy additions to various mocktails. One flavor combination I seem to always come back to though is citrus and coffee. If paired properly it is incredibly refreshing and perfect for a hot summer afternoon. This recipe is my primary iced AeroPress recipe I use with an added infusion of orange.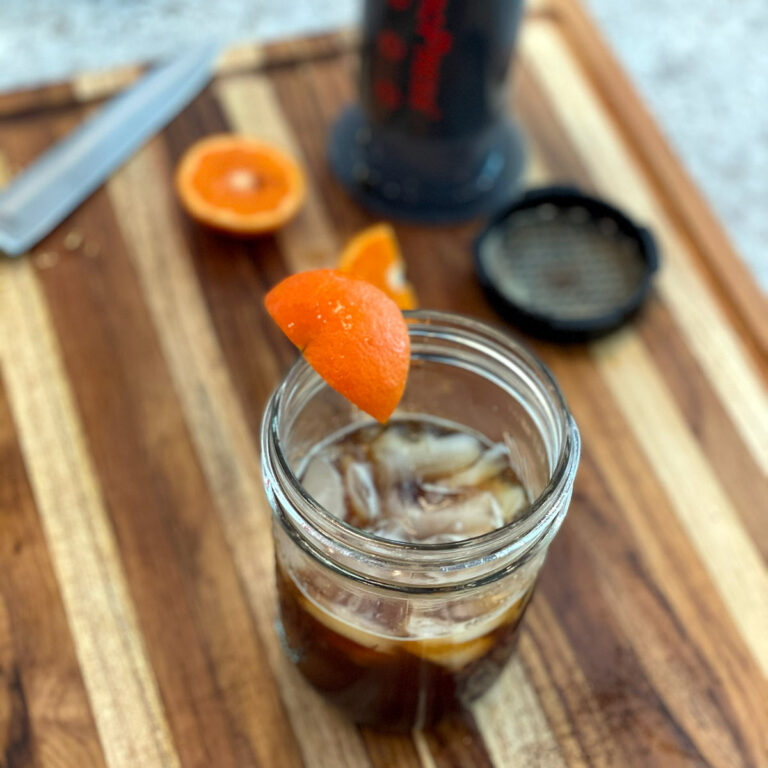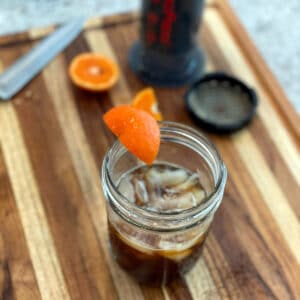 Orange-Infused Iced AeroPress
Crisp and refreshing this citrus-infused iced coffee recipe is easy to make and perfect for any summer afternoon.
Ingredients
20

grams

coffee

ground medium fine

150

grams

ice

150

grams

water

1

orange
Instructions
Grind coffee to medium fine consistency (~18 on a Comandante, ~2 on an Ode, ~ 40 on a Niche).

Add filter to cap, pre-wet the filter and prepare AeroPress in the upright method.

Slice the orange down the center (2-3cm thick) and add slice to the bottom of the AeroPress on the paper filter.

Add 150g ice to the cup you plan to brew into.

Place AeroPress on top of cup in the upright position and add coffee to AeroPress cylinder.

Add 50g 210°F (99°C) water to cylinder and stir aggressively 10x.

At 30s add the additional 100g of water and stir slowly.

Wait until 1:30-1:45 and slowly push down into cup.

Slice the remaining orange half into quarters. Squeeze one quarter into the coffee (to taste) and rub around the rim of the glass. Garnish with the other orange quarter, swirl and enjoy!
Notes
Make sure your orange is smaller than the AeroPress chamber. I found mandarin oranges or tangerines work well size-wise.

More robust, chocolate-profile coffees with some citrus notes pair best with the orange/citrus.

The orange notes are minimal with only the slice, which is why I added the squeeze of orange juice. If you prefer less orange, you can remove the squeeze of orange juice.The orange garnish and rub around the rim helps accentuate the orange flavor too, so you can remove that too.