I'm always looking for fun new ways to mix flavors around the house with my coffee and with fresh mint growing in my garden and fresh-picked strawberries in the fridge from a family outing at a local farm, I knew I had some experimenting to do. The end result is an incredibly refreshing mocktail that is perfect for any sunny afternoon.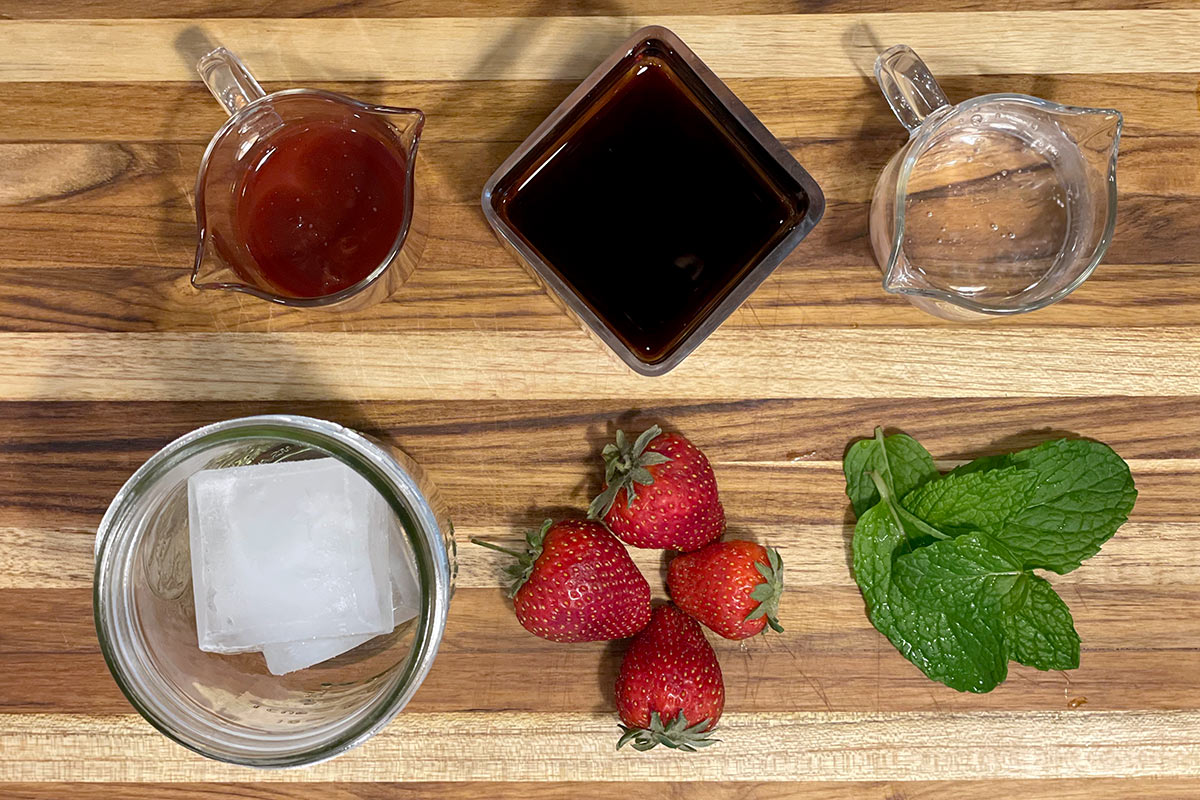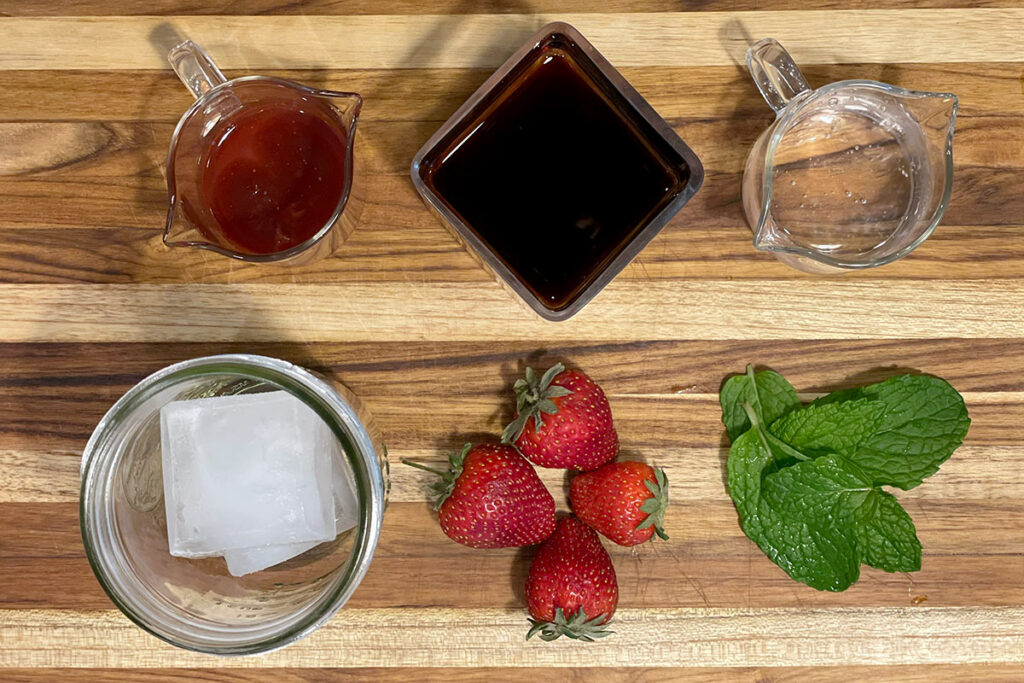 How to Make the Cold Brew
The key ingredient for this recipe is the cold brew, which is the dominate flavor of the drink. I've made many cold brew cocktails where the coffee flavor is completely lost, which I didn't want to do here. The strawberry and mint are featured, but the cold brew is still the star of the show. For that reason, you want to make sure the cold brew you use is a good one. You can purchase cold brew concentrate, but it is incredibly simple to make. I recently shared an entire article on how to make cold brew coffee. For this recipe, I prefer a stronger cold brew (almost a concentrate) to hold up a bit better to the dilution with the sparkling water.
How to Make the Strawberry Simply Syrup
The only ingredient in the recipe that requires a bit of clarity and extra work is the strawberry simple syrup. I made mine by roughly cutting up about a cup of strawberries and mixing them with a half cup of sugar in a stove pot. I then mashed the strawberries and mixed with the sugar over low-medium heat for 5-10 minutes until it was fairly soupy. I then strained the mixture to only get the liquid (no one wants mushy chunks of strawberries in their drink!).
Another option to make the strawberry simple syrup is to put strawberries in a food processor and puree. Strain them and mix one part strawberry juice with one part sugar. You may need to heat slightly to fully dissolve the sugar though.
Experiment with the Ratios
I've come to love this recipe because it is so flexible. The ratios I include are really suggestions. You can add more strawberry simple syrup if you like it a bit sweeter or more mint if you like a stronger mint flavor or more sparkling water if you prefer it a bit more bubbly. The amounts I use are what I came to enjoy most, but there is definitely room for experimentation.
Which Sparkling Water Should You Use?
This recipe will work with any sparkling water. I like Topo Chico because it is the most bubbly sparkling water I've found, which helps add the proper amount of carbonation to the drink with only a little amount of sparkling water—any brand will work though. If you want to preserve the taste of the coffee as much as possible, I'd recommend going with an unflavored water. For a stronger strawberry taste or to mix in an additional flavor, you can use a flavored sparkling water though.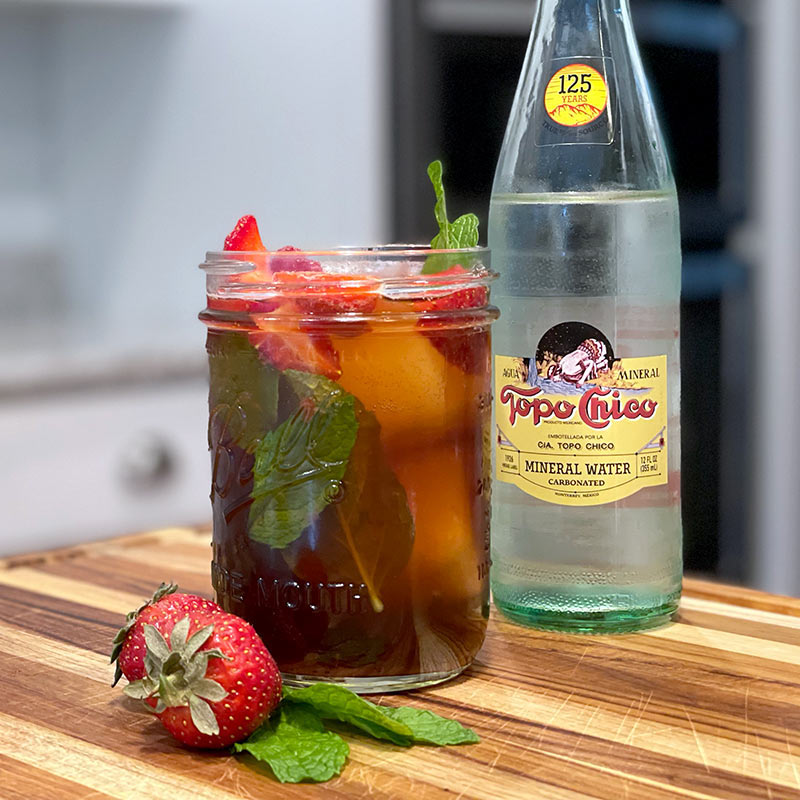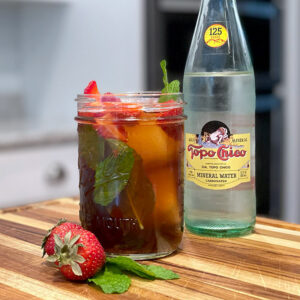 Strawberry Mojito Cold Brew Cocktail
An incredibly refreshing mocktail featuring a perfect blend of smooth cold brew coffee, fresh strawberry flavors & a minty aroma that is perfect for any sunny afternoon.
Ingredients
1

oz

strawberry simple syrup

6

leaves

mint

3

ice cubes

large

4

oz

cold brew

strongly brewed

2

oz

sparkling water

2

strawberries
Instructions
Add strawberry syrup and mint leaves to bottom of glass.

Muddle strawberry syrup and mint gently with a spoon. The goal is to "activate" the mint while keeping the leaves in one piece.

Add ice cubes to glass. I prefer larger ice cubes because they melt slower and help keep the mint leaves at the bottom of the glass.

Add cold brew coffee to glass.

Add sparkling water to glass and give the glass a little stir.

Cut strawberries and add to the top of the glass with a few mint leaves for garnish.
Notes
For a stronger strawberry taste, you can use a strawberry or other berry-flavored sparkling water.
You can also infuse more of the mint and strawberry flavor by making the full drink (except for the sparkling water) a few hours (or up to a day) before you plan to drink it. This gives the mint and strawberry more time to infuse into the coffee. When you are ready to drink, pour into a glass, add ice cubes and add sparkling water on top.