A few weeks ago Ovalware sent a few of their pour over coffee products for me to review. There was no additional compensation received and all opinions below are my honest review of the products.
---
Ovalware makes high-quality, speciality coffee products which include kettles, cups and brewing equipment. I recently had the opportunity to try out some of their pour over equipment including their Pour Over Coffee Maker (with filter), their Pour Over Kettle with Built-in Thermometer and their Double Wall Tasting Glass set.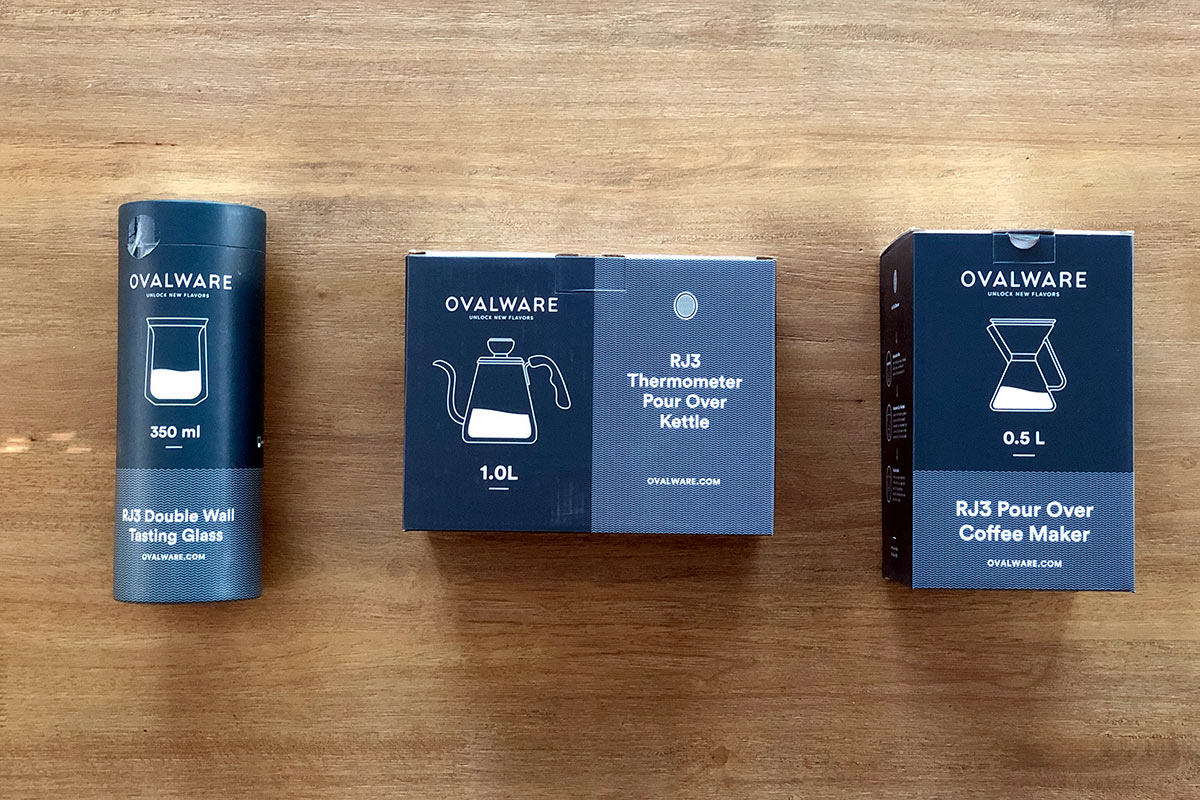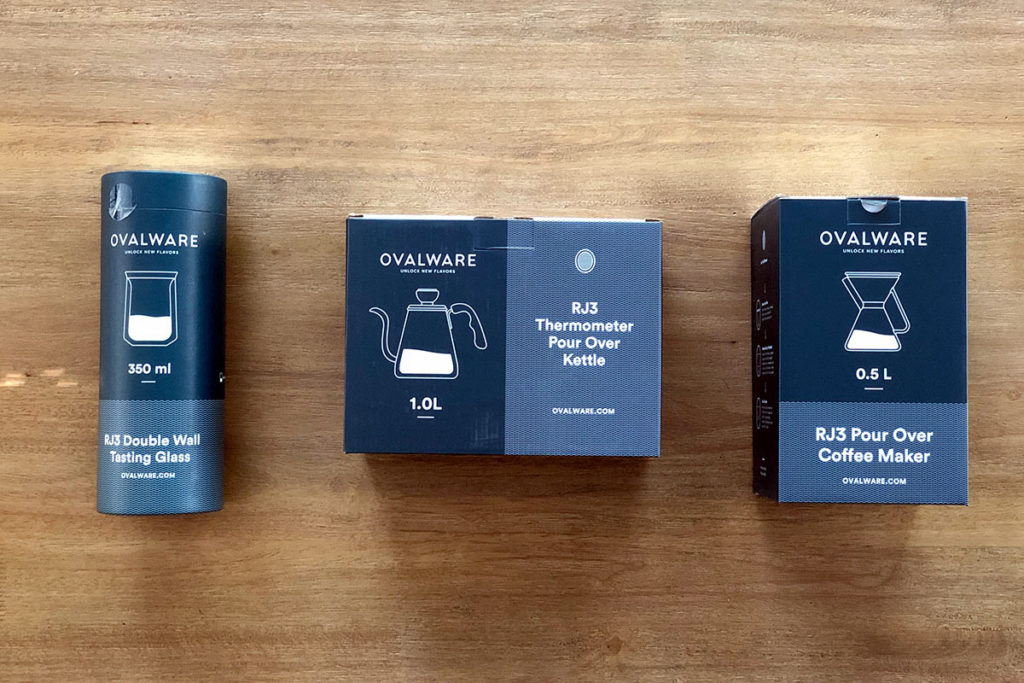 First Impressions
As a designer, I am always impressed when not only the products are well designed, but the packaging they come in is as well. I was immediately impressed with the well-designed packaging for each of the Ovalware products. They were not only clean, but also informative about the product and how to use it.
After opening each of the products, I was also impressed with not only the design of each of them, but the quality. Even though two of the three of them are primarily glass, they felt well-constructed and durable (many glass products feel like they could break at any time and I didn't have that initial impressions from these).
---
The scoring above is a aggregate of all three products. Below I break down in a bit more detail my thoughts about each product independently.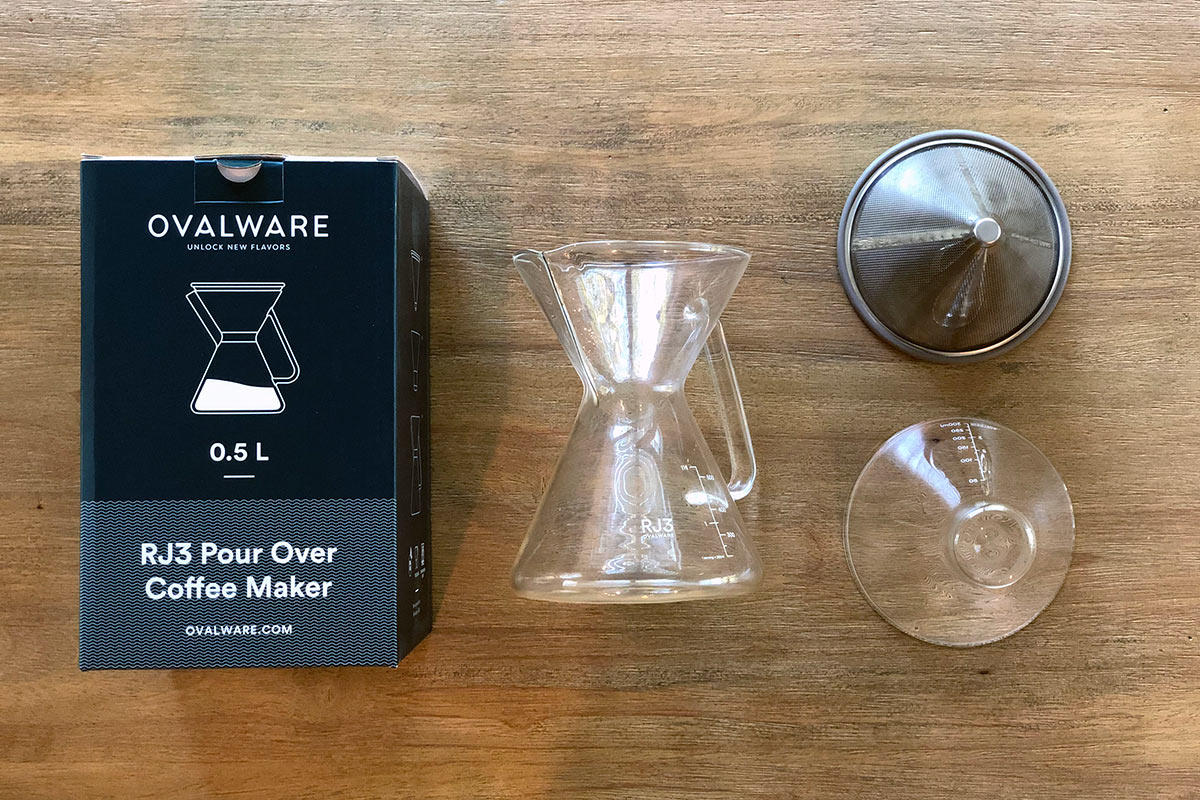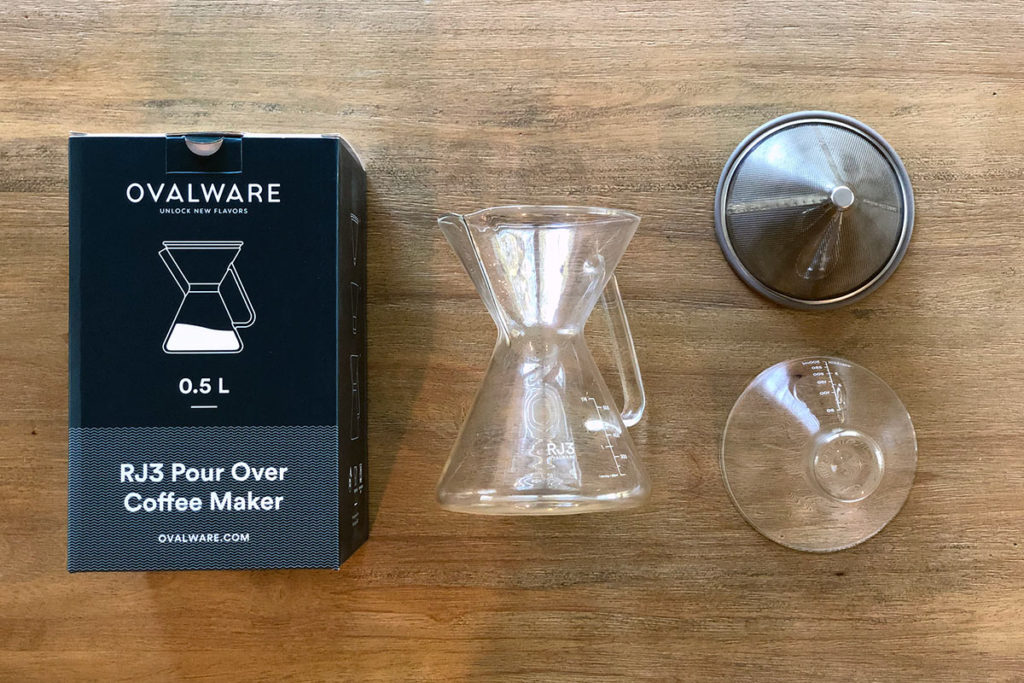 The Pour Over Set
The pour over set comes with the carafe, the measuring cup and the optional stainless steel filter.
The Carafe
The carafe is similar to a Chemex coffee maker, but includes a glass handle. It holds around 500mL (~16 fl oz) (and maybe a bit more), which is the perfect size for an individual or couple. It wouldn't work for a group larger than two people though, so if you're looking for a larger batch brew, this wouldn't be the best option.
The carafe is also dishwasher safe, which makes it super easy to clean (I've kept it on the top rack to be safe).
The Measuring Cup
I initially thought I wouldn't use the measuring cup at all because I already have a method of measuring out coffee. After a few brews though, it quickly became a favorite attribute and why I found myself choosing to use the Ovalware over my Chemex. The two main reasons I've come to love the measuring cup are:
It acts as a great lid and heat-retainer. I always drink my coffee slowly throughout the morning and never microwave it. As a result, I am always looking for ways for it to stay warm as long as possible. The measuring cup acts as a great way to keep some of the heat from escaping as I poured out from the carafe throughout the morning.
It acts as a great protector for the filter. The filter is awesome (see more below), but is a bit fragile. Storing the filter in the measuring cup (they fit perfectly together) helps protect the filter and makes sure it doesn't get dented or damaged between uses.
The Filter
This was another piece I wasn't sure how much I would use since I have been disappointed with metal reusable filters for the Chemex in the past (which is why I usually just opt for paper filters). This filter has a nice lining on the outside though that gives you the cleanliness you want in the coffee, while still allowing more oils to get through for a richer cup of coffee. It also is incredibly easy to rinse out and clean. I did find small amounts of sediment at the end of each batch, but much less than usual with a metal filter.
---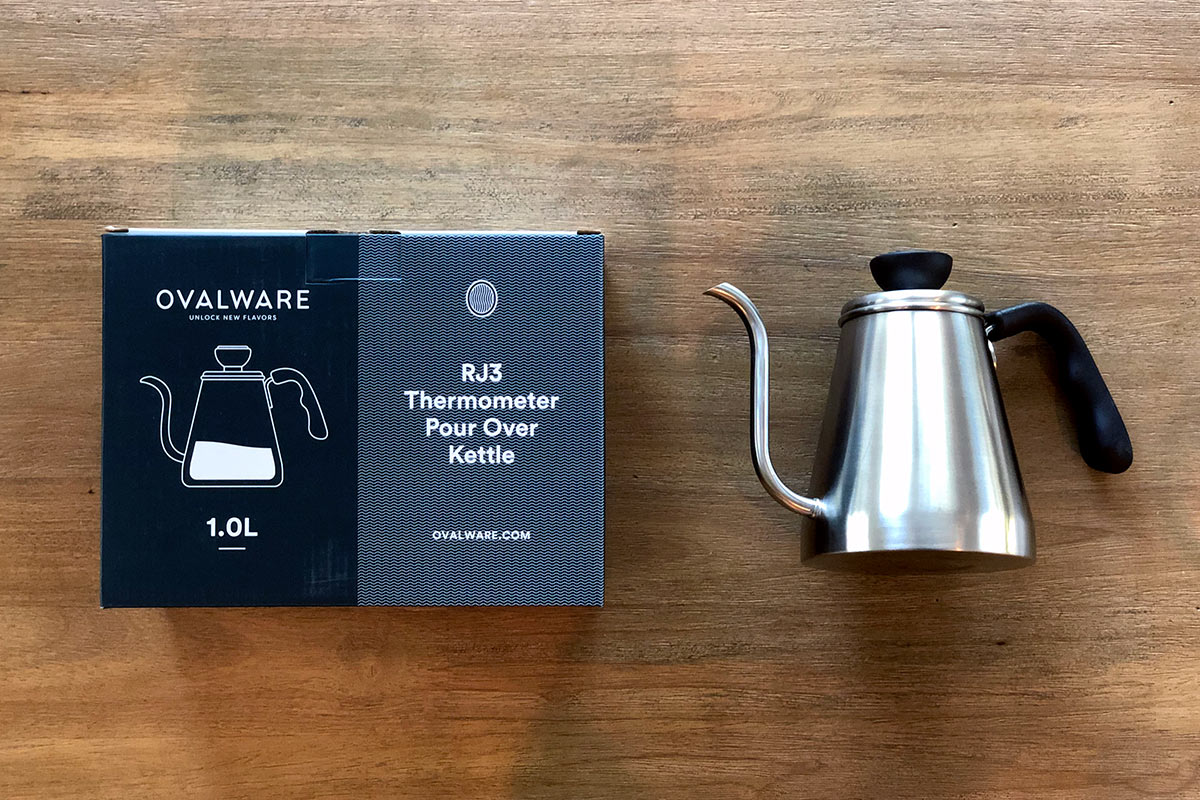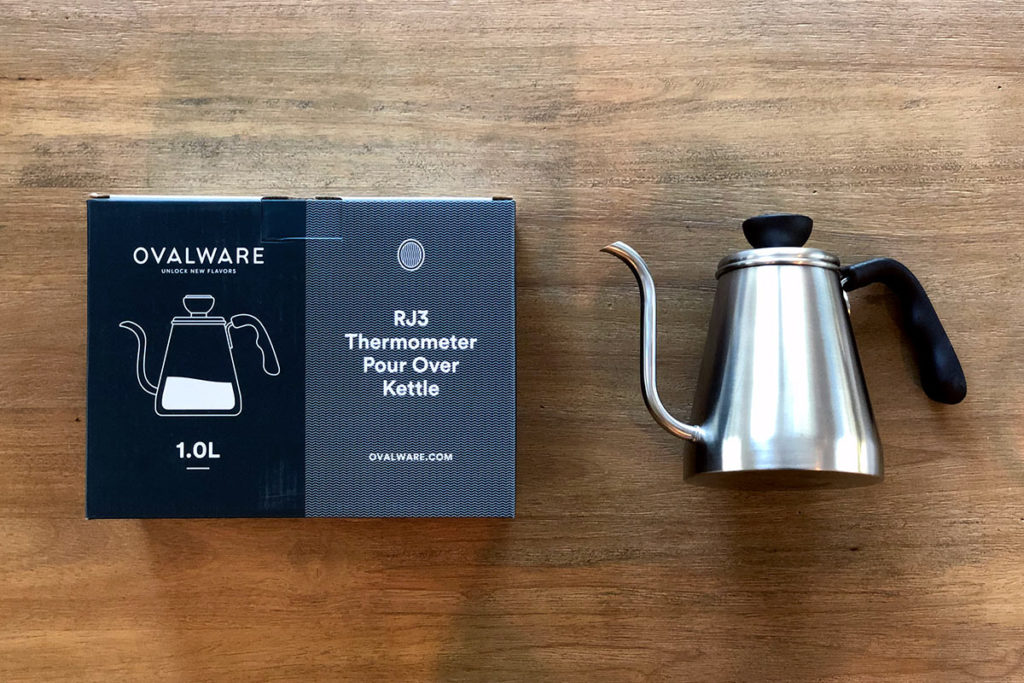 The Pour Over Kettle with Built-in Thermometer
This kettle is the real deal. It is heavy-duty stainless steel and is incredibly durable. It can be used on everything from your electric stovetop to an outdoor campfire. I usually use a digital kettle that has a specific temperature reading, so I wasn't sure how I would like the temperature dial. It has clear designation though for when you are within the "window" of temperatures for pour over coffee. This makes it easy to get your water to the exact temperature you need. The only two issues I had with it were:
It is fairly small. It fits the perfect amount of water for the companion pour over carafe, but not much more. If you need to make coffee for more than 1-2 people, it probably won't be large enough.
It doesn't have a way to hold the temperature. I am used to a kettle that allows you to set a specific temperature and it will hold that temperature until you are ready to use it. With three little kids, my mornings are usually a bit crazy, so there is sometimes 20 minutes between starting the water and pouring it for coffee. I missed not having the "set it and forget it" option on this kettle. (Though even if it did boil, it got back down to the appropriate range quickly, so it wasn't a big deal.)
---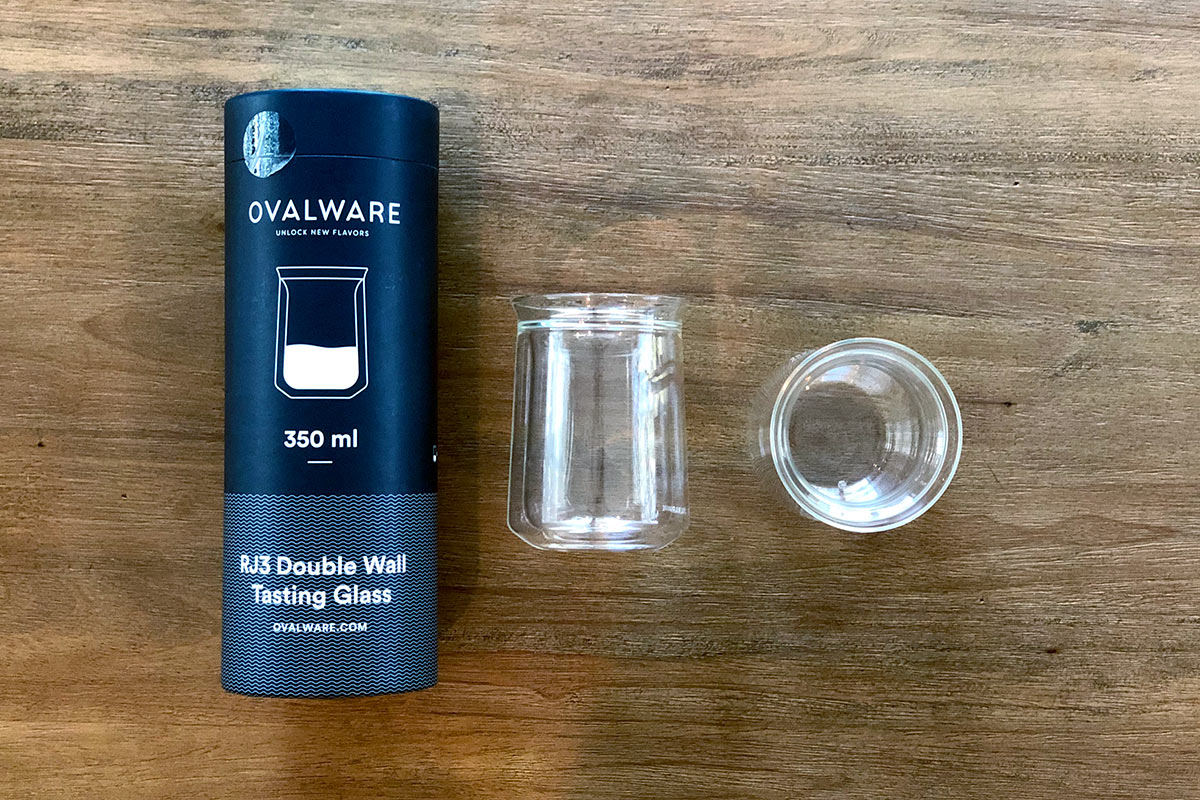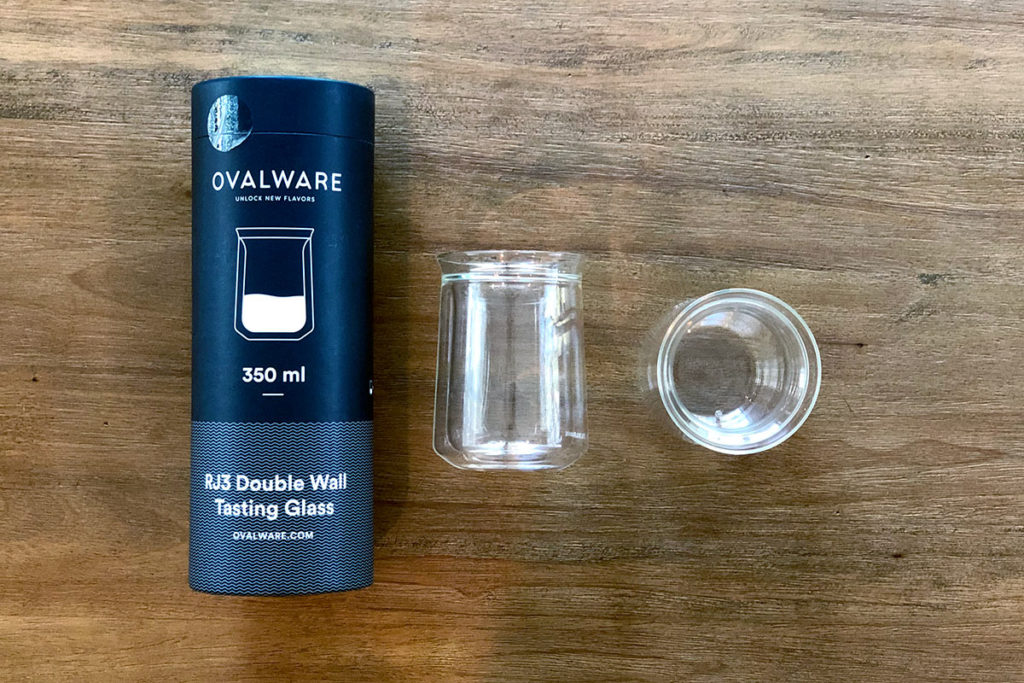 Double Wall Tasting Glasses
The tasting glasses have become my new favorite way to drink coffee. I was surprised how well they are insulated, so even newly poured coffee isn't hot to the touch at all. They work incredibly well for cold drinks too (and have become my favorite glasses for my afternoon iced latte or cold brew). The only issue is how delicate they are. Because they are made of glass, you need to be careful not to drop or bang them or they could easily chip or shatter.
While the above pour over set and kettle are really nice, they probably don't make sense for someone to purchase if they already have a Chemex or a gooseneck pour-over kettle. These glasses though are worth getting for any coffee or tea drinker, I think.
The Bottom Line
I have been incredibly impressed with each of the three products Ovalware sent over for me to try. They are all well-designed and made with quality craftsmanship. As long as you are okay with glass products that are a bit more fragile, I think these are a beautiful and functional additional to any coffee lovers collection.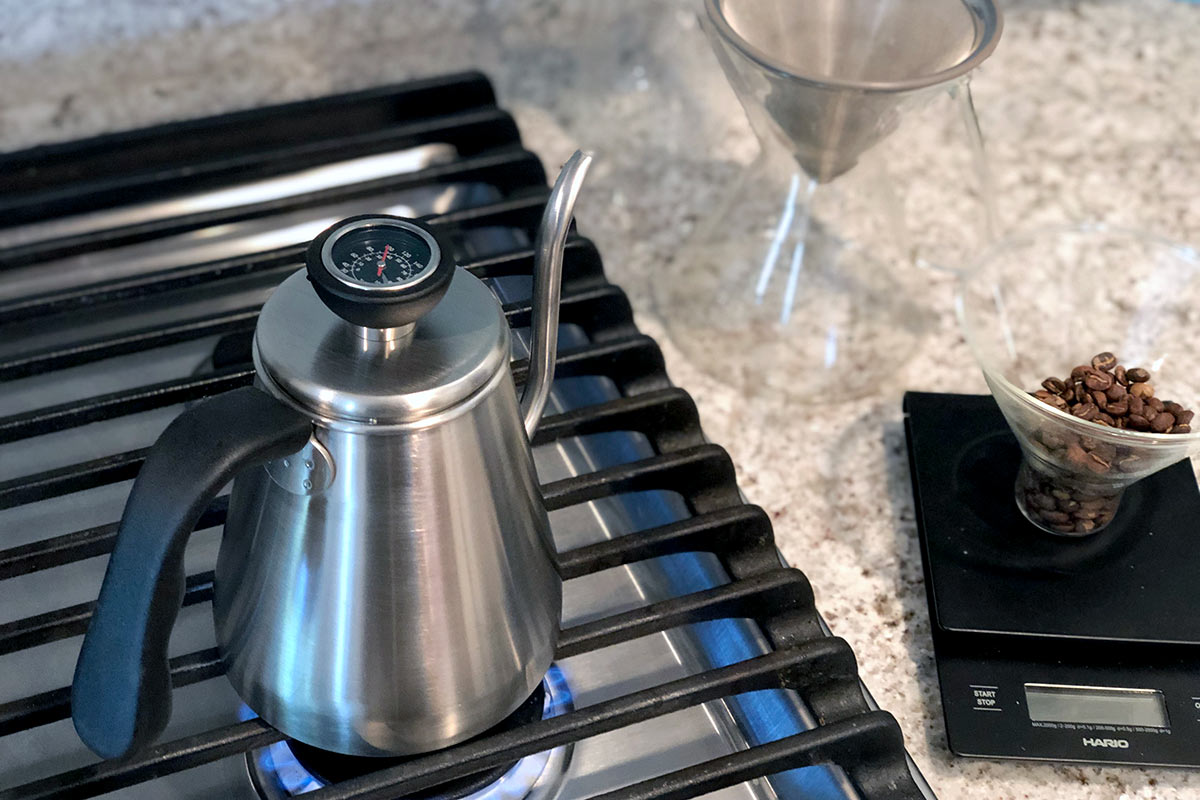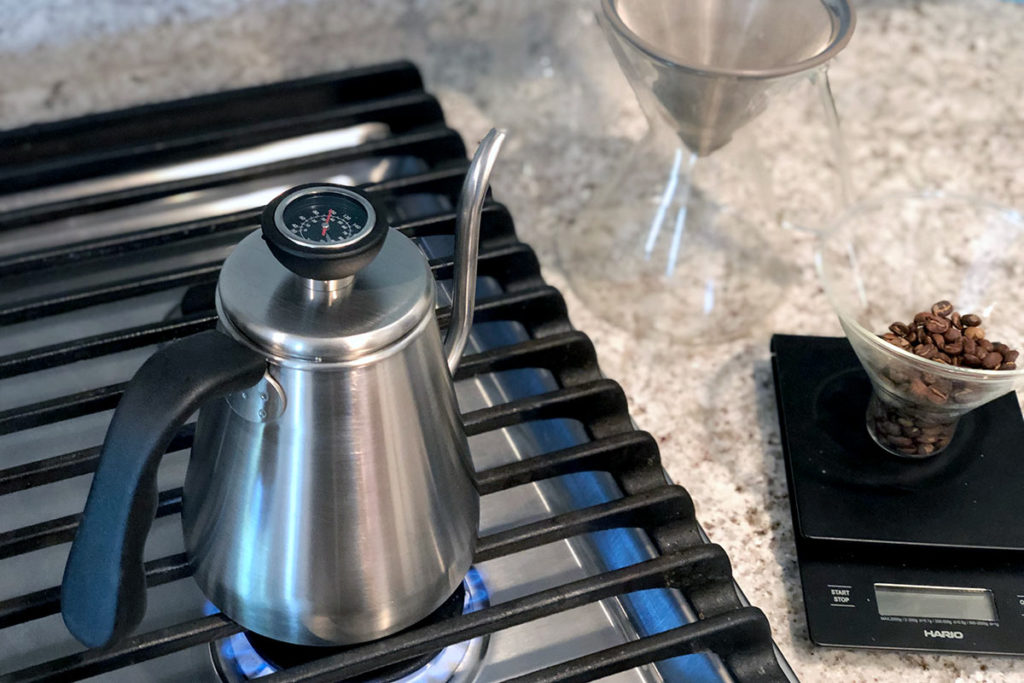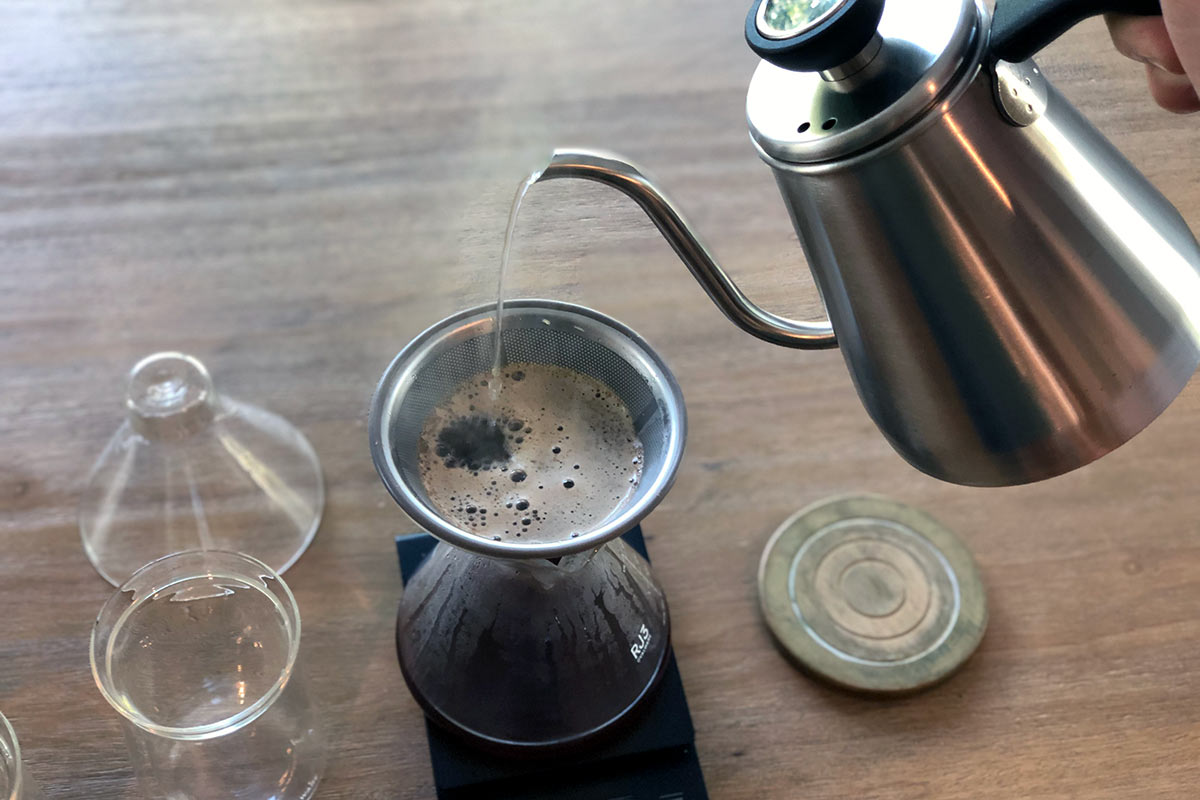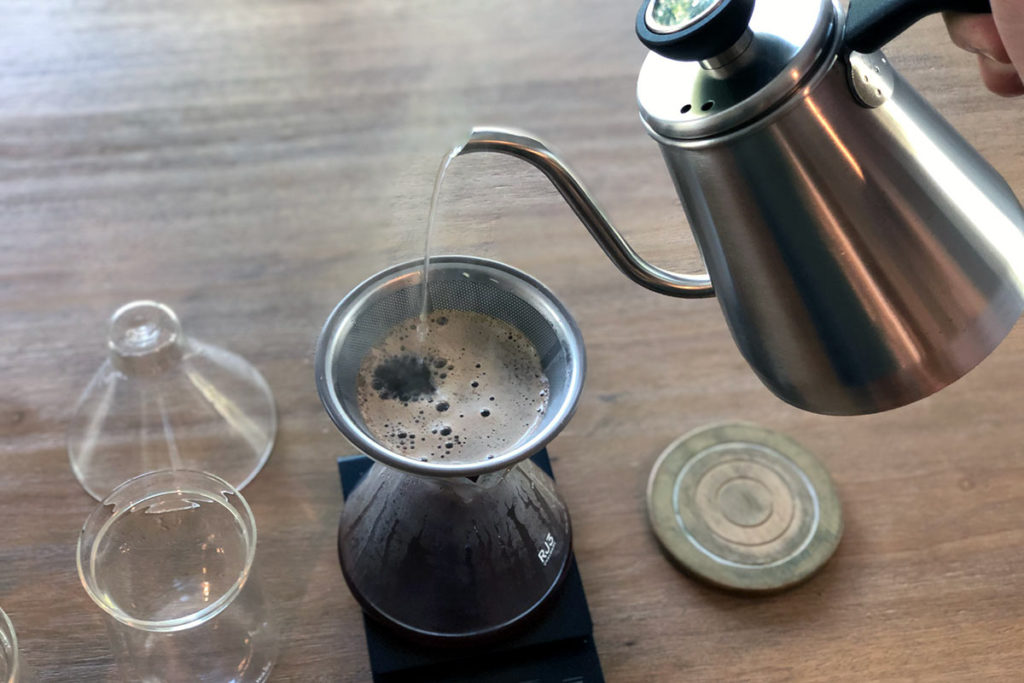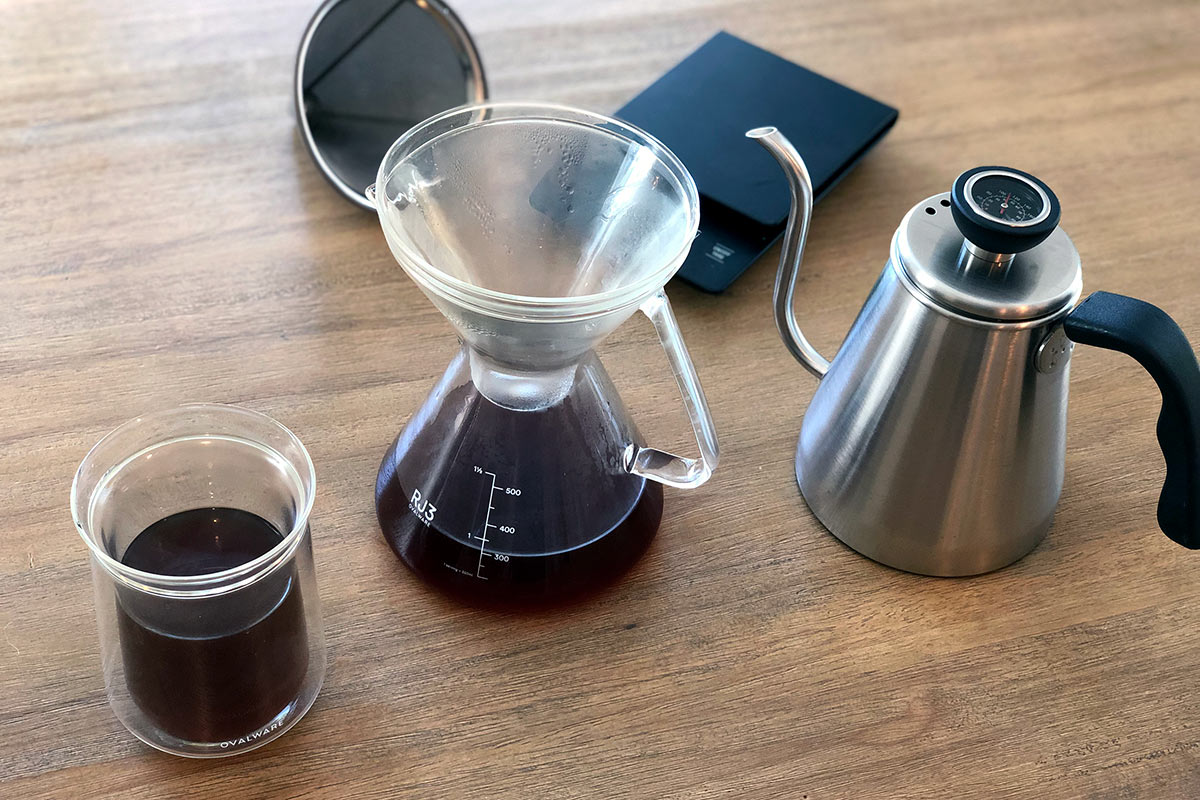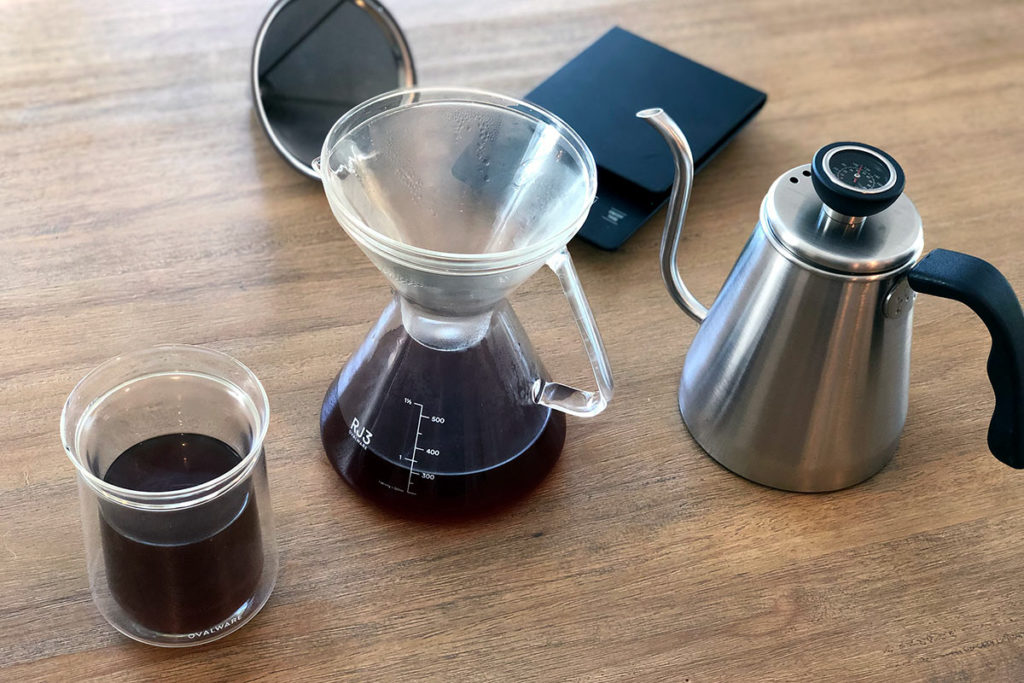 ---
A few weeks ago Ovalware sent a few of their pour over coffee products for me to review. There was no additional compensation received and all opinions above are my honest review of the products.