Disclosure: Pull & Pour received this product free of charge to review for this post. I received no other compensation and as always, all opinions are 100% my own.
About the 1Zpresso K-Plus Manual Grinder
The K-Plus is a manual hand grinder from 1Zpresso. It is a premium hand grinder that has a stainless-steel heptagonal conical burr and is made of wood, polycarbonate, silicone, stainless steel, and aluminum alloy. It was a Red Dot Design Award winner in 2018.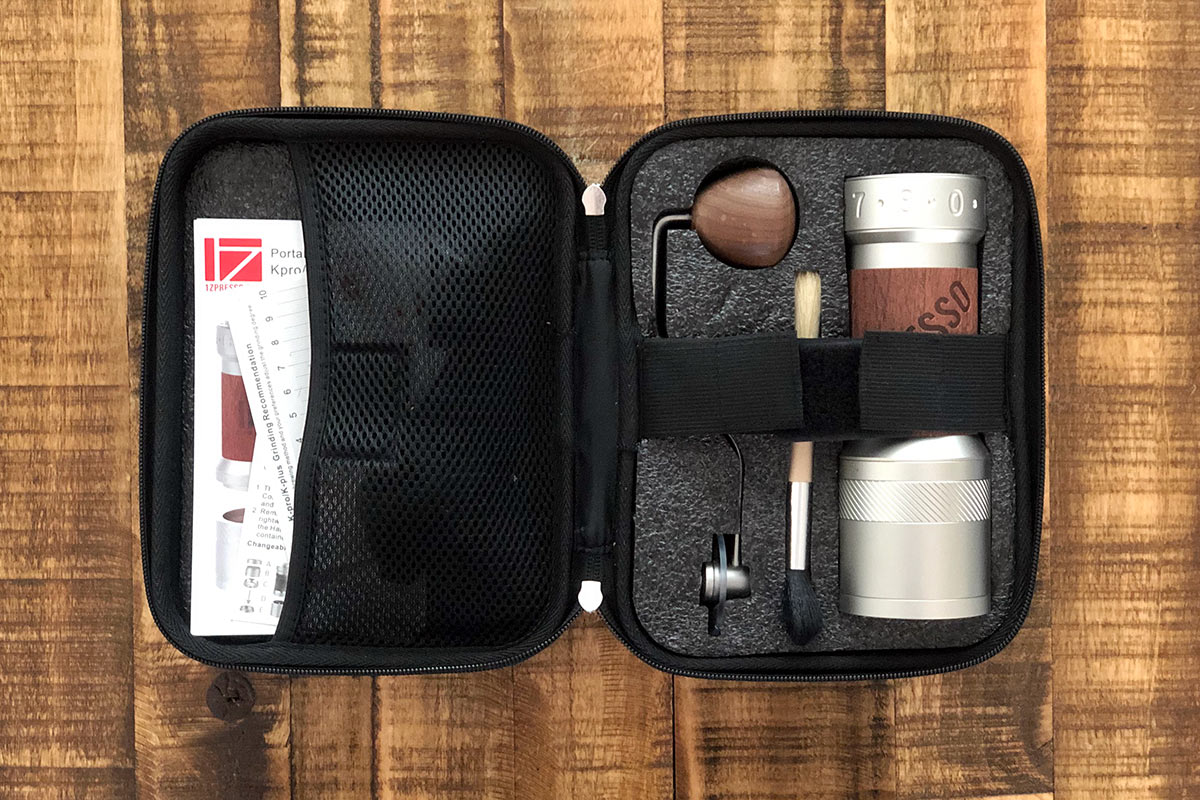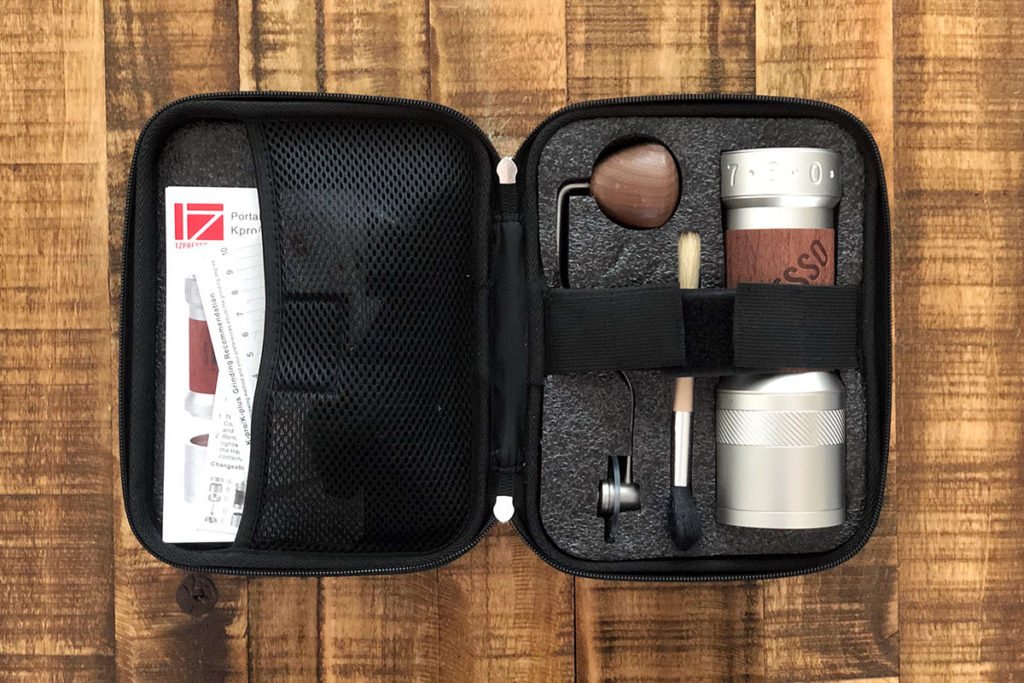 First Impressions and Unboxing of the 1Zpresso K-Plus Grinder
Inside the outer box, the grinder comes well-packaged in a simple, black carry case. Each component of the grinder has its own compartment to keep it safe during travel. Within the case came the 1Zpresso K-Plus grinder (body + handle), a cleaning brush, a cleaning blower, and anti-slip rubber bands.
I recently purchased another premium hand grinder and was disappointed it did not come with any sort of case for traveling or way to clean the grinder, so I was impressed this one came with not only a great case, but also brushes and a blower to keep it clean.
The materials felt high quality and upon picking it up, I was surprised with the weight of it (around 1.7 pounds (800 grams)). From my initial impressions, it seemed very well made. As a designer, I was a bit turned off by the oversized logo spread across the body and the extremely large numbers on the adjustment ring (which turned out to be very functional when adjusting the grind), but those are simply aesthetic items.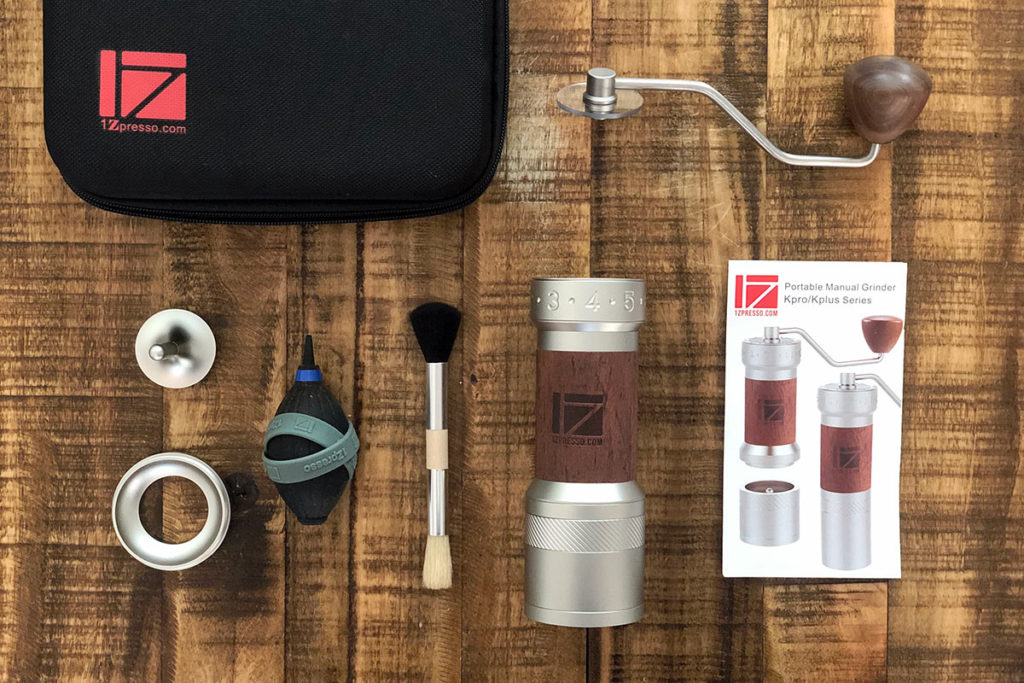 Cost
The K-Plus grinder sells for $259. This is definitely in the premium category for hand grinders and one of the more expensive hand grinder options available on the market.
The K-Plus is the top of the line for 1ZPresso though. Their K-Pro is $229 and their J-Series begins at $139.
Quality
The K-Plus grinder is clearly made from high-quality materials (wood, aluminum alloy, stainless steel, etc.). The most important piece of the grinder though are the burrs. The K-Plus grinder uses stainless steel heptagonal conical burrs and a 10mm central shaft with secure fixing between the burrs and the central shaft. It has over 90 "clicks" to adjust from a fine to coarse grind with each click shifting the grind by 22 microns.
The above is a lot of numbers, but at the end of the day, how well the grinder works and how well it is made is what leads to the quality score. I have found the K-Plus grinder to be extremely consistent at the full range of grind settings. From Turkish and espresso grinds to coarser pour over and French Press grinds, the K-Plus delivers a consistent, uniform grind. While many grinders boast of offering the full range of consistent grind settings, few deliver on it and usually fall short at one end of the spectrum. I haven't found that to be the case with the K-Plus grinder though and have used it with almost every type of brew with great results.
Ease of Use
After becoming familiar with the grinder and its various parts, the grinder is extremely easy to use. The numbers around the adjustment ring make it very easy to a) know where you are grind-wise, b) adjust grinds between a more fine espresso grind and more course pour over grind, c) remember exactly what setting works best for each brew method (i.e. espresso is a 3.5).
The cleaning brushes and blower also make it easy to clean day-to-day. More rigorous cleanings are required less frequently and there are instructions on how to dissemble/reassemble and re-calibrate the grinder.
I did lower this score just a bit because the instructions that come with the grinder are not nearly as well-written as they could be. It made the initial learning curve with the grinder a bit steeper than it would have been if the manual was clear, well-written English.
Durability
The K-Plus grinder is extremely durable. As I mentioned in the first impressions section, one of my first reactions to the grinder was how heavy it was. At 1.7 pounds, it clearly has some weight to it and that translates to being extremely durable. While I wouldn't throw it around and dropping it could cause issues with the burrs and grind, I think you'd be hard-pressed to break anything on it. The wood and aluminum body is very sturdy and even the removable handle would be hard to break.
I also scored durability just a bit higher because it comes with the carrying case too. Having a case to protect the grinder increases its durability—especially during travel.
Appearance
While certain elements of the grinder feel a bit garish to me (the huge numbers around the adjustment ring and the big logo across the body), the overall look of the grinder is quite nice. The wood and aluminum exterior creates a great look.
Value
As mentioned in the cost section, the K-Plus is one of the more expensive hand grinders out there and will clearly be out of the price range for many people. That said, I think the value you get for this price is high. The K-Plus creates some of the most consistent grinding for both espresso and pour over. It is one of the few hand grinders that can deliver on both ends of the spectrum, so if you need a grinder to do both and want a high quality grind, the K-Plus grinder is one of your best options and may be more affordable than purchasing two separate less expensive grinders (one for pour over and one for espresso).
Grinding Coffee with the 1Zpresso K-Plus Hand Grinder
Grind Speed
One of the biggest gripes with hand grinders is the time it takes to grind the coffee. Because the K-Plus preforms at such a wide range of grind settings, it's hard to give a single score in this area.
For pour over coffee (7.5-9 range), I was able to grind around 30 grams of coffee (near capacity and a solid 1-2 cups of coffee) in around 30 seconds.
For espresso (2-3.5 range), it was a different story. At this range, it took over much longer to grind around 18 grams of coffee (enough for a double shot of espresso). The time difference between a 2 setting and a 3.5 setting is pretty extreme though. At the 2 setting (very close to a fineness for Turkish coffee), it took almost 5 minutes to grind the coffee (After 5 minutes of turning the crank, I felt like I had gotten a full workout in for the day!). At the 3 to 3.5 setting though (which eventually I found to be the correct range for my Flair Espresso), it only took 1-2 minutes. The longer grind time is not unusual for hand grinders at this fine of setting, but keep in mind depending on how fine you go it can start to take a long time to grind coffee for espresso with the K-Plus.
Grind Quality
This is likely the most important area of this review. A grinder can be a great price, look great and be easy to use, but if it doesn't create a high-quality, consistent grind, it's fairly useless. Luckily, the K-Plus excels in grind quality. As you can see in the photos below, from its finest settings (2 setting and below) to its more coarse settings (10 setting and above), the K-Plus delivers an incredibly consistent grind.
Note: After receiving and reviewing my K-Plus grinder, 1ZPresso let me know that future models will likely have a slightly different shaped outer burr that will be released in May 2020. I have not had a chance to test the new burr, but 1ZPresso claims the consistency and efficiency of the grind will be the same.
Differentiation
Differentiation among hand grinders is a bit tricky because they all essentially do the same thing—grind coffee. The construction and materials used with the K-Plus grinder is similar to many other grinders available. Where the K-Plus does begin to differentiate itself from other grinders includes:
Wide range of consistent grinds: This plays into the score of many other attributes, but also does help differentiate the K-Plus from other, more limited grinders.
Large capacity: The K-Plus grinder can hold 30-35 grams of coffee with each grind, which is larger than many other hand grinders available.
Magnetic catch cup: The canister the ground coffee goes into adheres to the main body with magnets. It is a really nice feature and is unlike many other hand grinders.
Carrying case & cleaning supplies: Including a carrying case and various brushes/blowers to clean the grinder is not the norm when buying even high-end grinders and is a nice touch and added value for the K-Plus grinder.
Flexibility
The main scoring attribute that contributes to the flexibility score for a hand grinder is how wide a grinder's range is for quality grinds. For the K-Plus grinder, that range is extremely wide and allows you to achieve amazing consistency with everything from Turkish to French Press brew methods.
The Bottom Line
Although expensive, the K-Plus grinder is one of the highest-quality hand grinders available. If you are looking for a top-tier hand grinder that can consistently grind anything from espresso and Turkish coffee to pour over and French Press (and everything in between), you'll be hard-pressed to beat the K-Plus grinder from 1ZPresso.