Disclosure: Pull & Pour received coffee samples for this post, however, as always, all opinions are 100% my own.
Overview
Yonder Coffee is a specialty coffee subscription service that features a different roaster from around the world each month.
The Coffees
Note: I received a 50% discount on three shipments of Yonder Coffee for this post, however, as always, all opinions are 100% my own. I received no compensation outside of the product itself.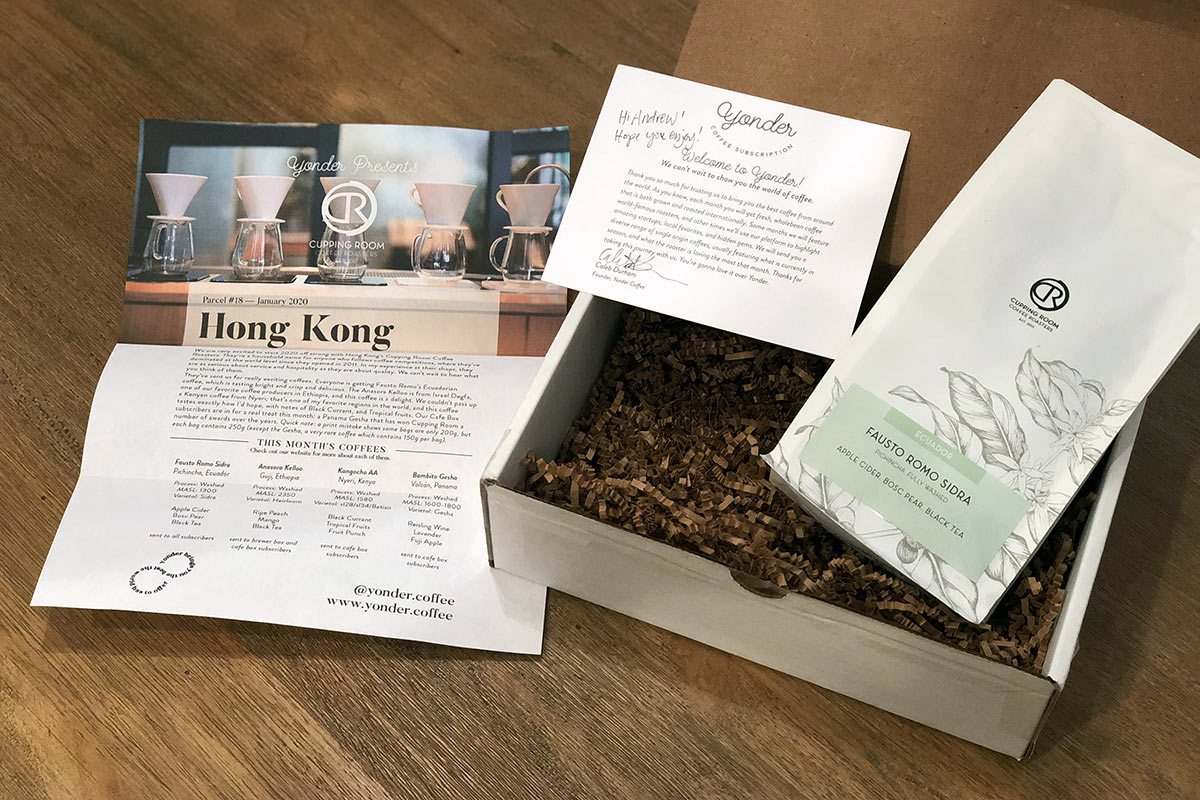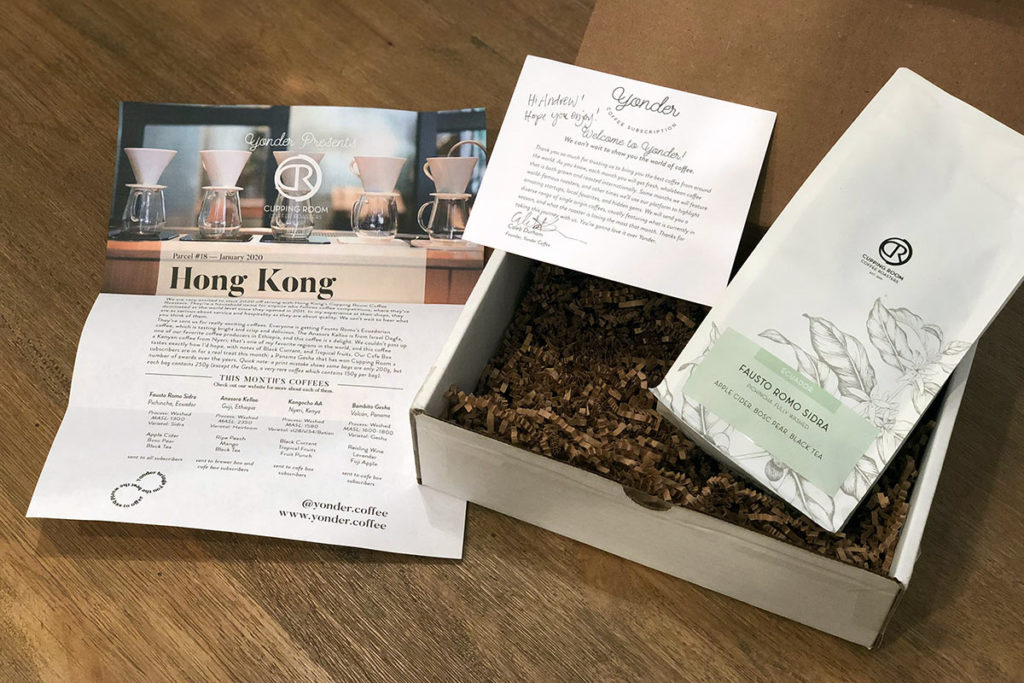 Delivery 1 – Ecuador Fausto Romo Sidra (Cupping Room, Hong Kong)
The first month's delivery (January 2020) was from the Cupping Room in Hong Kong. The coffee was both approachable and balanced, while still being complex and unique—a unique combination to find. It had notes of apple and pear throughout and was a delicious coffee from a roaster I had been looking to try for months.
You can read my full review of the coffee here.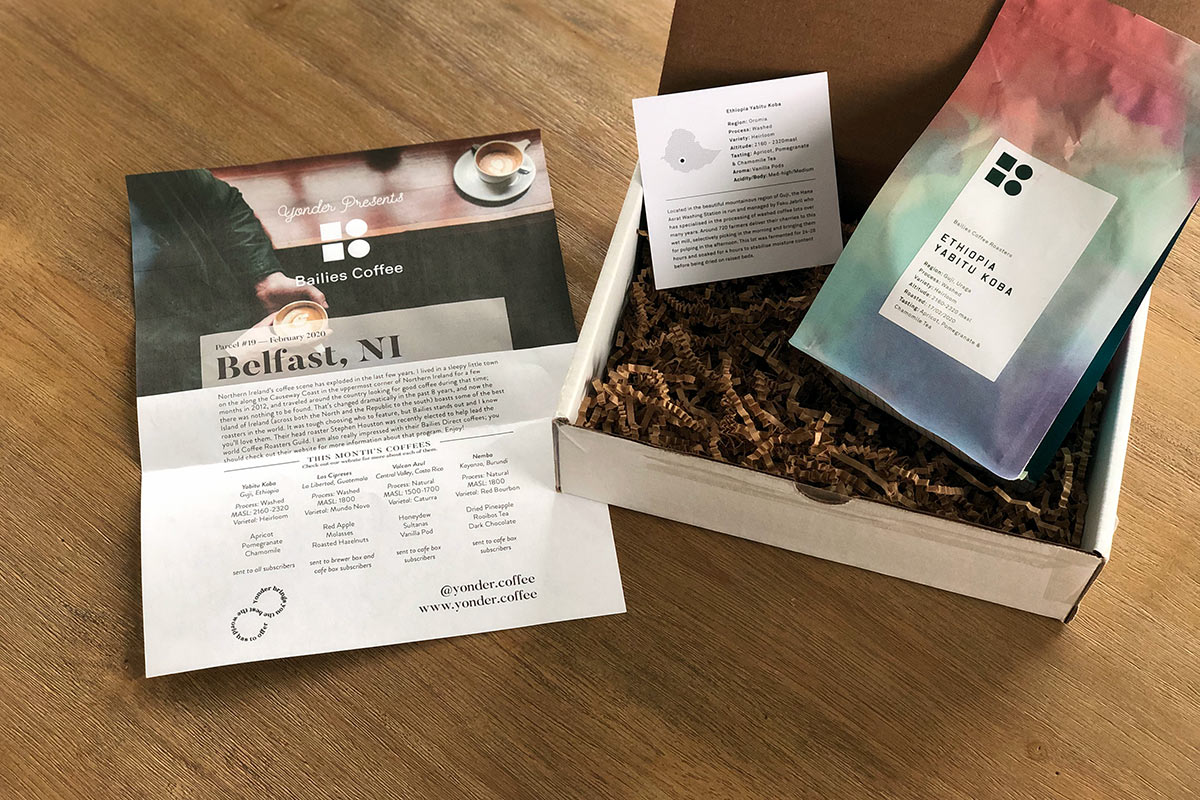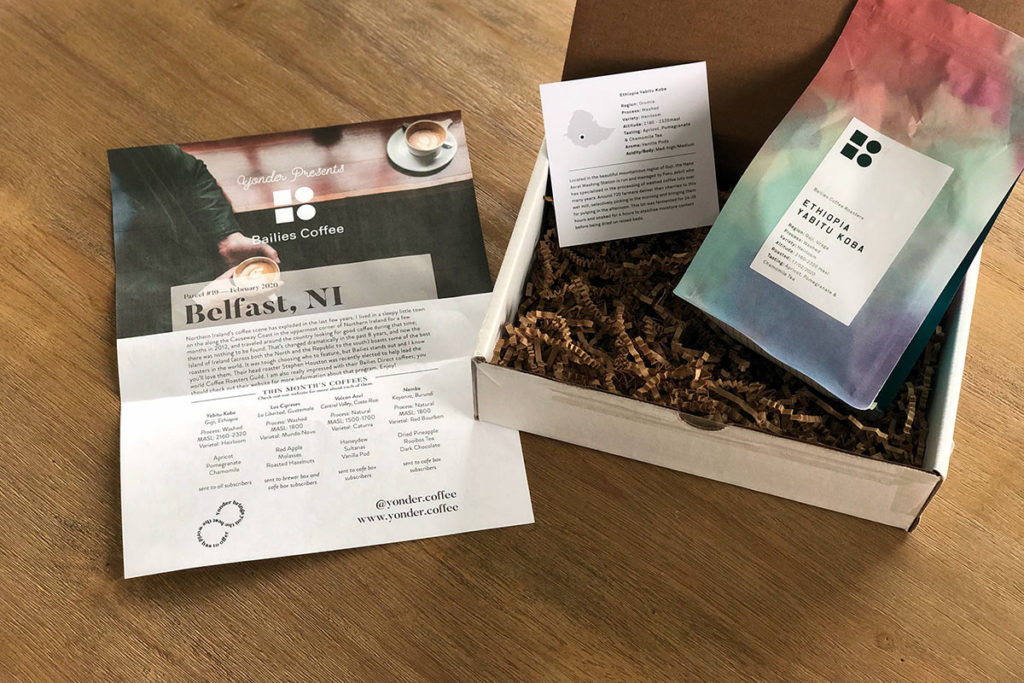 Delivery 2 – Ethiopia Yabitu Koba (Bailies Coffee Roasters, Belfast, Northern Ireland)
The second month's delivery (February 2020) was from Bailies Coffee in Belfast Northern Ireland. It was a washed Ethiopian that had a beautifully sweet acidity, tea-like body and delicious notes of apricot and a lingering floral finish. It was unique and incredibly enjoyable.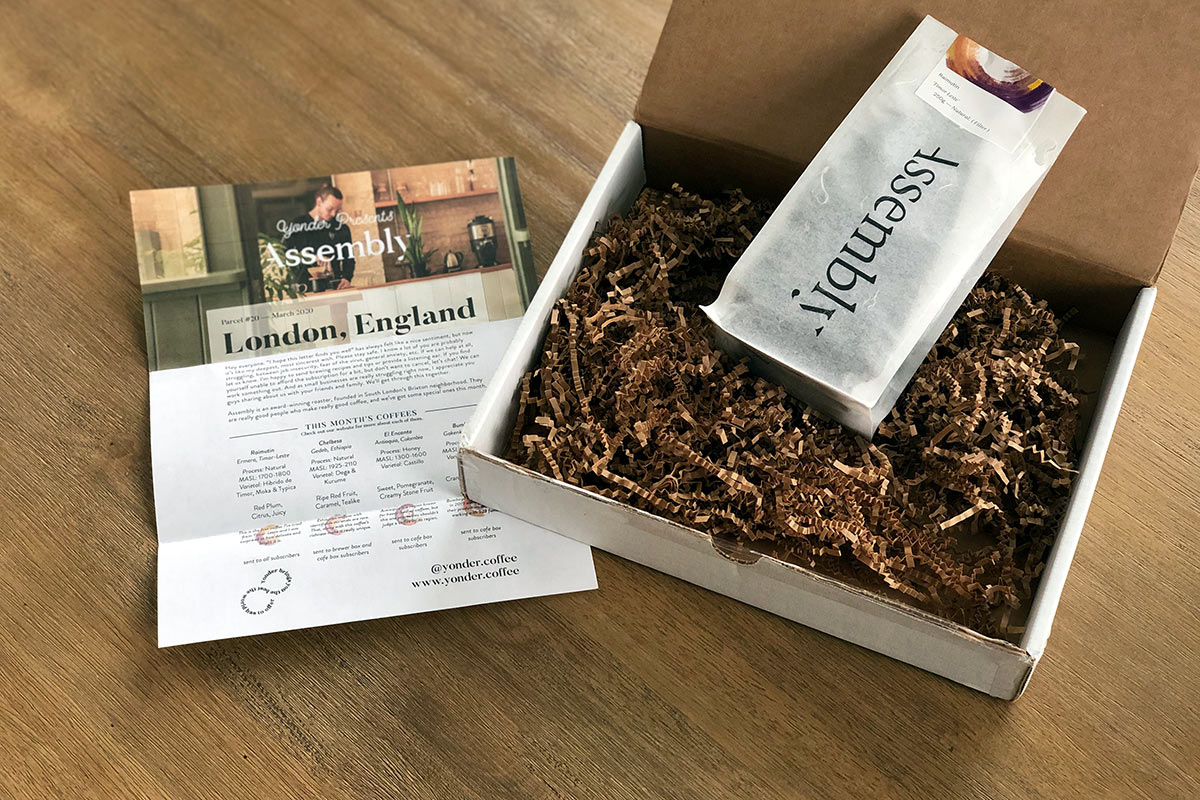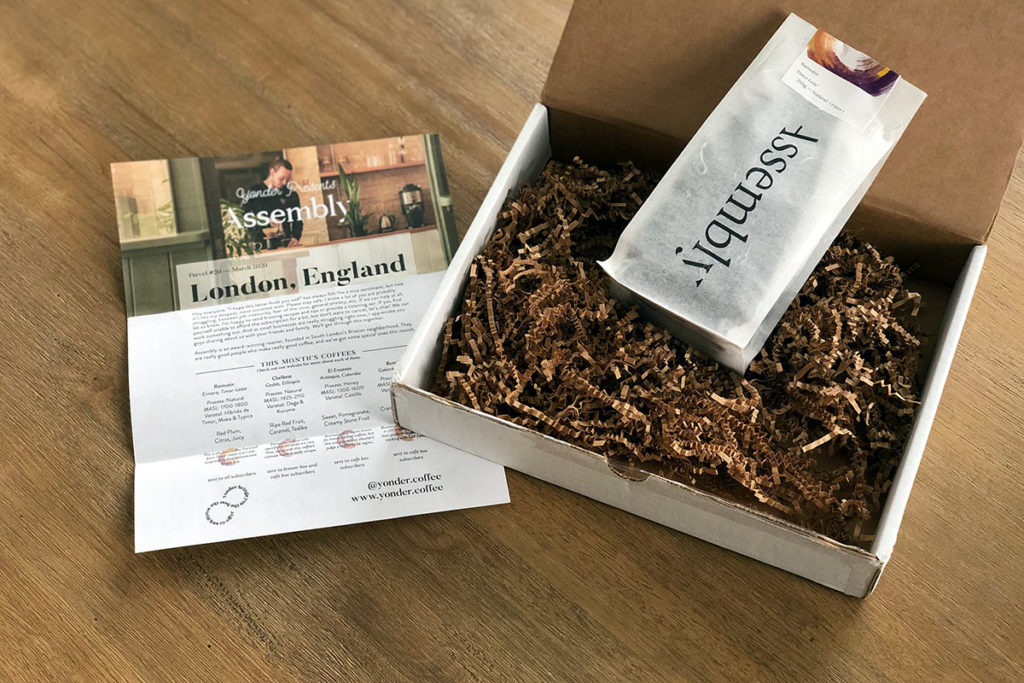 Delivery 3 – Timor-Leste Raimutin (Assembly, England)
The third month's delivery (March 2020) was from Assembly Coffee in Londan, England. This was the first coffee I've ever had from the origin Timor-Leste. It was an unbelievable surprise. It was easily my favorite of all three of the coffees—which is saying something because I loved the first two. It was full of flavor—bright, citrusy and jammy.
Ready to try Yonder Coffee?
Use code PULLANDPOUR when you sign up to get an extra $10 off your first month's order.
---
Cost
The cost for a subscription is $35 per month for a single bag. There is no doubt this is one of the most expensive coffee subscription services available—it is also one of the most unique. Yonder's monthly cost is higher because they are shipping coffee globally and are able to share coffee that would otherwise not be available.
They also offer additional bags each month, so if you go up to two or four bags the price per bag falls to $29.50 and $24.50 respectively. The monthly fee also includes shipping, so there are no additional charges.
Here is the breakdown of price per ounce:
One 12oz bag1 – $35.00 or $2.92 per ounce
Two 12oz bag – $59.00 or $2.46 per ounce
Four 12oz bag – $98.00 or $2.04 per ounce
They also offer a quarterly option, so you can only receive one bag a quarter for $29 per quarter, which is a nice option if you want to try coffees from around the world, but don't want to commit to the monthly fee.
1 Some coffees are only 250 grams since that is the international standard. In that situation, the cost per ounce is $3.97 per ounce
Customer Service
The website has a FAQ area with some basic answers about the subscription. They also have a contact form that allows you to reach their support directly. I emailed with them (and specifically Caleb, the owner) multiple times throughout the few months of the subscription both via their contact form on the site and directly via Instagram. Each time I received responses within a few hours (or at most 1 day).
User Experience
The Yonder website is incredibly well designed, as well as easy and fun to use. Given the limited customizations of the subscription (see more below), the account area is fairly basic, but easy to navigate and update as needed.
They send emails to keep you updated with the progress of your order (when your order processes, as well as when your coffee ships). You can also follow them on Instagram or check out their site to get advanced warning about next month's roaster.
Customizations
While for many coffee subscriptions the customizations you are able to make are its major selling point, that is not the case for Yonder. They do offer a few customizations, but you'll notice they are more limited than many other subscription services—and that is by design.
Pause Subscription: You can easily pause your subscription at any time within the account area of the site.
Shipment size: Each shipment is either 250g (the international standard) or 12oz, but you can choose whether you want one, two or four bags each month. If you go with additional bags you get unique coffees with each bag.
Shipment frequency: By default the subscription is monthly. You have the option to switch to quarterly with their "Producing Country Subscription."
Grind: All coffee is whole bean.
Coffee: Each month different coffee is sent to you (different roaster, different origin, etc.). It is a mix of styles and in the few months I tried it they chose coffees that were approachable yet unique and flavorful, so they should appeal to a wider audience.
Roasters: Each month features a different roaster from around the world. You are not able to specify the roaster though. It is determined by Yonder and the same coffee is sent to all subscribers.
Origin: Each month features a coffee from a different origin. From August 2019 – March 2020, the origins in the one-bag "Taster Month" included: Kenya, Ethiopia (3), El Salvador, Rwanda, Ecuador and Timor-Leste. If you select the larger order you will receive coffees from multiple origins each month (from the same roaster).
Additional customization: Outside of the above items, there are no additional customizations you can make within your subscription.
Coffee Quality
Each of the three coffees I tried during my subscription were excellent. They each came from high-end roasters and each were unique, yet delicious. Looking at the archive of past roasters and coffees, it is clear quality and uniqueness have been priorities for Yonder from the beginning.
Coffee Freshness
Each of the coffees arrived within 5-10 days of roasting. Given that they came from around the world, that timing is incredibly impressive.
Coffee Variety
Each month features a different roaster and they never repeat, so from the roaster perspective, you have a lot of variety. As mentioned above in the "Customizations" section, there are a variety of origins, processing and roasts from month to month.
Coffee Sourcing Standards
Keeping sourcing standards high can sometimes refer to certifications and prioritizing direct trade, but it can also be much broader than that. When I asked Caleb, the founder of Yonder, about their sourcing standards, I was extremely impressed with the thoughtfulness of his response. It is clear he is focused on finding roasters each month who care about the quality of the coffee, but also the bigger picture of where the coffee came from and the impact it has. Here is a snippet from a recent email exchange with Caleb:
We feature a maximum of one roaster per year from a country. So I take the responsibility of featuring a good roaster from that country really seriously. The main factors that we consider are:
The taste of their coffee. I'm never gonna feature somebody who's just doing weird or bad things with the beans they roast.
Where they fit in the coffee industry in their country. Are they just like an American style roastery in Japan or do they interpret specialty coffee for the people around them? Belleville in Paris is a great example of inviting in the French palate and culture instead of leaving it behind to pursue 3rd wave. They do both really well.
Transparency. How much do they share about where their coffee comes from? In my experience, the more someone knows about and shares about their coffee, the more that coffee tends to meet "the spirit of the law" of the sourcing standards you mentioned, even without "the letter of the law" of those certifications.
Social & Environmental Impact. I always try to create space for the roaster to share on our platform about the ways that they are impacting their community, the lives of the coffee producers they support, and the planet, and when it comes down to a couple of great roasters I'm trying to decide between, the one who is doing the most innovative work in this area will always get my support. This is why we featured Coffee Collective (one of the first and most wonderful examples of Direct Trade sourcing), Luna (who do Direct Sourcing in a very personal, almost familial way), and Flight (who founded Raw Material, which is doing really amazing work in developing more healthy supply chains; actually, the Timor-Leste coffee you're gonna get from us this month is a product of Raw Material's work in that country).
It is clear where the coffee comes from each month is a top priority for Yonder.
Packaging
When it comes to coffee, packaging can have a big impact on the coffee. Read my post about coffee packaging to learn more. With Yonder each month comes from a different roaster, so packaging can vary quite a bit. Below is based on the outer Yonder packaging and the three coffees I tried during this review.
Packaging: Each coffee is packaged in a Yonder-branded cardboard box. The coffee is secured with packaging and each coffee arrived without damage.
Container/package: The coffee package will be unique each month, but all three I received had a one-way valve, which is essential for fresh coffee.
Design: Each coffee arrives with a sheet about the roaster and the coffee. The sheet is well-designed and informative. Everything related to the Yonder brand (from this sheet to their website) is well-designed though.
Roast Date: Each of the coffees I received included their roast date on the package.
Differentiation
More than likely any other category, Yonder excels in differentiation. I do not know of another subscription service that is doing what Yonder is doing. Yonder is the only subscription I know of that sources coffees from around the world and makes them easily accessible to anyone. Many of the roasters selected are ones you wouldn't have the ability to try any other way from the states.
The Bottom Line
There is no doubt Yonder is one of the most expensive coffee subscriptions you can join. If you can swing the cost though, I can promise you won't be disappointed. You'll be able to try coffee you'd never be able to try otherwise and get exposed to amazing roasters from around the world you maybe would have never otherwise discovered.
Ready to try Yonder Coffee?
Use code PULLANDPOUR when you sign up to get an extra $10 off your first month's order.