About the Varia Multi Brewer
The Varia is a flexible, six-in-one brewing unit that allows you to make everything from pour over to stove top to cold brew coffee with a single piece of equipment.
First Impressions and Unboxing of the Varia Multi Brewer
The Varia comes well-packaged in a beautiful, simple black box. All components are securely packaged within the box in spots specifically fit for them. From first glance, it appeared to be very durable and well designed.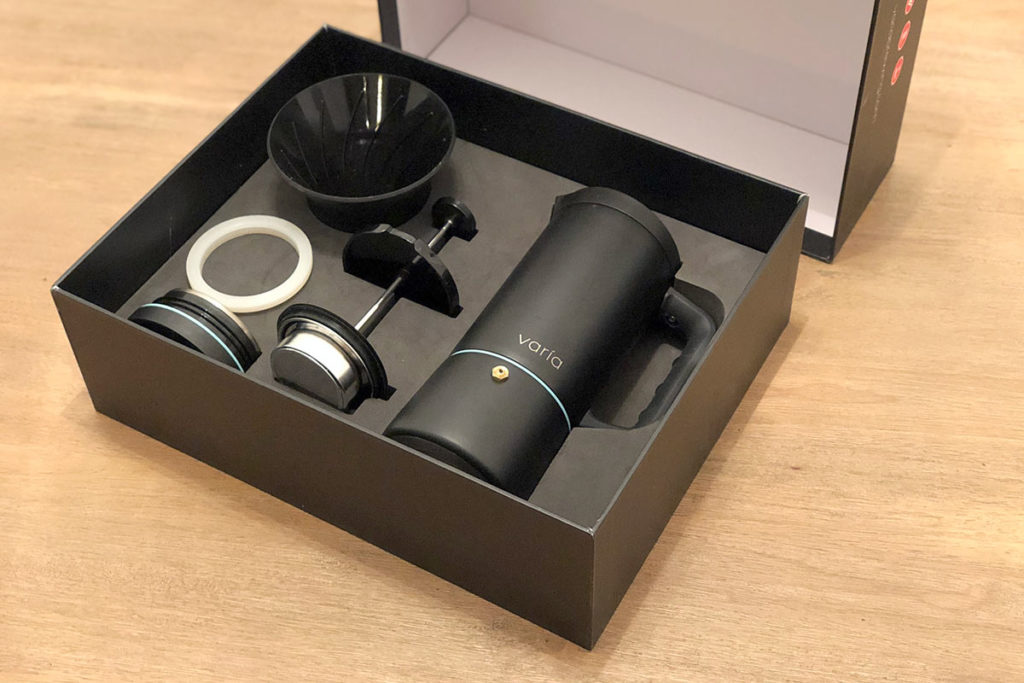 The First Brew
Given the variety of ways you can use the Varia, it is more important than usual to read the full directions before starting. There are a total of 9-10 pieces, each of which are used for different styles of coffee. It is important to know which ones are used for each method and how to configure the Varia for the appropriate brew method. I spent 15-20 minutes reading through the manual first to make sure I understood completely how each one worked.
The first one I tried was the stove top Moka Pot method. I've never had a way to make coffee that way, so I was very excited to try it first. After reading through the manual, the configuration of the Varia was quite simple and the coffee turned out great.
Cost
The retail price for the Varia is $155.00. While this cost is probably more expensive than any other single brew method, it actually is a great deal. If you were to purchase a pour over brewer (i.e. v60, Kalita Wave or Chemex), a French Press, a Moka Pot and a device for cold brew coffee, it could quite easily exceed $155.
Quality
From first glance it is clear the Varia is made well. While it has a few plastic parts, its core body is made of a double-walled stainless steel body and a silicone handle and all of the filters are stainless steel photo-etched filters.
Ease of Use
The Varia brewer can be used for a wide range of applications. As a result though, it is a bit more complicated to use than a single-function piece of brewing equipment. Different brew methods require different configurations, so it is important to review the manual before brewing a certain way for the first time.
Once you are familiar with the necessary configuration for any brew method though, the ease of use is nearly the same as any other piece of similar equipment.
Durability
The core body of the Varia is stainless steel and is very durable. Even the filter cone and other plastic pieces are thick and durable. I think where the Varia falls shortest in this category are the seals. Given the different brew styles available, the Varia comes with a variety of rubber seals. On their website, they say "Our seals are designed to last up to 3 months with regular use,"1 which doesn't feel that long to me. I have not had to replace seals yet, but doing so every few months seems like it could get frustrating. That said, they acknowledge the short use span of the seals and do include enough extra ones to supposedly last for a full year of use.
Appearance
The Varia Multi Brewer is minimal and elegant. The solid matte finish gives it a really elegant feel and the single splash of color in the band across the bottom is a nice touch. It's clearly a piece of equipment you'd be proud to have on your counter.
Value
As I mentioned in the cost section, the cost of the Varia Multi Brewer is more than any other single brewer. If you are purchasing it to use for a single brewing application, the value probably doesn't stand up. If you are in need of multiple brew methods and plan to use the Varia to meet all of those needs, it has a lot more value and is worth the cost in my opinion.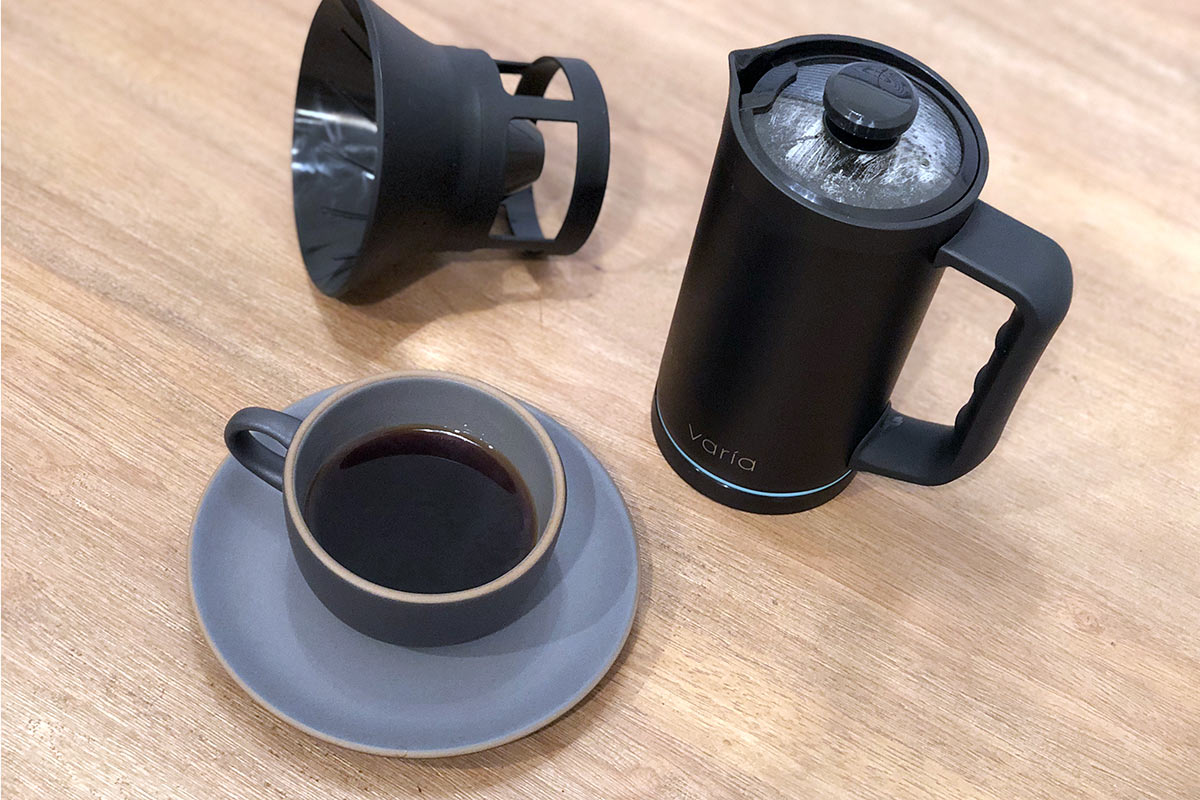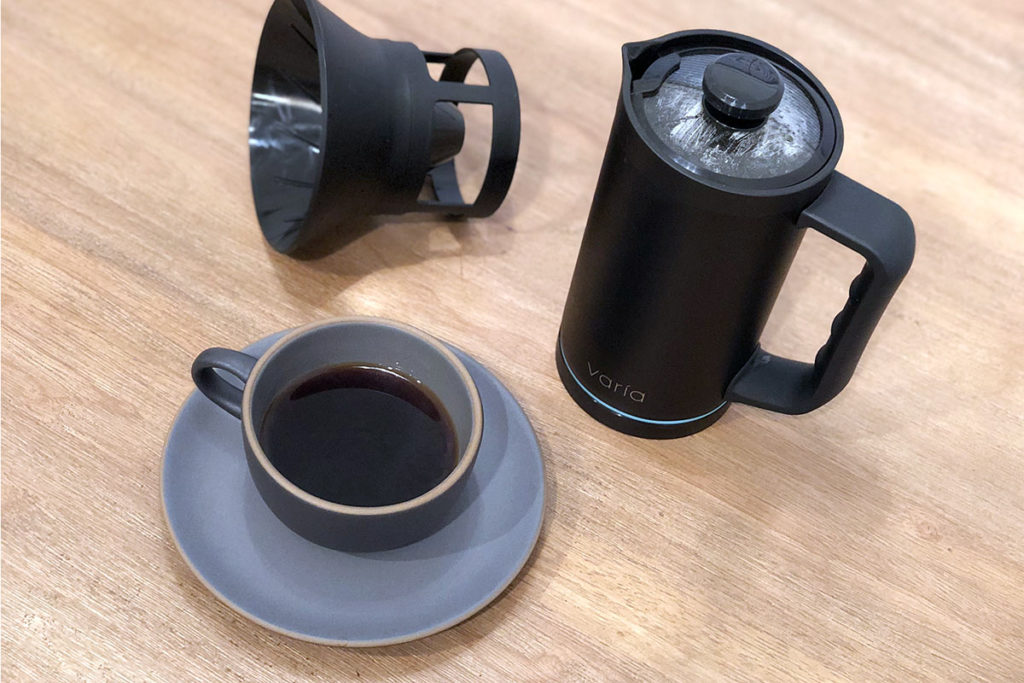 Brewing with the Varia Multi Brewer
The next four areas focus on the actual brewing process with the Varia and the quality of the final result—the coffee that you drink. The Varia offers six uses.
Pour Over
French Press
Moka Pot
Cold Brew
Kettle
Tea
The first four are coffee brew methods and the ones I'll be focusing in the sections below. For details on each of the brew methods, you can review their brew guide and user manual.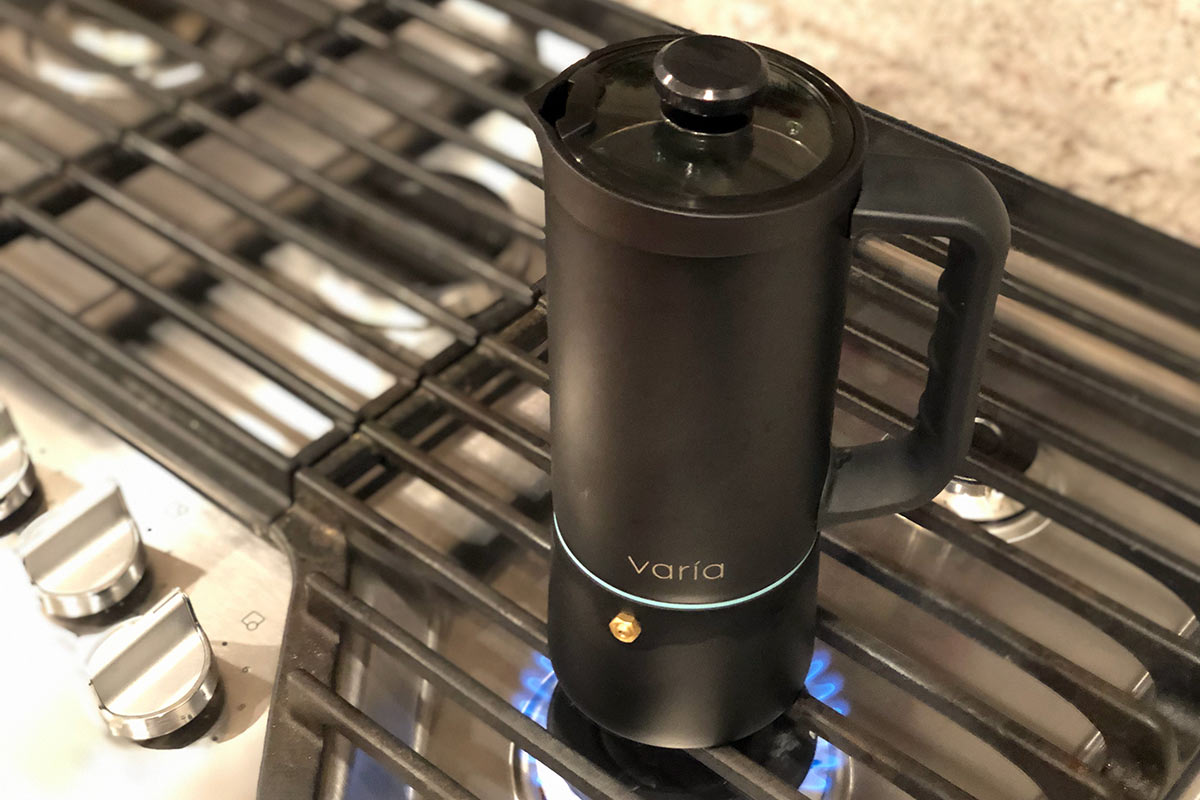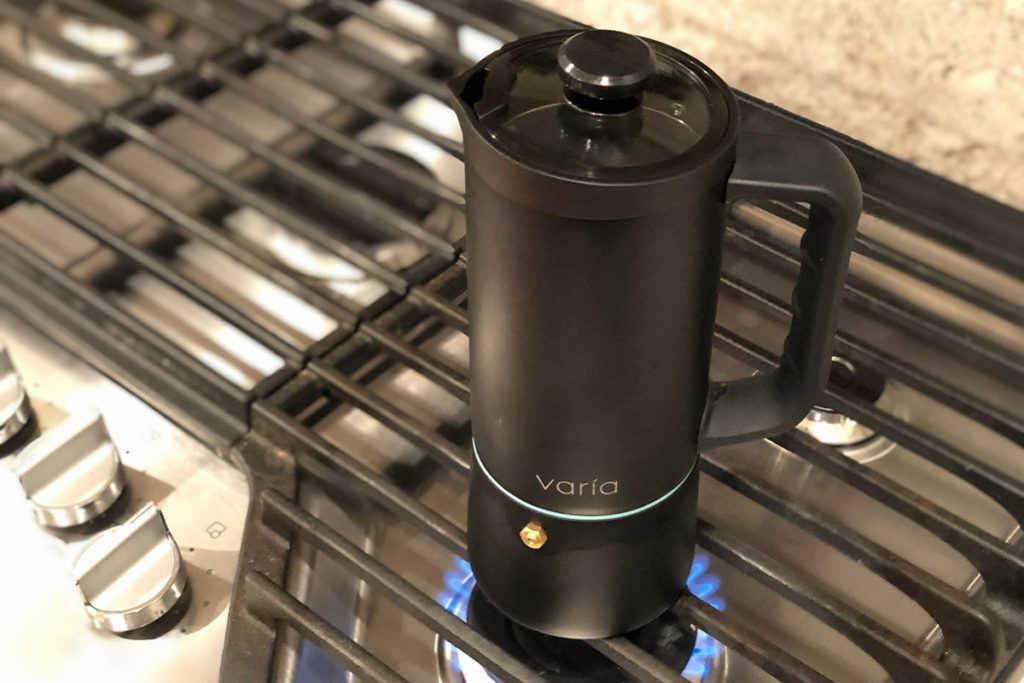 ---
Brew Speed
The brew speed for each of the various brew methods is consistent with similar brew methods on a different device. There is the additional time to configure the Varia in the correct orientation for that brew method though, which could potentially add 1-2 minutes to the process.
Coffee Quality
I have tried each of the four coffee brew methods the Varia Multi Brewer can make and each creates quality consistent with other brewers making the same style of coffee. I don't think each method is any better than other brew options, but that isn't the Varia's intention. It wants to allow you to make a variety of different styles of coffee with the same level of quality that you'd get with comparable alternative options—it delivers on this completely.
Differentiation
Differentiation is where the Varia Multi Brewer really starts to shine. I've never seen another piece of coffee brewing equipment that can make the wide variety of coffee options that the Varia can—all within a single product.
Flexibility
More than almost any other attribute above, the Varia excels in flexibility. With the ability to make coffee four different ways ranging from pour over, immersion, stove top and cold brew, the Varia is more flexible than any coffee product I've seen on the market.
One extra level of flexibility is that it also can brew tea or act as a water kettle, both of which are nice added options.
The Bottom Line
The Varia Multi Brewer is a well-designed, incredibly flexible coffee brewer that gives a lot of options when choosing the type of coffee you want to make. While its price tag is way above most other brewers, if used to its full potential, it could be the only brewer in your house.
In general, I think the Varia is a great buy if:
You like to switch up your coffee styles. If you drink the same style of coffee each morning, the Varia may be a bit of a waste. If you like to jump from pour over to French Press depending on how you feel in the morning though, it can be a great option that gives you that flexibility.
You don't have many other pieces of brewing equipment already. If you are starting out in speciality coffee and don't own a lot of other brew methods already, the Varia can be a great investment. If you already own all of the brew methods the Varia can offer, the price point probably doesn't make sense.
You are limited on space. As a single piece of equipment, it can save a lot of space if you ditch your other brew methods in favor of only keeping the Varia.
Disclosure: Pull & Pour received the Varia multi brewer to review for this post. As always though, all opinions are 100% my own.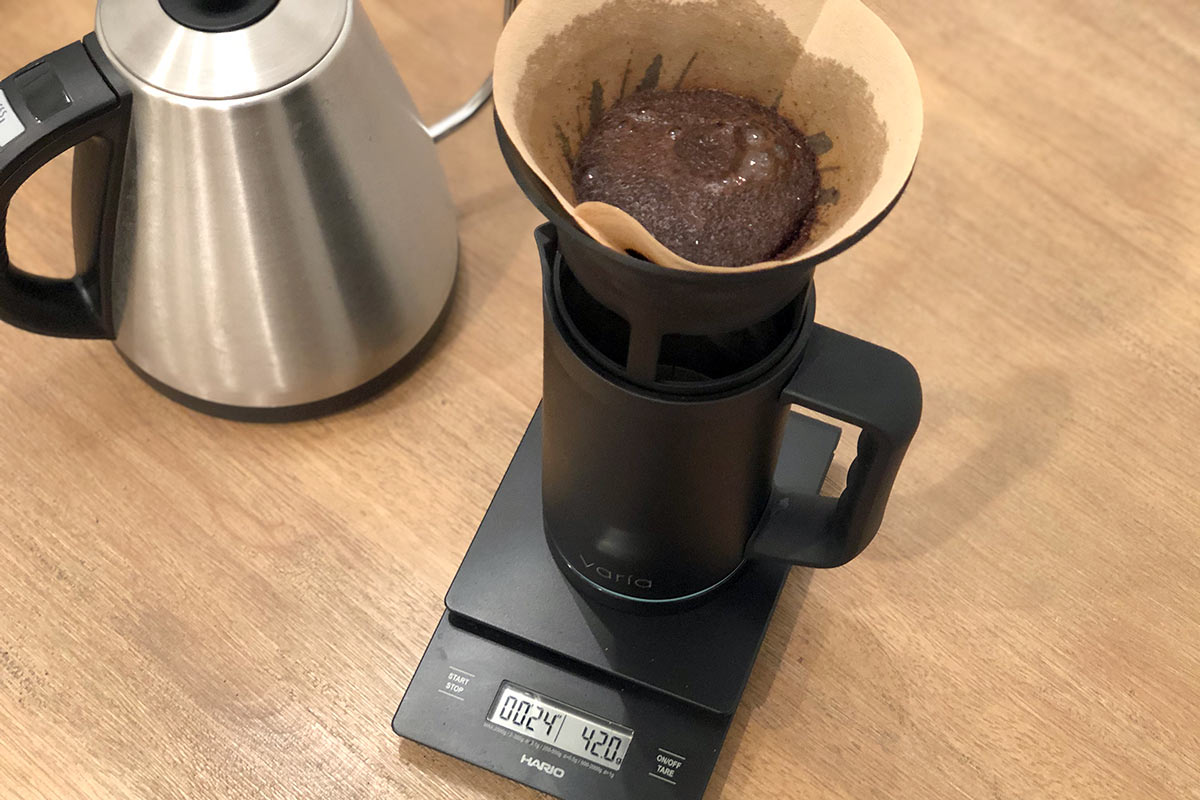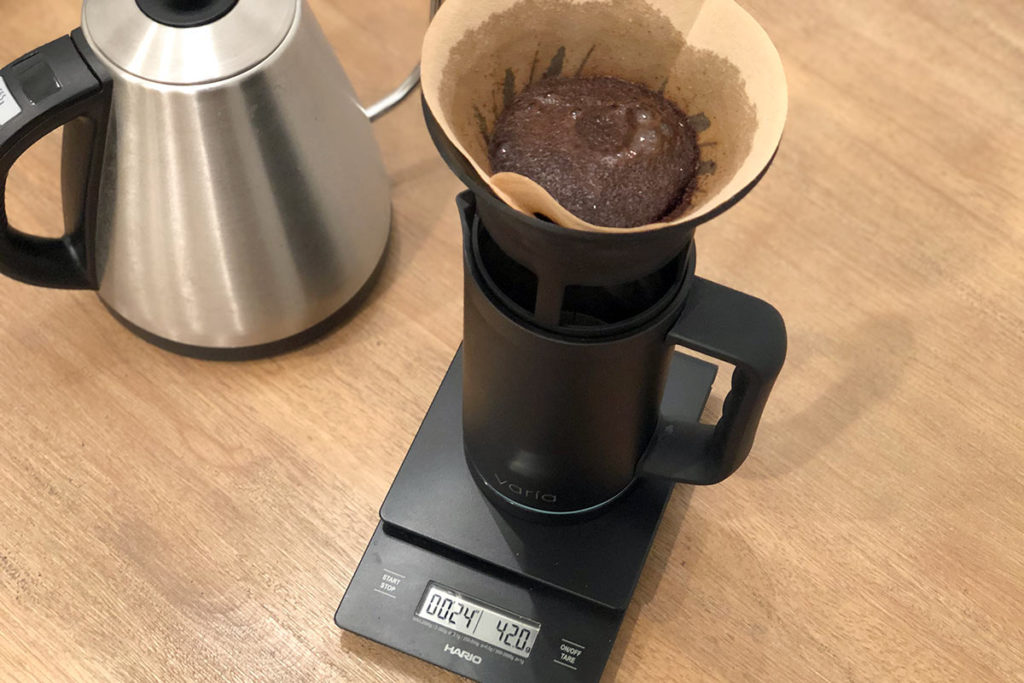 References
https://www.variabrewing.us/pages/faq-s