Disclosure: Pull & Pour received coffee samples for this post, however, as always, all opinions are 100% my own.
About the Twist Press
The Twist Press is a new brew method from Barista&Co as part of their Made Simple collection.
Not only is it beautiful, but it offers a unique twist on some of the more familiar brew methods already available. It offers a few brew options, including one that takes less than 30 seconds. This makes it an intriguing option for those hooked on speciality coffee, but in need of a brew that goes more quickly in the morning.

Some highlights about the Twist Press include:
Brew options ranging from 30 seconds to a more traditional 2 minute 30 second method.
Offers both an upright, pour-over-style brew option, as well as an inverted, immersion-style brew option.
Lid doubles as storage for up to 50 grams of coffee.
Corkscrew design makes it easier to press together (vs. other pressure brew methods)
Video Review
Cost
The retail price for the Twist Press is £35 (which comes to around $45.50 currently). This price includes the Twist Press + 100 filters. The exchange rate doesn't help, but this definitely comes to be one of the more expensive brew methods. With the v60, Kalita Wave & AeroPress all coming in around $25-35, the Twist Press is definitely on the higher end for cost.

Their Kickstarter pricing is £18 (~$23), which is much more in line with other comparable brew methods—and actually a bit less expensive.
Quality
Even though this is the first full run of the Twist Press, it is clear it is not only well designed, but also well made. It is produced using a high-grade polypropylene and BPA-free Tritan™, so while it is plastic, it feels extremely well-built.
Ease of Use
The various pieces snap into place quite easily. The twist motion is a bit of a new technique, so that took one or two times to practice to get it right. After figuring out how it all fits together, it was very easy to use.

The nice thing about the Twist Press is that it can adjust to your coffee comfort level. If you are super particular about your coffee (as I am), you can grind the coffee specifically to Barista&Co's recommendations (fine—I use the same setting on my Baratza Encore as I do for AeroPress), measure out your coffee/water with a scale and be particular about the entire process. If you are new to specialty coffee or don't care as much about the specifics though, the Twist Press works great too. As long as you measure out the coffee, the water ratio works to simply fill the vessel to capacity. The fine coffee grind is similar to the default in pre-ground bags, so you could use that as well. And because of its setup, you don't really need a gooseneck kettle for pouring the water. I personally think the extra care leads to a better cup of coffee, but it does have more flexibility than other brew methods to adjust to your comfort level.
Durability
As mentioned in the quality section, the Twist Press seems very well-built and durable. I've dropped it without issue and it is dishwasher safe. I've been using it for a few weeks and while it is hard to know exactly how well everything will hold up, the components all seem sturdy, well-constructed and likely to hold up for a long time. The only part I would worry about is the silicon "stopper" that creates the seal as you press down the coffee—even that seems well constructed though.
Appearance
Barista&Co definitely knows how to design beautiful products. All of their products are simple, yet elegant, and the Twist Press is no different. Its sleek, black look and cool twist motion make it an easy addition to your coffee accessory collection.
Value
At its full price, the Twist Press is definitely more expensive than other similar brew methods. I think what you are paying for is the beautifully designed brew method, high-quality materials and an innovative new brew technique. That said, I did still rate the value a bit lower simply because the price does still seem a bit high.
---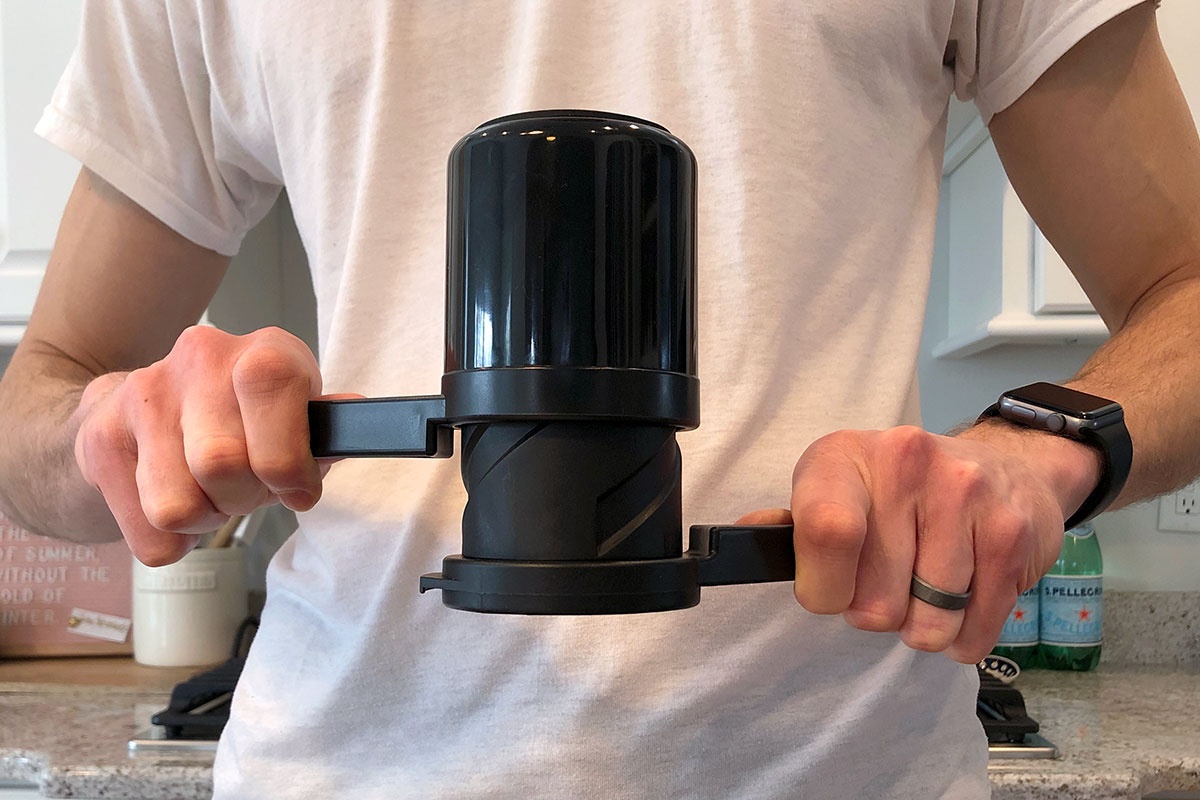 Brewing with the Twist Press
The next four areas focus on the actual brewing process with the Twist Press and the quality of the final result—the coffee that you drink. The Twist Press offers two primary brew methods: upright/normal and inverted/bypass. Below is an overview of each (per Barista&Co's recommendations):
Upright/Normal Brew Method
Insert paper filter into handle & screw coffee chamber into place.
Add 15 grams of coffee to the coffee chamber.
Add 50 grams of water (just enough to soak the grounds).
Stir the coffee.
Wait 30 seconds to allow the coffee to bloom.
Add remaining 200 grams of water.
Stir the coffee again.
Align the dots of both pieces and insert the plunger to create an air-tight seal.
Allow the coffee to brew for 2 minutes.
Twist
Enjoy!
A few additional comments:
They also offer an option where you forego the 2 minute brew time for their 30 second brew method. While fast, I found this coffee to be way too weak and under extracted.
The issue I have with this brewing technique is the coffee begins to drip through the filter as it is brewing. If you wait the full 2 minutes, more than half the coffee has dripped through by the time you twist it down. The same issue happens with the similar technique on the AeroPress. For that reason, I tend to prefer a modified version of the inverted/bypass method below.
Inverted/Bypass Brew Method
Add 15 grams of coffee to the coffee chamber (upside down).
Add 50 grams of water (just enough to soak the grounds).
Stir the coffee.
Wait 30 seconds to allow the coffee to bloom.
Add 120 grams of water.
Place a filter in the handle and lock it into the coffee chamber to prepare for the twist.
Allow the coffee to brew for 2 minutes.
Twist
Optional: add remaining 80 grams of water to the coffee concentrate.
Enjoy!
A few additional comments:
I find the coffee too weak when I add the full 80 grams at the end (comes to a 16.6:1 water to coffee ratio). I prefer to just add ~30 grams, which comes to a (13.3:1 water to coffee ratio).
Brew Speed
The brew speed for the Twist Press ranges from 0:30 to 2:30 minutes. Even at its longest brew time though, it is faster than most other brew methods.

Coffee Quality
I've had a hard time nailing down a score for this category simply because the variety of coffee that can result from the Twist Press. Some of the suggested brew methods (i.e. 30 second brew) do not produce the highest quality results in my opinion. That said, others produce really high quality coffee (i.e. the inverted brew method). A lot of it comes down to personal preference too. If you like a weaker cup of coffee and only have a few minutes to make it in the morning, the 30 second method could be the perfect option for you.

If you practice a few times and fine tune your particular preferences, there is no doubt the Twist Press can make great coffee.

Differentiation
The most comparable product is the AeroPress. While the Twist Press is a bit more unique, the final coffee and overall brew method is very similar. If I was simply comparing this brew method to the AeroPress, I probably would rate the differentiation score a bit lower. Compared to all other brew methods though, I think the Twist Press is quite a bit different. It is a unique blend between a pour over and an immersion brew that gives you a lot of flexibility depending on your coffee preference.

Flexibility
More than almost anything else, the Twist Press is flexible.
Speed: It can brew quickly via their 30 second method or a more traditional pace.
Strength: It can brew a coffee concentrate all the way to a more traditional pour-over ratio.
Precision: It is forgiving enough that you could estimate ratios and probably end up okay but also allows for precise measurements and ratios like other specialty brew methods.
The Bottom Line
While a bit more expensive than some other brew methods, I think the Twist Press is worth adding to your coffee collection if:
You travel a lot or drink coffee "on the go". The Twist Press will likely become my go-to travel brew method because how compact and durable it is—and how little equipment it needs. Pack the Twist Press and a hand grinder and you'll be set (pending you can find some boiling water at the time of brewing). Because of the coffee storage area in the canister and easy clean, it also makes a great option when camping or hiking.
You don't own an AeroPress. There is no denying the Twist Press is very similar to the AeroPress. If you already own an AeroPress, I am not sure the cost justifies buying the Twist Press as well…unless you love collecting and trying new brew methods as I do.
You're new to the specialty coffee movement and some of the other pour over methods seem intimidating. The Twist Press is one of the simplest brew methods available, so if pouring from a gooseneck kettle in perfect concentric circles for the v60 seems a bit intimidating, this is a great entry into specialty coffee.