Disclosure: Pull & Pour received coffee samples for this post, however, as always, all opinions are 100% my own.
Overview
Moustache Coffee Club is a specialty coffee subscription service that offers 6 and 12 oz subscriptions. They source and roast their own coffee and ship it directly to consumers every week, two weeks or month.

The Coffees
Note: I received 3 shipments of Moustache Coffee Club for this post, however, as always, all opinions are 100% my own. I received no compensation outside of the product itself.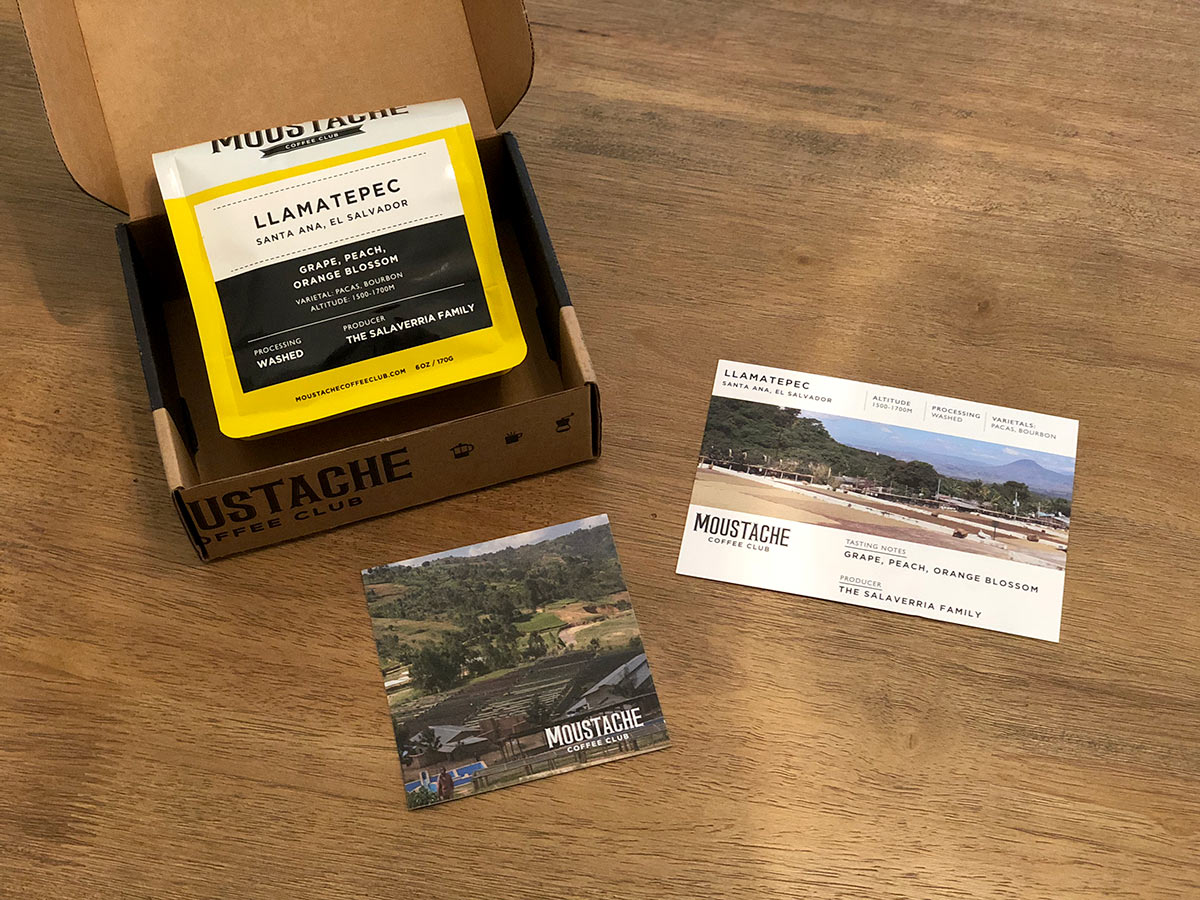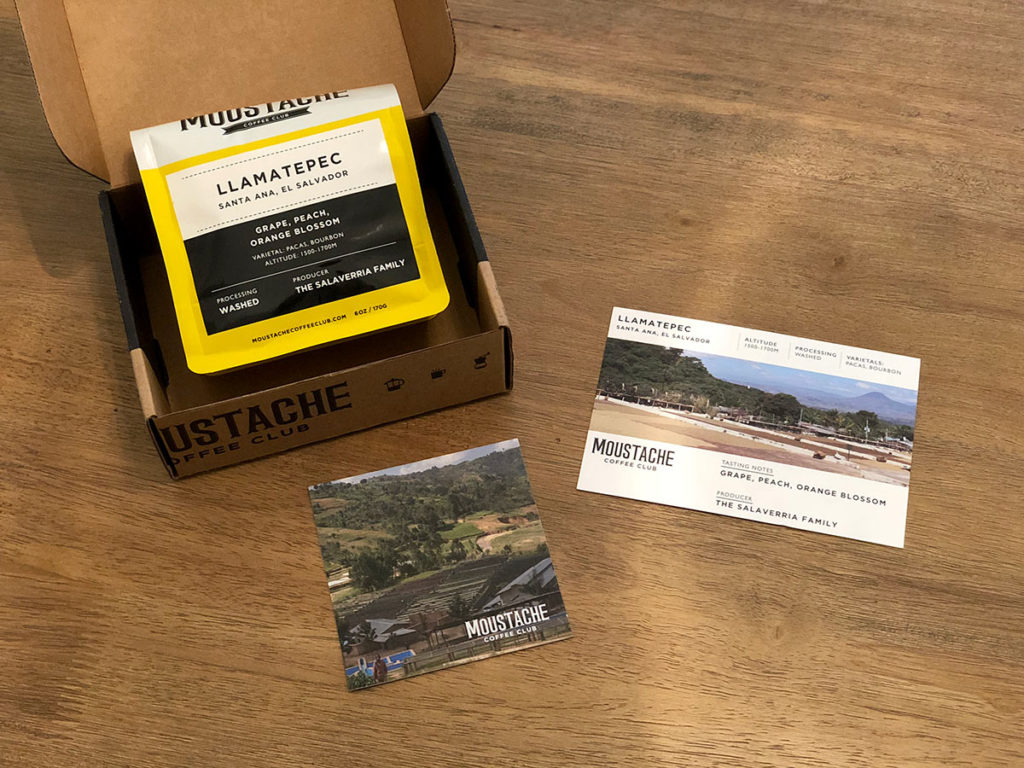 Delivery 1 – Llamatepec (Santa Ana, El Salvador)
Moustache offers a free trial to begin your subscription that includes a 6oz bag. (Currently they do not offer a way to select your coffee during the trial, but they plan to add that feature soon.) My trial included a washed, pacas/bourbon variety coffee from El Salvador. It was a well-balanced, floral coffee. It didn't fit my tasting preferences exactly, but was still a very good coffee. It was a great option for them to select as the sample coffee because it is one that would appeal to a lot of coffee drinkers regardless of your preferences. It has a balanced profile and has floral, yet fruity tasting notes.

Each shipment also includes a postcard about the coffee. I've found that is pretty common with these subscriptions, but these were especially insightful and well-written.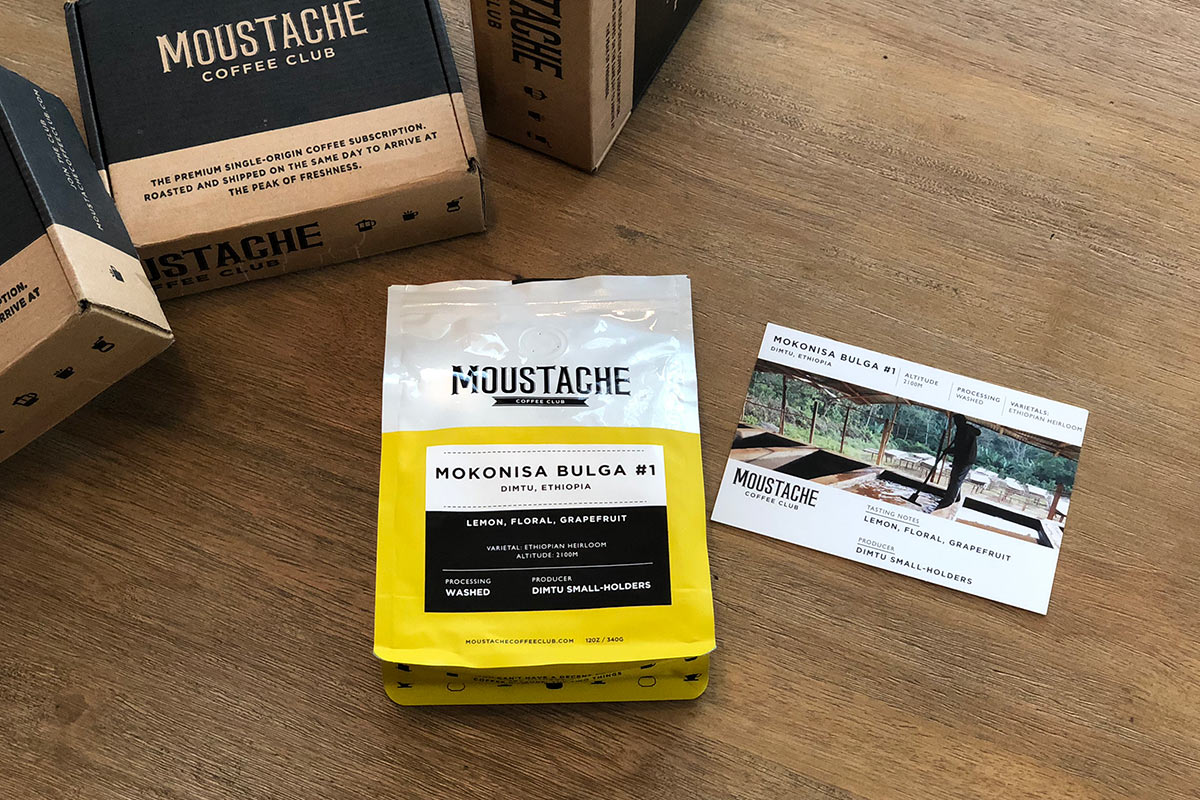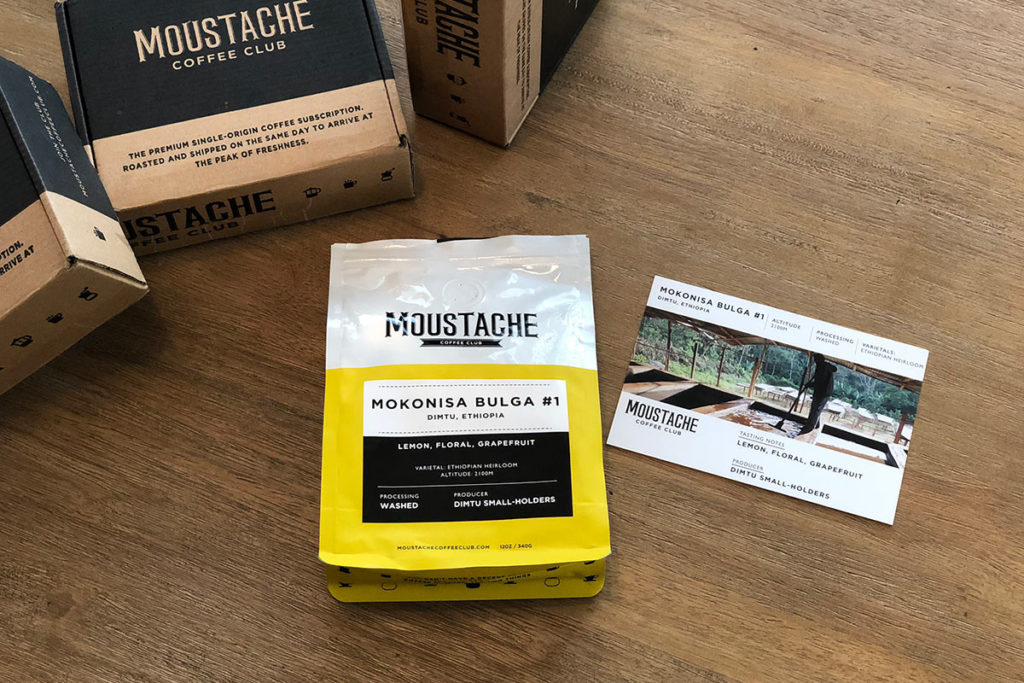 Delivery 2 – Mokonisa Bulga #1 (Dimtu, Ethiopia)
This was the first coffee I was able to select myself. Ethiopia is my favorite region, so I knew I wanted to try at least one coffee from there. This again was a really strong coffee—though definitely not one of the best coffees I've tried from Ethiopia. It fit the "standard" Ethiopian profile exactly—bright, strong lemon-like acidity and flavor notes, strong aroma and well-balanced. Even though it was a more stereotypical Ethiopian coffee, it fit my ideal coffee profile really well and I enjoyed the entire bag in a variety of different brew methods.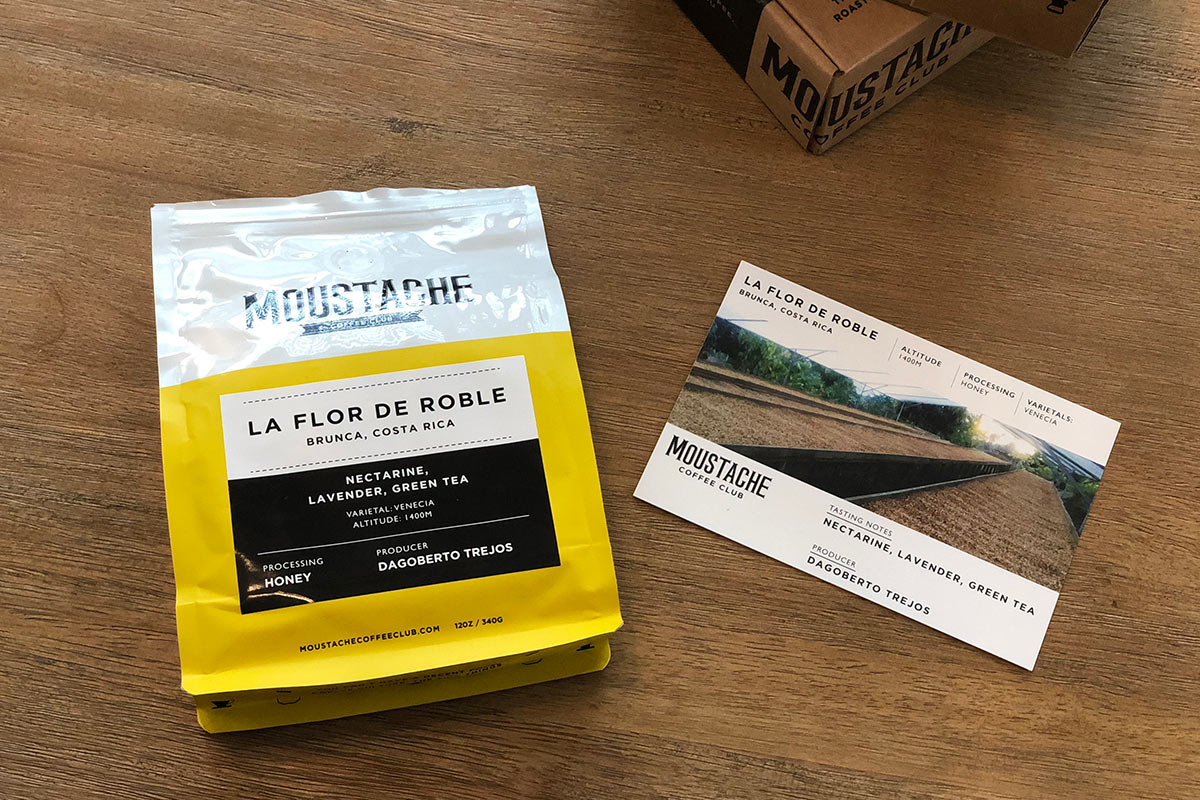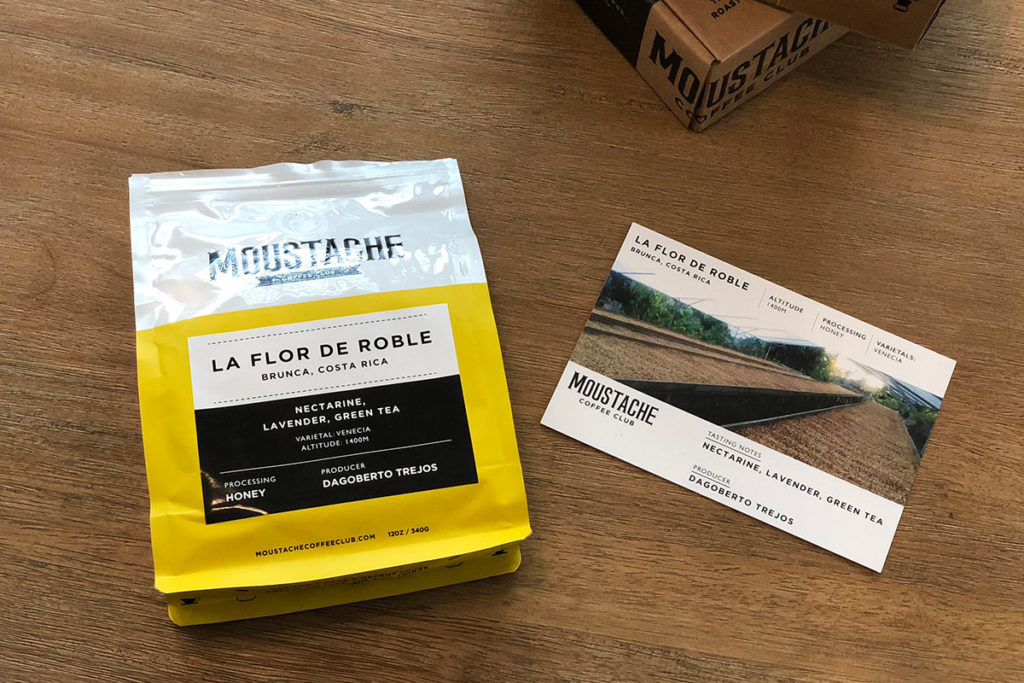 Delivery 3 – La Flor de Roble (Brunca, Costa Rica)
My last shipment was a honey-processed coffee from Costa Rica. It is a coffee that didn't fit my usual preferences, but I wanted to try a variety of coffee and the flavor profile was intriguing (nectarine, lavender, green tea). I was again impressed with the quality of coffee; it was unique with a lot of complexity. It had a very different flavor profile from the previous two coffees.

I saved a little of each previous bag to compare the coffees side-by-side and I was impressed how each one shared a high-level of quality, yet were unique from one another in flavor and structure.
Cost
Moustache Coffee Club has recently simplified their subscription setup. They now offer two sizes (6oz or 12oz) in three frequencies (weekly, bi-weekly, monthly). The price per bag is the same regardless of what frequency you choose, which is nice. They also don't offer a discount to commit to a longer subscription (they don't even offer that option currently). $22.00 for a 12oz bag of speciality coffee isn't unheard of (especially when shipping is included), but it is towards the higher end. When you get to the smaller bag size, that cost comes to $26.00 per 12oz, which seems really high (anything over $2 per ounce becomes too expensive in my mind unless the coffee is known to be exceptional). Here is the breakdown of prices per ounce:
The MCC Coffee Subscription

6oz bag – $13.00 or $2.17 per ounce
12oz bag – $22.00 or $1.83 per ounce

Tasting Series:

2 – 6oz tin – $22.00 or $11 – $3.67 per ounce
You can see they offer a tasting series subscription as well that is really expensive. These are super speciality coffees that come in very small quantities. I have yet to try any of them and I'm sure they are amazing, but you have to have some deep pockets and a true love of coffee to justify $22/month for potentially 2oz of coffee.

Customer Service
They have a FAQ page on their site, as well as the ability to contact them directly via email. It would be nice if the FAQ page was a bit more robust (more questions, searchable, etc.) and setup more like a knowledge base, but it isn't essential. They make up for their lack of a knowledge base through their email support. I wrote them a few times to ask about my subscription and I received prompt responses every time.
In asking about their customer support, they also said they can help users with recommending coffees/brewing techniques or other more specific questions outside of their specific subscription, which is a nice added service.

User Experience
The Moustache Coffee Club site offers a nice account section that allows you to select future coffees, rate previous coffees, change your subscription/preferences and more. The navigation, design and overall user interface could use some work for sure and lack some of the finesse I've seen in other subscription sites, but it does allow you to do what you need to do for your subscription. They send plenty of email reminders (almost too many) about upcoming coffees, new coffee offerings, reminders to rate your coffees and more.

Another user experience issues is that you have to email their support to cancel your subscription. They have fast support, so it isn't a huge issue, but I think being able to cancel your subscription directly, without support, should be an option with any subscription service. While having to email them to perform some basic account management items seems a bit of a hindrance, it does appear they are committed to having a personal experience with a high-touch support.

Ready to try Moustache Coffee Club?
Get $10 off the first order of your subscription by using the link below.
Customization
Being able to easily control your subscription (the frequency of shipments, the size of your shipment, what's included, etc.) is one of the most important features these services offer. Moustache Coffee Club does a nice job to allow you to customize your subscription to fit your needs exactly. Here are some details about the customizations:

Pause Subscription: You can choose to skip one or two shipments with the ability to resume at any time. You can not pick a specific date to pause your shipment until through their site though as you can with some other services. You can pause your subscription a longer period of time or indefinitely, but you need to contact them via email to do so.
Shipment size: You can choose between 6oz or 12oz sizes. They also offer larger sizes (3 or 5lb orders) for offices.
Shipment frequency: You can choose between weekly, bi-weekly or monthly.
Grind: Whole beans only.
Coffee: They usually have 9-12 coffee options rotating through at any given time. You can select the specific coffee from the available options that you want.
Roasters: All of the coffee is roasted by Moustache Coffee Club.
Origin: All coffees are single-origin (no blends available), but from a variety of producers across the world.
Additional customization: You can control if you want decaf coffee (always, occasionally or never) or their classic profile coffees (which are lower acidity and emphasize chocolate and caramel flavours over their more usual fruity bright profile).
Coffee Quality
The three coffees I tried were all very good. They were all unique, yet shared a level of quality that is not always found with these coffee subscriptions. The only reason I didn't score them a 10 is that none of the coffees had that "extra" element to really set them apart. They were all unique from one another, but generally fit within what I'd expect in a coffee from the region they each were from. I would have loved an extra surprise flavor note or other element to set them apart from other coffees available.

Coffee Freshness
Moustache Coffee Company gets you the coffee as fresh as you'll probably ever get with a subscription service. On every bag, Moustache includes a "roasted on" date and "start drinking" date. They do this because the coffee arrives so quickly after roasting that you need to let it properly degas for a day or two before drinking. The "start drinking" date is four days after roasting, which is a bit longer than you probably need to wait (likely to make the coffee feel even fresher), but it still is impressive the turnaround they can provide.

Coffee Variety
In the few months I had a subscription, they offered coffees from Ethiopia, Guatemala, Costa Rica, El Salvador, Kenya, Mexico, Honduras and Colombia. Their geography isn't totally comprehensive, but it's a very good spread. The coffees included washed, natural and honey-processed coffees. In their tasting series they also offer some more exotic coffee options as well.

All of their coffees are roasted fairly light to preserve the flavor profile (which is a good thing), but if you are looking for super dark roasts (cough, cough Starbucks-style), you won't find them here.
Coffee Sourcing Standards
Unfortunately, Moustache Coffee Club doesn't have a clear place on their site where they describe the sourcing standards for their coffee. I wrote to their support for more details though and this is their response:
Fair Trade/Direct Trade: There coffees may not be fair-trade certified, but "everything [Moustache Coffee Club] purchase[s] exceeds fair trade prices—often by about 5x or more." They "gladly seek out tasty coffees coming from producers that are doubling down on quality and happily pay premiums to encourage more growth and development."
Organic: "Almost all the coffees [Moustache Coffee Club] source[s] are grown using organic methods, but since [they're] often buying micro lots and coffees from smaller producers, [the farms] often don't go through the expensive certification process to be able to be legally called "organic". So while [they] do work with importers and farms that emphasize sustainability and environmental responsibility, [the farms] aren't always certified."
Nordic Approach: They "get most of our coffee by working with the kind folks at Tim Wendelboe's Nordic Approach—and have been really impressed with their commitment to quality, development, and sustainability at origins throughout the coffee-growing world."
Packaging
As a designer, I am a sucker for well-designed packaging. That said, when it comes to coffee, the packaging matters beyond how it looks; it can have a direct effect on the coffee. Read our post about coffee packaging to learn more.
Packaging: Each coffee comes in a small, efficient box that keeps the coffee secure during shipping. Each coffee also includes a small card that describes the coffee.
Container/package: The 6oz and 12oz bags both include a one-way valve, which is essential for fresh coffee. Fresh coffee gives off CO2 as a by-product of the roasting process. A one-way valve allows CO2 to leave the bag without oxygen coming in. If oxygen is allowed in the bag, it can cause complex aromas to be lost. The bags are also resealable, which is a nice additional feature.
Design: The design of each bag is minimal and Moustache-branded. The bag includes all of the necessary information though in a well-designed manner.
Roast Date: Each coffee includes not only a roast date, but also a "start drinking" date.
Differentiation
When it comes to their overall subscription setup, Moustache Coffee Club is pretty similar to other options available (in size, frequency, etc.). I think the main way Moustache Coffee Club differentiates itself from other subscriptions is in their specific coffees. They allow you to select specific coffees and roast the coffees themselves, so this is the only place you'd find these specific coffees.

Another feature that is unique to Moustache that I love is their Starbucks gift card exchange program. They'll buy back your Starbucks gift cards for equivalent Moustache store credit, which is just a great marketing play. For people who love coffee, but not the super dark roasts Starbucks offers, the ability to switch Starbucks gift cards with a specialty coffee subscription is a no-brainer.

The Bottom Line
While it may cost a few dollars more than other services, Moustache Coffee Club is a good value in my mind. It brings the best of both worlds together in their subscription: the convenience of always having coffee through their subscription plus the flexibility to try exactly the coffees that appeal to you.

Ready to try Moustache Coffee Club?
Get $10 off the first order of your subscription by using the link below.