As much as I love cold brew coffee, flash brew coffee (a brewing technique when you chill the coffee immediately upon brewing by brewing over ice always has a leg up for me). It does a much better job capturing the aromatics and complex flavor notes in a coffee better than the long, slow brew of cold brewing. One of my favorite iced coffee recipes is this easy and effective iced AeroPress recipe from Alexander Mills. Alex does a great job of making coffee information very accessible and I love his website and Instagram feed.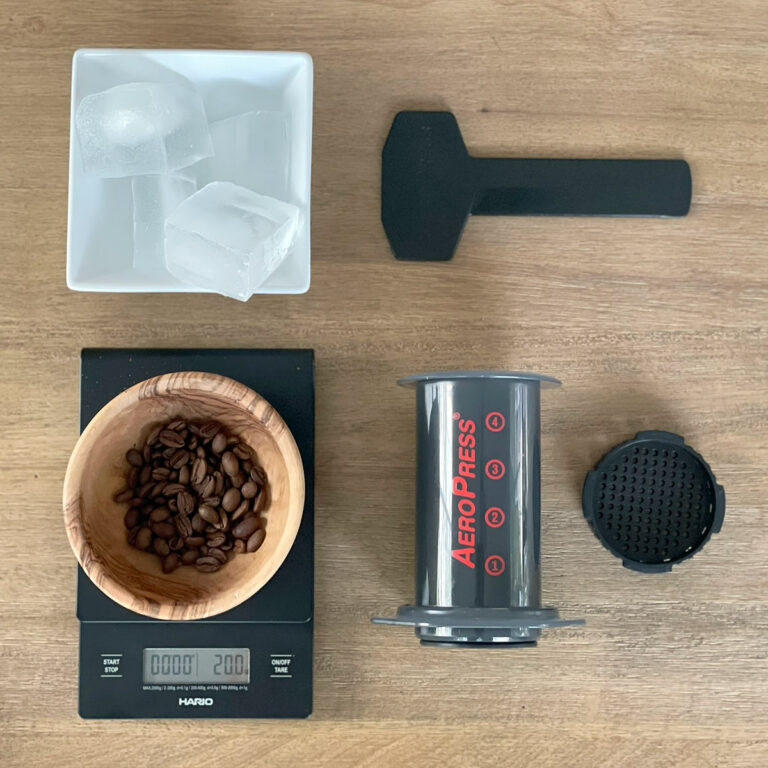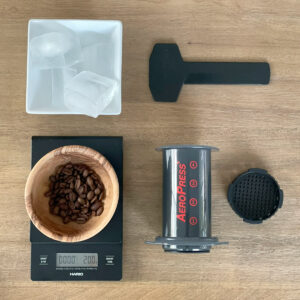 Iced Aeropress Recipe
An easy flash brew recipe to make iced coffee using the AeroPress brewer.
Ingredients
20

grams

coffee

ground medium fine

150

grams

ice

preferably large cubes

150

grams

210°F (99°C) water
Instructions
Gently add 150 grams ice to carafe

Bloom coffee with 50 grams water and stir aggressively

Add two filters to cap & add cap to AeroPress

Flip AeroPress & gently press down for 30 seconds

Swirl it & serve it, baby
Notes
The recipe can easily scale up and down. Keep a 1:15 water ratio and split half the water weight between ice and water.
The double filters helps improve the clarity in the cup, but isn't essential.
Prefer a more visual version of the brew recipe?
I created infographics of each recipe, which you can see below. You can also find it on Instagram here.