Overview
Driftaway Coffee is a Brooklyn-based roaster offering personalized coffee subscriptions. Driftaway roasts small-batch, single origin coffees and ships them fresh within six hours of roasting. It has been offering coffee subscriptions since 2014.

The Coffees
Note: I received 3 shipments of Driftaway Coffee for this post, however, as always, all opinions are 100% my own. I received no compensation outside of the product itself.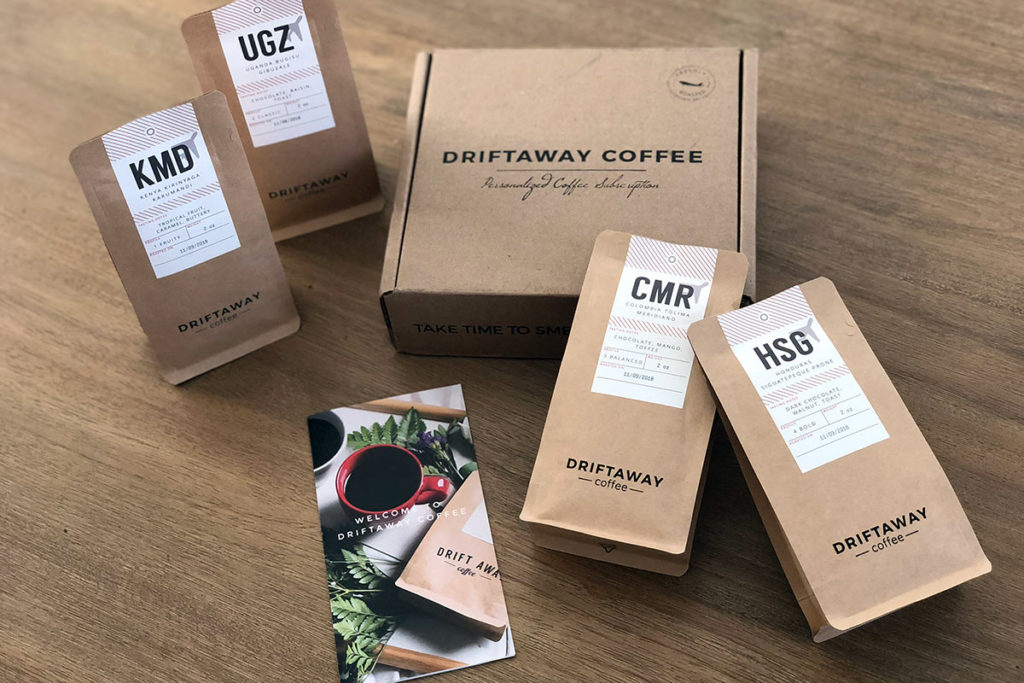 Delivery 1 – The Tasting Kit
One of the main ways Driftaway Coffee differentiates itself from other coffee subscription services is the tasting kit everyone starts with for his/her first delivery. It consists of four two-ounce portions, one from each coffee "profile": fruity, classic, balanced, bold. The idea is to try each coffee and then rate them to determine what coffee would be best for you moving forward. The tasting kit (and every delivery) also includes a postcard about each coffee that describes important details about the coffee (location, producer, processing, altitude, etc.), as well as the producer's story and some notes from the roaster.

The four coffees in the tasting kit included a nice range of tastes from the more exotic, fruity flavors to darker, bolder roasts. The coffee regions included Kenya, Uganda, Colombia, and Honduras. I thought each of the four coffees were good, but based on my own personal preferences, the fruity and classic profiles of the Kenya and Uganda really made an impression. The tasting kit was a nice way to try a variety of their coffees, but is probably unnecessary for many experienced coffee drinkers who already know their taste preferences.

After trying all of the coffees, I logged my feedback in my account on their site. Driftaway will only send you coffees from the profiles you scored above a certain point, so it's important to enter your feedback to make sure you receive coffees you enjoy.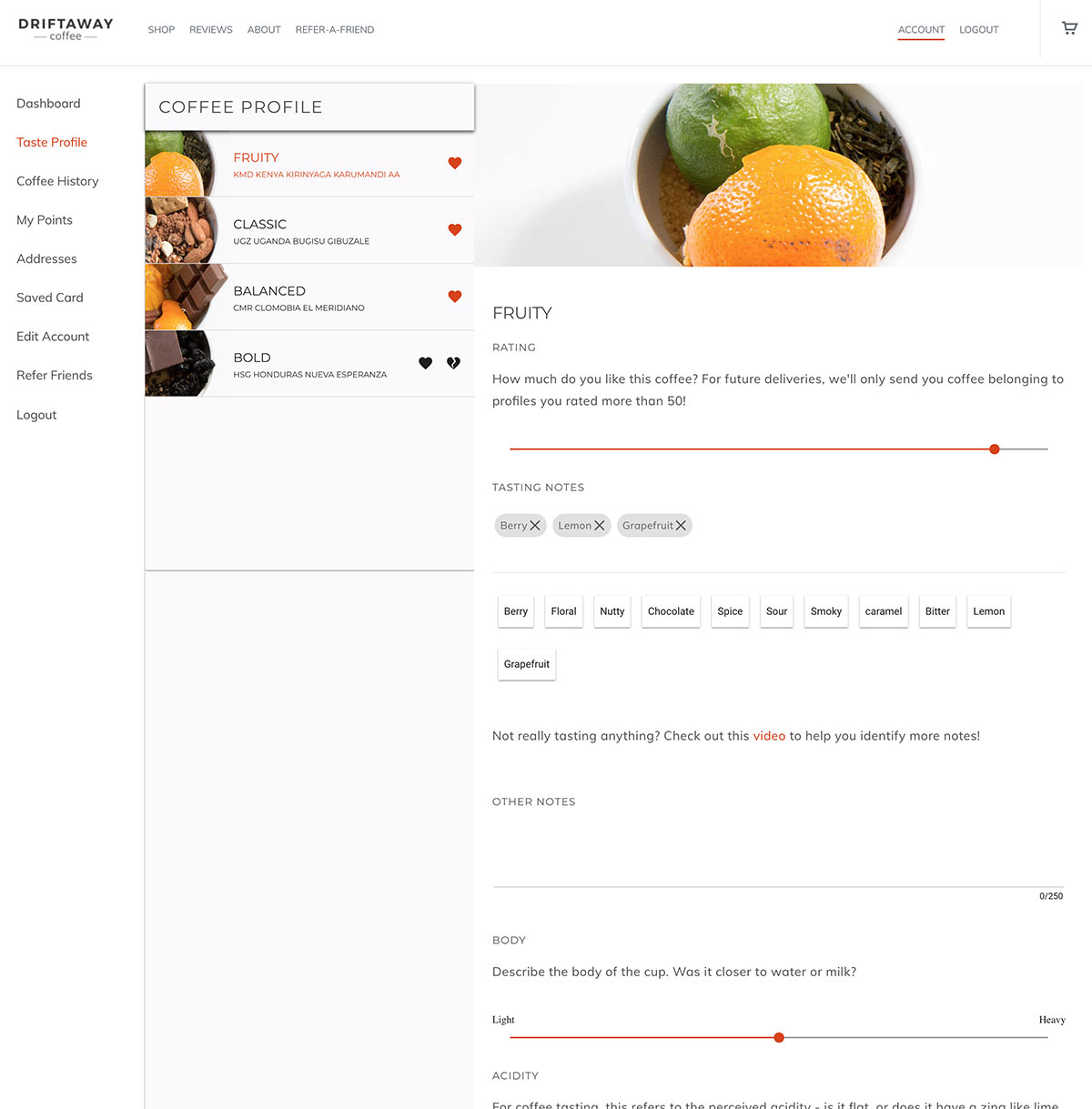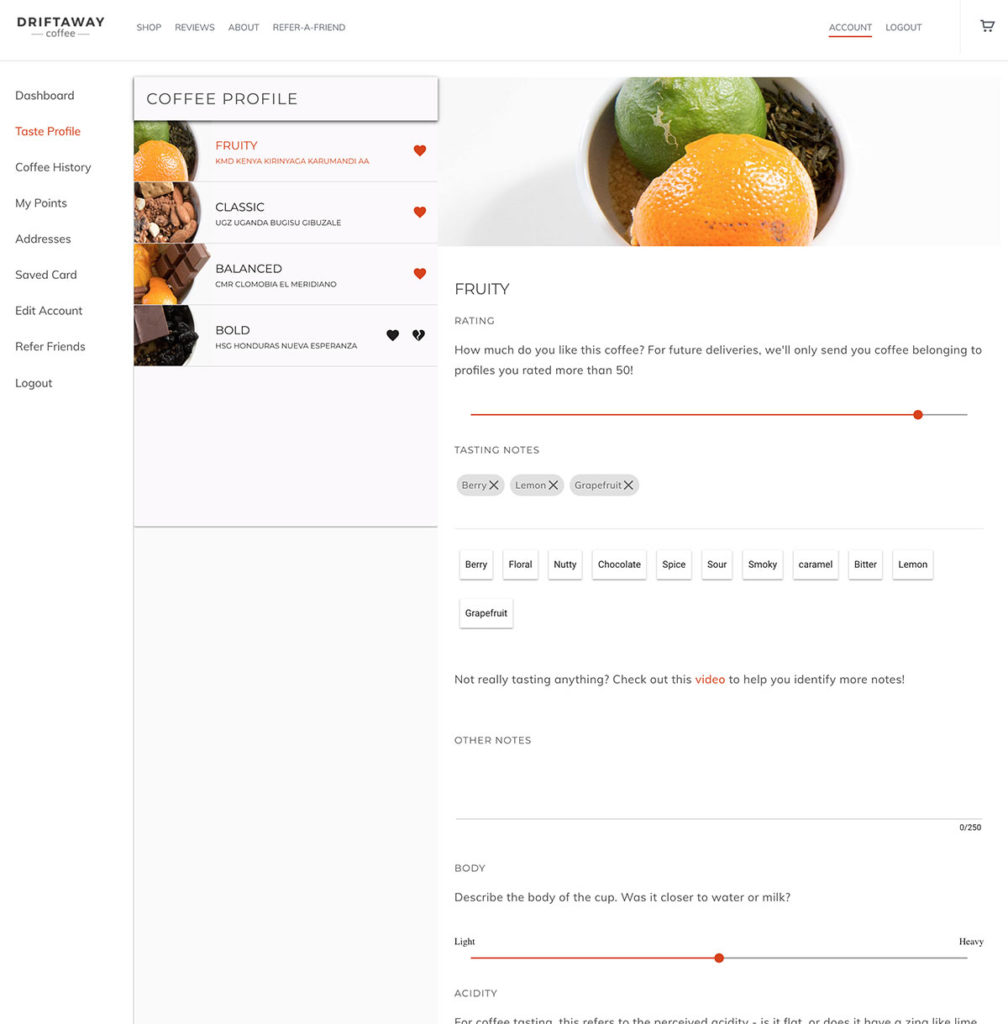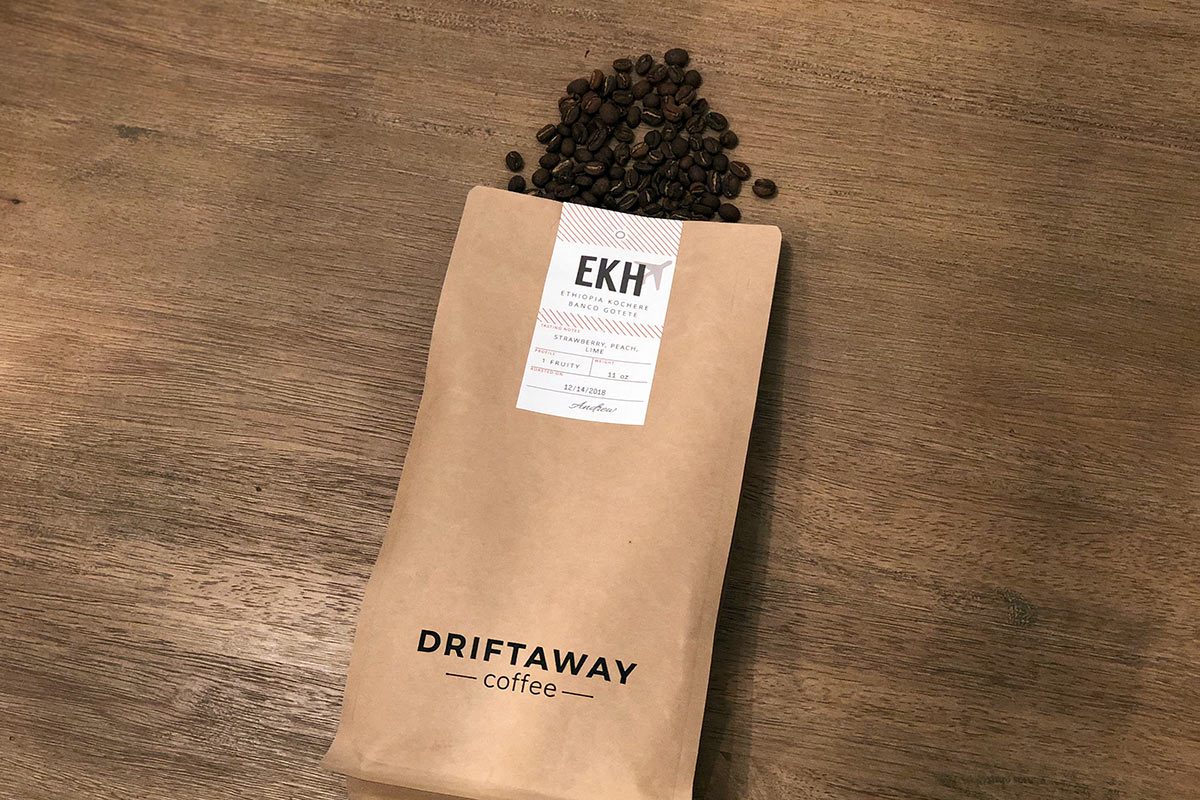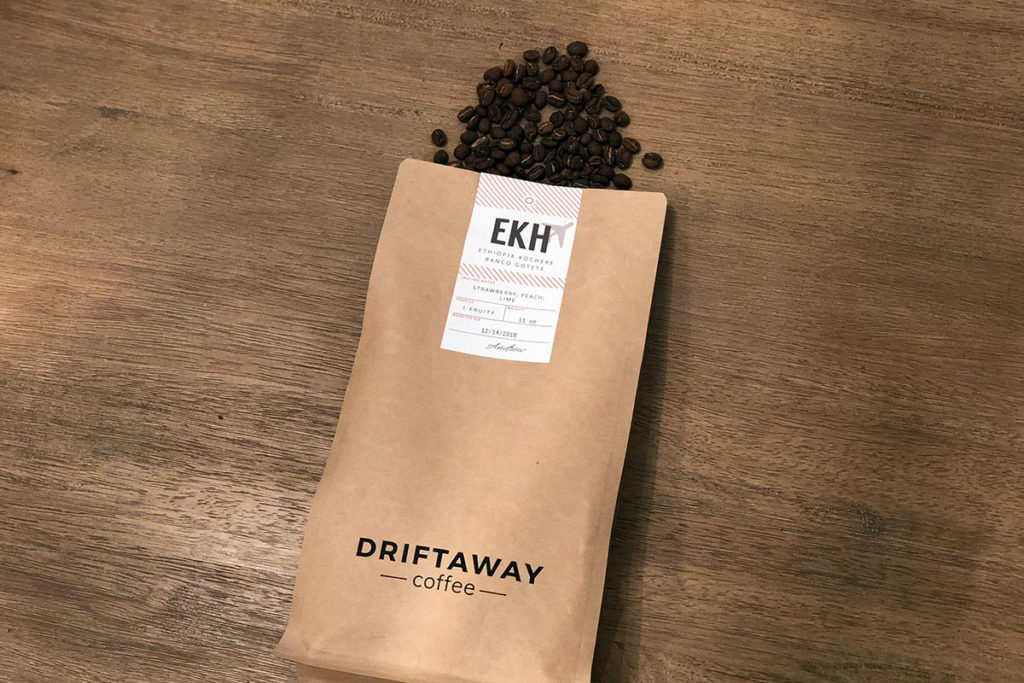 Delivery 2 – Ethiopia Kochere Banco Gotete
Based on my tasting kit review, my second delivery consisted of a coffee from the "1. Fruity" profile and was a washed Ethiopian coffee from the Yirgacheffe region. It was a really nice coffee that fit my preferred flavor profile well—complex, light roasts with some overt fruit notes.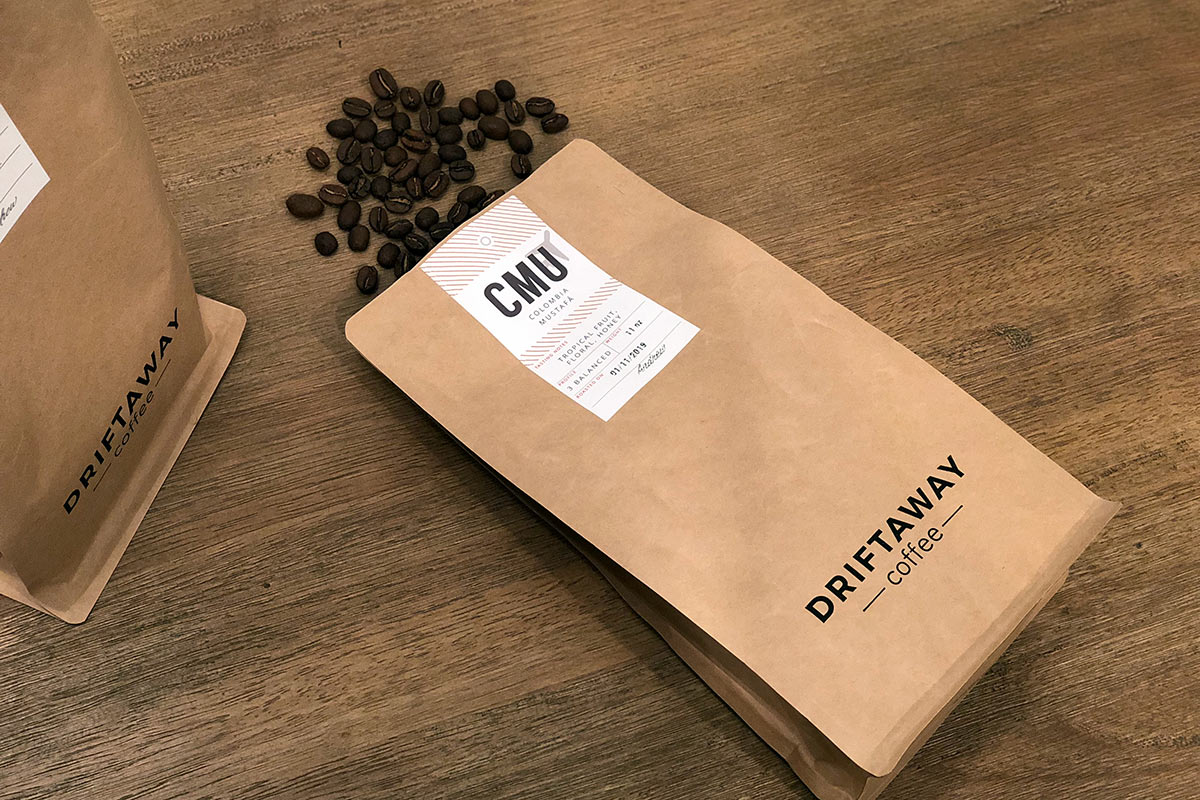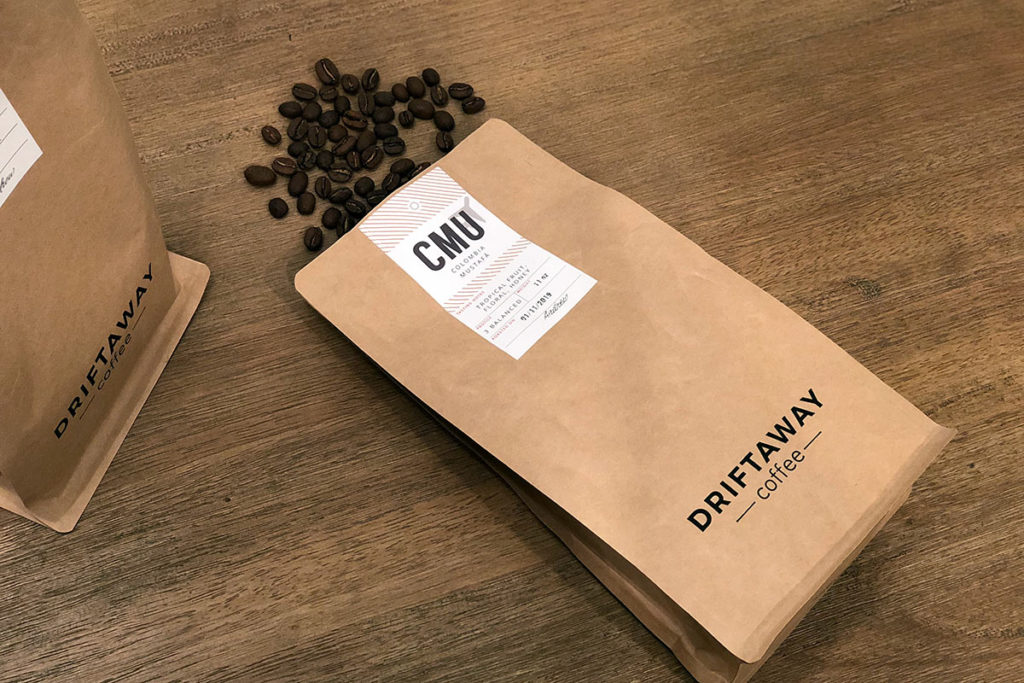 Delivery 3 – Colombia Mustafá
My third delivery was a black honey processed coffee from Colombia. Unlike the second delivery, this coffee came from the "3. Balanced" profile (my second highest ranked profile). Like the Ethiopian coffee, this one was a great one. The honey processing gives it elements of a naturally processed coffee, while still having some nice floral undertones. It was a really complex coffee and one I enjoyed drinking through the entire bag.
---
Cost
The cost for a subscription ranges from $10.29 to $34.00 depending on the amount of coffee you purchase (7oz, 11oz, 16oz or 32oz) and your commitment to the subscription (6 month commitment or month-to-month). Compared to other coffee subscriptions Driftaway Coffee is really competitively priced—especially if you do a 6-month commitment. Here is the breakdown of prices per ounce:
6-Month Subscription

7oz bag – $10.29 or $1.47 per ounce
11oz bag – $13.71 or $1.25 per ounce
16oz (1lb) bag – $18.86 or $1.18 per ounce
32oz (2lbs) – $29.14 or $0.91 per ounce

Month-to-Month

7oz bag – $12 or $1.71 per ounce
11oz bag – $16 or $1.45 per ounce
16oz (1lb) bag – $22 or $1.38 per ounce
32oz (2lbs) – $34 or $1.06 per ounce
Customer Service
Driftaway Coffee offers both a searchable help section, the ability to leave a voicemail, and email support. The help section appears to be pretty well populated with some of the key questions I thought about when reviewing the service. I also emailed support a few times throughout the subscription. The support was friendly and I spoke directly with Suyog Mody (one of the co-founders). It was fairly slow though. On average it took 5-8 days to get back to me with a response (and one time it took over 3 weeks). That seems unacceptably slow to me. The subscription period was during November/December, so it is possible support was simply slower as they dealt with an influx of orders around the holiday season.
User Experience
The Driftaway Coffee website is well designed and easy to use. In the account area you are able to tweak the settings in your taste profile (which determines what coffees you receive) at any time, pause a subscription, view your coffee history and easily change your plan or cancel. As with any site, there's room for improvement, but overall I was pretty impressed with the information the site included, the options in the account area and the way the information is presented. Other highlights in regards to user experience include:
They also offer an iPhone app, which while basic, is a nice added option for users (especially given the fact that most users will not be in front of their computer when trying the coffee).
They send an email the Wednesday before your coffee will ship to give you an option to make adjustments before your order goes through on Thursday.
They send a steady stream of emails to let you know when your coffee has shipped, arrived or if it will be delayed for any reason.
Ready to try Driftaway Coffee?
Start with a free tasting kit by using the link below.
Customization
Being able to easily control your subscription (the frequency of shipments, the size of your shipment, what's included, etc.) is one of the most important features these services offer. Overall, the level of customization with Driftaway Coffee is impressive. You can control a lot about your subscription, though there are a few limitations. Here are some details about the customizations:

Pause Subscription: You can pause your subscription at any time and pick a specific date to restart.
Shipment size: You can choose between 7oz, 11oz, 16oz or 32oz and change your subscription at any time.
Shipment frequency: You can choose between weekly, every two weeks or monthly for your shipments and change your frequency at any time.
Grind: Whole beans only, which I don't count as a negative because of the implications it has on quality, but does limit some people who do not have a (high-quality) coffee grinder.
Coffee: Your tasting profile impacts what future coffees you receive. The only reason they received a 9 vs. a 10 for customization is you can not choose a specific coffee you want as you can with other subscription services. Instead, they have a single coffee from each profile each month and send you the coffee that aligns with your coffee profile.
Roasters: All of the coffee is roasted by Driftaway Coffee.
Origin: All coffees are single-origin (no blends available), but from a variety of producers across the world.
Additional customization: You can manage your account easily to track or skip shipments, order more between shipments, and cancel anytime.
Ready to try Driftaway Coffee?
Start with a free tasting kit by using the link below.
Coffee Quality
From the six coffees I tried from the three shipments (tasting kit and two full shipment), I was impressed with the coffee quality. I don't think it was the best speciality coffee I've tried recently, but it does hold its own versus a lot of roasters out there.
Coffee Freshness
I received each of my shipments within a week of roasting. They ship their coffees on Friday within six hours of roasting. Free shipping gets the coffee to you in an average of 3.2 days, but you can also pay $3 more per shipment for priority shipping, which guarantees a 1-3 day delivery.
Coffee Variety
Each month they rotate four new coffees (one for each of their profiles). Between each coffee there is a good variety of locations, roast level and flavor profile. I'd love to have a few more options within each profile and have the ability to select a specific coffee you'd like as you can with other services.
Coffee Sourcing Standards
Driftaway Coffee appears to have direct relationships with many of the producers they source coffee from. They also boast of their farmer feedback program where they send customer feedback and some roasted coffee back to the farmer to share the final product with them. Some of their coffees appear to be organic and in the "Producer's Story" section they mention fair wages and humanitarian efforts on the farms. That said, they don't highlight their coffees as fair-trade, direct trade or organic. In their help center, they describe their policy like this:

Our sourcing policy is to strive to maintain as much traceability to the farmer as possible, and we try to support small farmers as much as we can.​ We do have some Fair Trade coffees some times…while we try our best to get FT-certified coffees, we don't always think a certification is always possible for many of the smaller farmers we source from. Our policy is to always work with importers that we know pay fair prices to the producers and farmers directly. We would love to source directly however we're currently not at a scale to be able to.
They do donate five cents for every pound towards long term coffee sustainability via the World Coffee Research.
Packaging
As a designer, I am a sucker for well-designed packaging. That said, when it comes to coffee, the packaging matters beyond how it looks; it can have a direct effect on the coffee. Read our post about coffee packaging to learn more.
Packaging: The tasting kit comes in a larger box that includes all four samples. Future shipments arrive in a branded packaging envelope with the single bag of coffee and the card about the coffee. The coffee seemed secure and without an issue of damage during shipping with both packaging options.
Container/package: The 11oz bag (and I assume 16oz + 32oz bags) includes a one-way valve, which is essential for fresh coffee. Fresh coffee gives off CO2 as a by-product of the roasting process. A one-way valve allows CO2 to leave the bag without oxygen coming in. If oxygen is allowed in the bag, it can cause complex aromas to be lost. The 2oz sample bags in the tasting kit did not include a one-way valve.
Design: The packaging is minimal in design and follows a baggage tag look. It is well designed though and the important information is clearly laid out.
Roast Date: Each coffee does include its roast date (though is implied by the ship date from the coffee).
Differentiation
With so many coffee subscriptions available, it's important for services to differentiate themselves from others. The main way Driftaway Coffee does this is with its coffee tasting kit and their four coffee "profiles". Allowing users to try a variety of coffee first—especially to users new to coffee—is a great way to make sure customers receive coffee that meets their taste preferences.
The Bottom Line
Driftaway Coffee is a great option for someone either just getting into specialty coffee or someone looking for high-quality coffee without the need for specific control over what coffee's he receives. The tasting kit is an approachable way for someone to begin to explore coffee tastes. The customizations the service offers allows you to get the right type of coffee in the right amount at the right time.

If you are a coffee drinker who already knows your specific coffee preferences (region, roast level, flavor profile) and enjoy picking out specific coffees based on your taste, I don't think Driftaway is the right service for you. It doesn't offer enough flexibility or variety when it comes to selecting specific coffees to make sure you get exactly what you'd want.

Ready to try Driftaway Coffee?
Start with a free tasting kit by using the link below.