Over the past few weeks I have been experimenting with creating coffee simply syrups to use on top of ice cream, in mixed drinks and more. The first approach I tried involved reducing the coffee sugar solution down over heat for over an hour. While this worked to create a thick, syrupy solution, I had a few issues with it:
It took too long (I don't have 1-2 hours to make a simply syrup);
It was too difficult to make it not taste burnt (my first batch was completely ruined because the coffee got scalded during the reduction time and made the entire simply syrup taste burnt);
It gets too thick too quickly. If you want to use it on top of ice cream, a thicker syrup works great, but I wanted mine mostly for mixed drinks and it too often became too thick that it wouldn't dissolve in a mixed drink
I needed to find an option that was fast, easy and worked great for mixed drinks. It turns out I was able to accomplish just that.
How to Make Coffee Simply Syrup the Easy Way
After trying the heat reduction method and a few other options, I decided I would try the easiest possible method: mix hot coffee with sugar. It turns out, this was not only the fastest option, it also worked the best. The process literally couldn't be simpler. Here's all you need to do:
Brew your coffee. I prefer to brew it at a stronger than usual ratio. I found 1:10 worked best.
Separate out 100 grams of freshly brewed coffee.
Measure out 100 grams of sugar. I tend to prefer using alternate sugars (honey, syrup, coconut sugar, etc.). Each of those work for this, but do impact the flavor of the coffee syrup. I found that to keep the coffee syrup as close as possible to the original coffee's flavor, white sugar worked best.
Dump the sugar into the hot coffee. Be sure to mix the two while the coffee is still hot so the sugar will melt without having to reheat the coffee.
Stir until the sugar is dissolved.
That's it. In about 5 minutes your coffee simple syrup is ready to go! No need to heat, reduce or spend hours making it.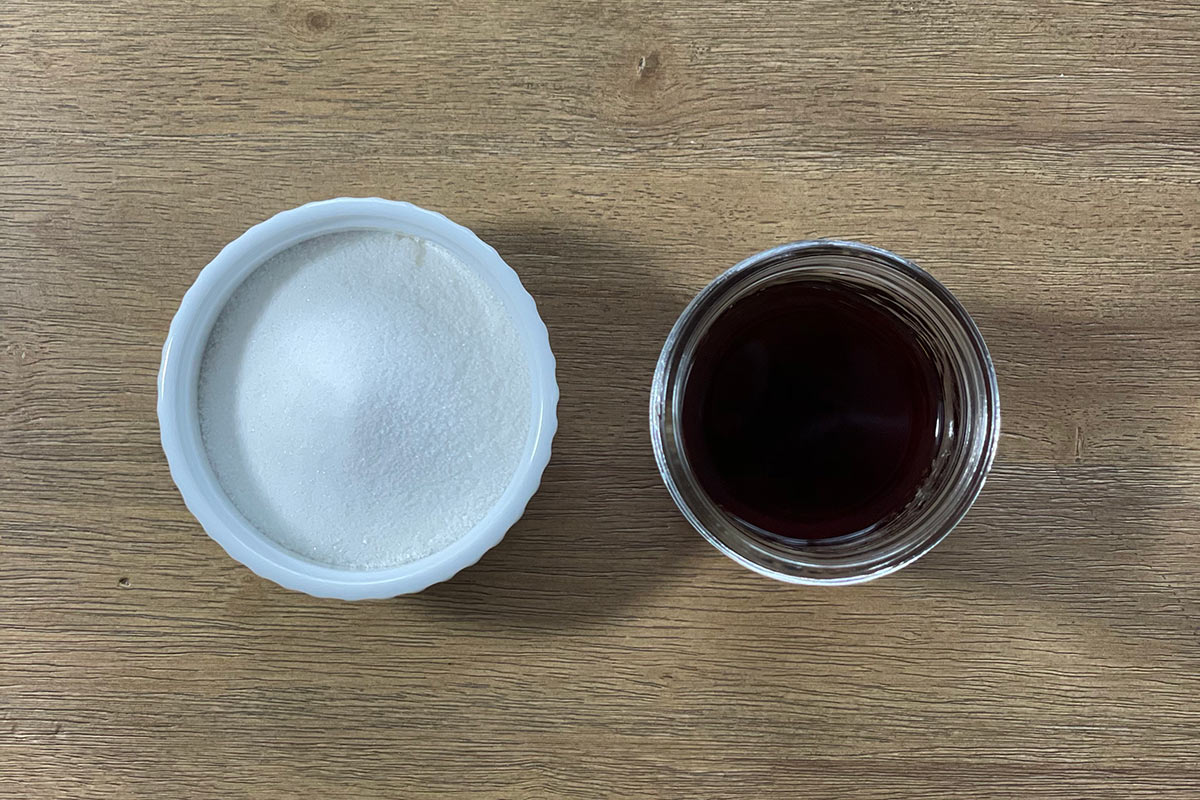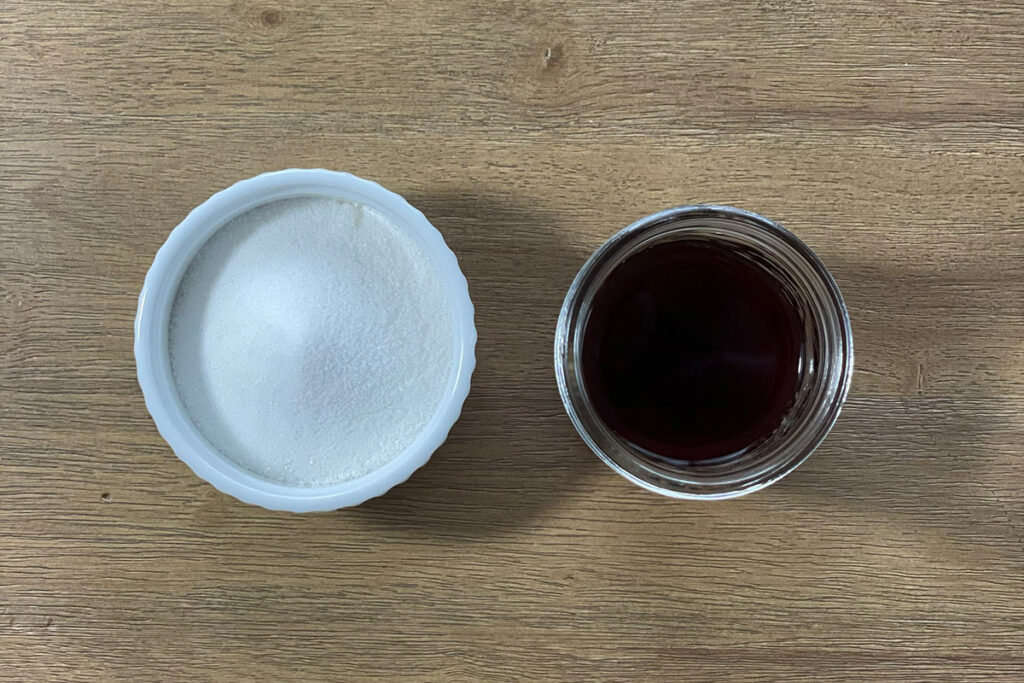 How to Use the Coffee Simple Syrup
There are a lot of ways you can use your coffee syrup. This method makes a much thinner syrup, which is perfect to use…
…in a cocktail. It can be used as a replacement for simple syrup in any recipe, but two of my favorites are in whiskey sours or in an old fashioned.
…in coffee soda. Alexander Mills has a great coffee soda recipe on his site.
…as a sweetener in lemonade, tea or other drinks. It's a great way to add some sweetness and a nice flavor twist to some of your favorite drinks.
…as a sweetener for your coffee. I am not one to add sweeteners to my coffee, but if you do, this is an option to a coffee-based sweetener to your coffee.
This is just a start. You can really use it for anything you would usually use a simple syrup for (which a quick Google reveals is quite a lot!).
What Coffee Should You Use for Coffee Syrup?
Any coffee will work for the syrup. The reason I like this approach though is that it allows the characteristics of the coffee to shine through the most. I like to select my coffee based on what I plan to use the syrup for. If I am using it for a coffee whisky sour, I tend toward brighter, more citrus-toned coffees. If I am using it for a coffee old fashioned, I'll either use a bright fruit-forward coffee or a rich, full-bodied, chocolatey coffee depending on the style of drink I am going for.
Finding creative ways to add coffee to cocktails and other drinks is one of my favorite things to do. I love experimenting to see where coffee works with other flavors and where it doesn't. When it comes to mixed drinks, one of the most common elements is a simple syrup. In its simplest form, a simple syrup is simply one part water to one part sugar.
Try coffee from roasters around the world
Get $10 off a Yonder subscription by using the link below + an extra $10 off when you use the code PULLANDPOUR.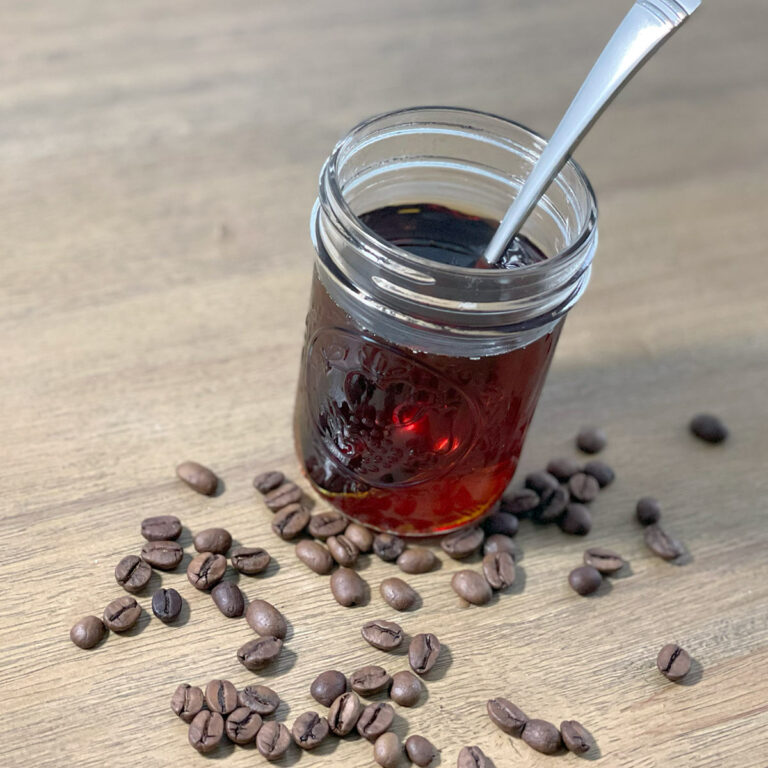 Coffee Simple Syrup
Add a coffee-flair to mixed drinks with this quick and easy coffee simple syrup. It takes less than 5 minutes to make and can be used in place of a traditional simple syrup for any recipe.
Ingredients
100

grams

white sugar

(or honey, syrup or sugar alternate)

100

grams

strong-brewed coffee

immediately after brew
Instructions
Brew your coffee. Brew stronger than usual at around a 1:10 coffee to water ratio.

Separate out 100 grams of the still hot, freshly brewed coffee.

Measure out 100 grams of sugar.

Dump the sugar into the hot coffee.

Stir until the sugar is dissolved (about 1 minute).
Notes
Sugar options: Any sugar

(honey, syrup, coconut sugar, etc.) will work for this recipe. While I usually prefer to use honey or syrup as a sweetener,

I found that to keep the coffee syrup as close as possible to the original coffee's flavor profile, white sugar works best.
Storage: Store the coffee simple syrup in the fridge. It should last for a few weeks, though given how easy it is to make, I tend to prefer smaller batches and to use it more quickly.