Two of the things I love most in this world are specialty coffee and craft beer, so it is no surprise when you combine them together I love the result. While coffee beer isn't as popular as some other styles, it includes a surprisingly vast number of beers—many of which are seasonal and drop this time of year. The collaborations between roasters and breweries are amazing and feature local collabs like Onyx Coffe Lab and Ozark Beer Company or Kaldi's Coffee and Schlafly Brewery all the way to powerhouses like Mostra Coffee which has collaborated on over 1,100 coffee beers with breweries around the world. The variety of coffee beers range from coffee stouts and porters to sours and cream ales and traditional beers to high-alcohol imperials to crazy flavor mix-ins. This post is a (growing) collection of some of the best coffee beers I've found and is broken into sections focused on traditional coffee beers, imperial coffee beers, and flavored coffee beers.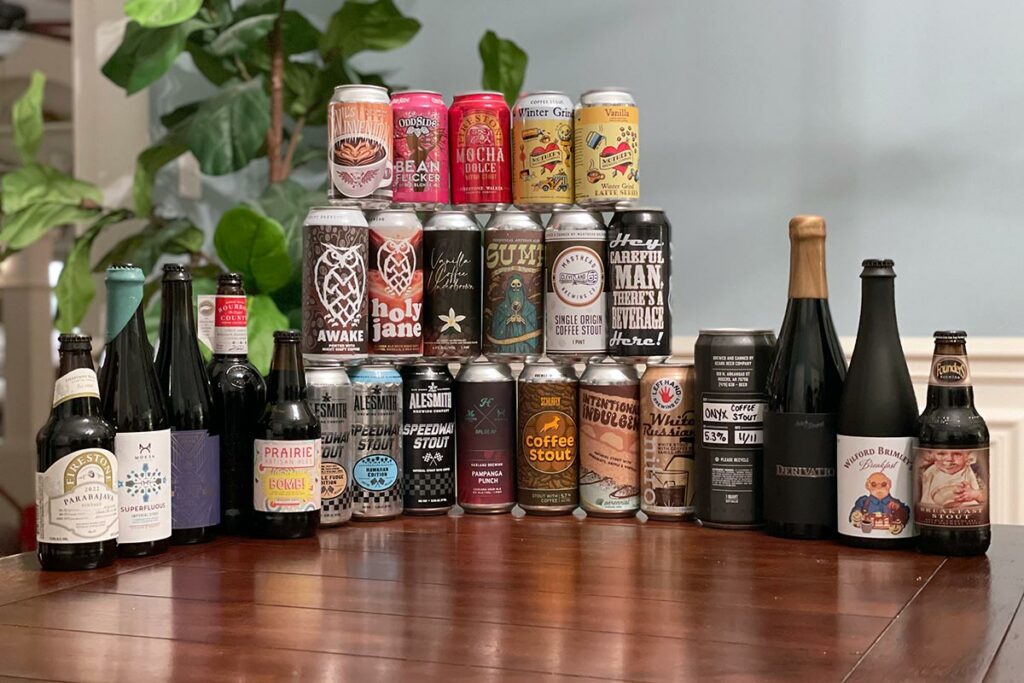 Traditional Coffee Beers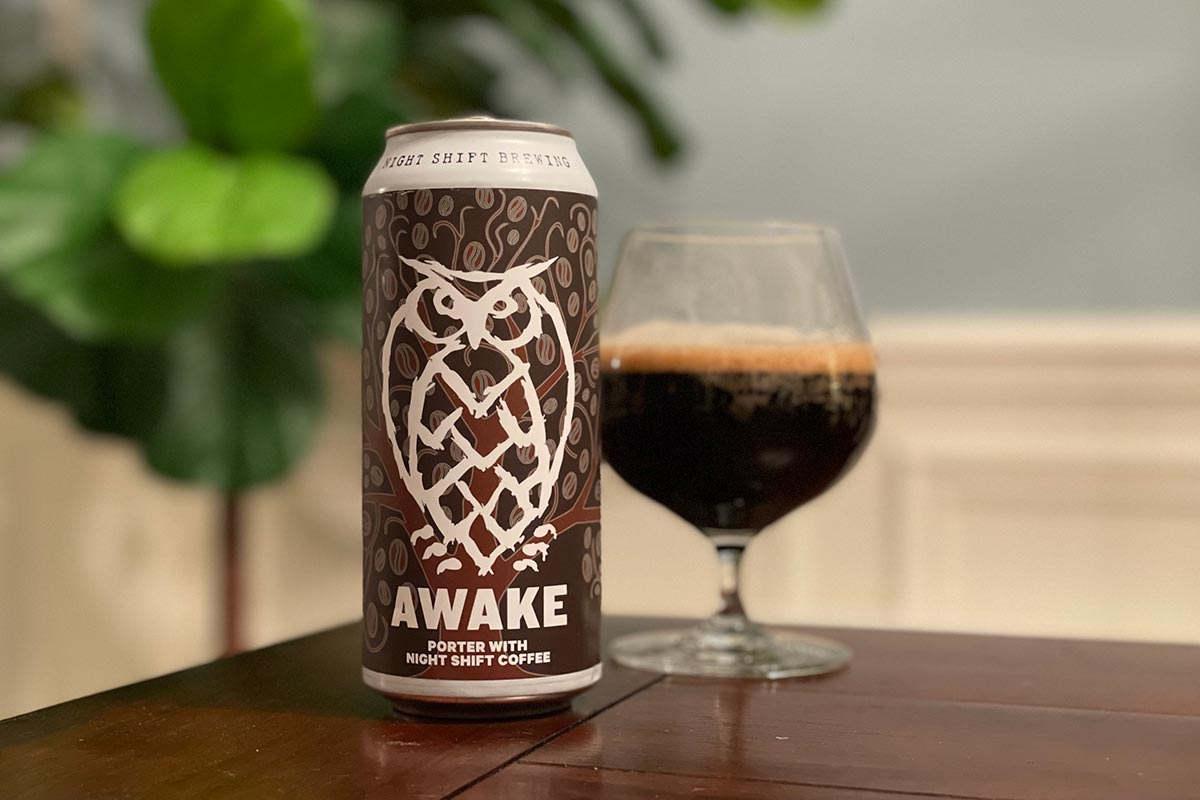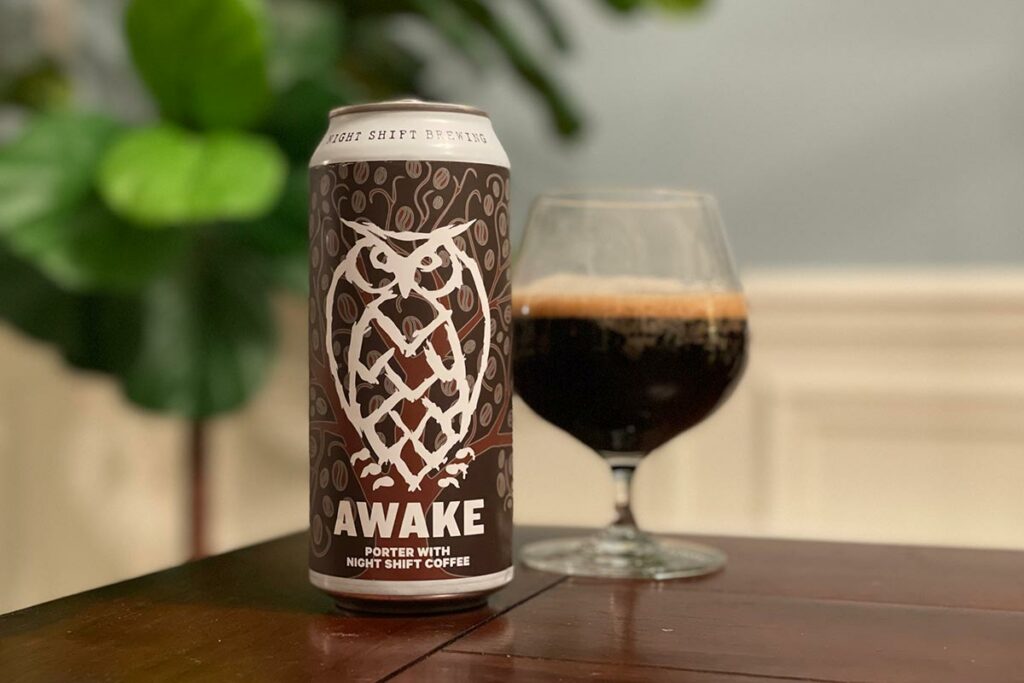 Awake – Nightshift Brewery
Porter with Night Shift Coffee
Awake is a porter made with Nightshift's own coffee from their sister roastery, Nightshift Coffee.
This is one of a few coffee porters and it has a lighter body than many of the stouts as a result. It has a really rich, yet balanced coffee profile with rounded chocolate notes and a touch of sweetness in the finish.
Who's it for: This is a great option if you enjoy the coffee flavor in a dark beer, but don't want something as heavy as a stout.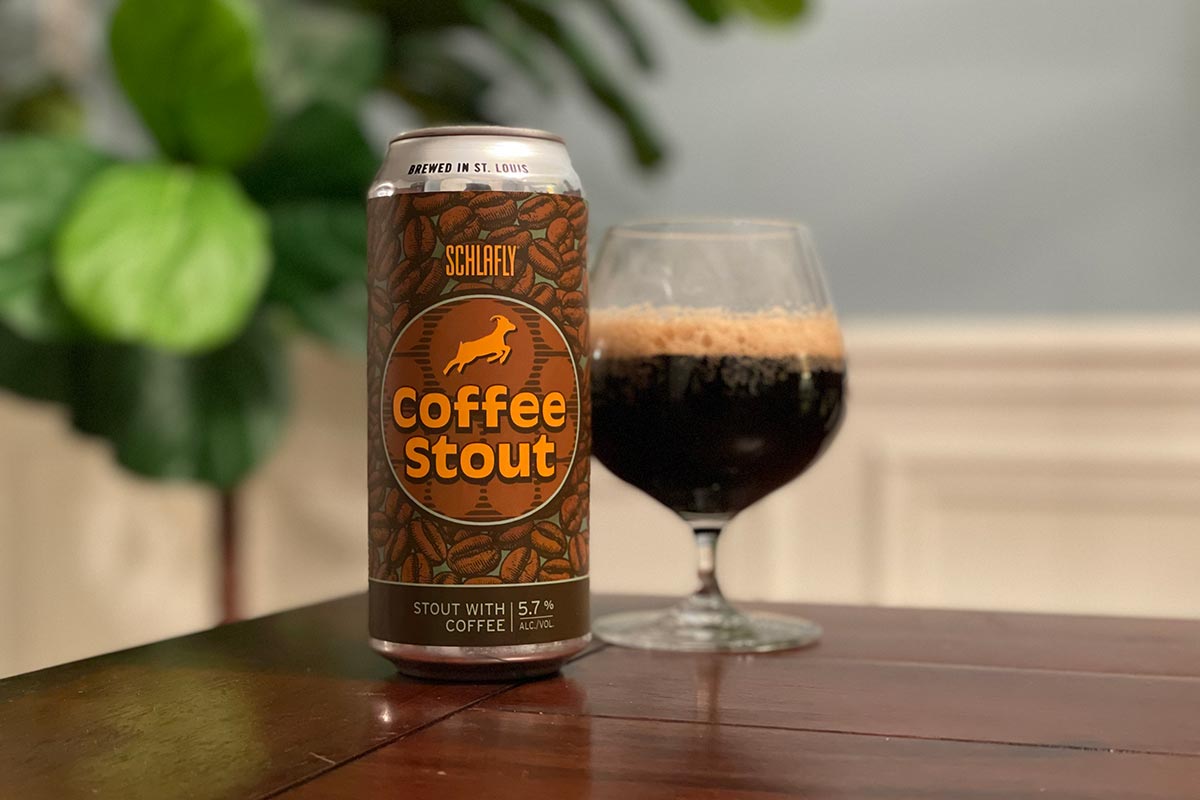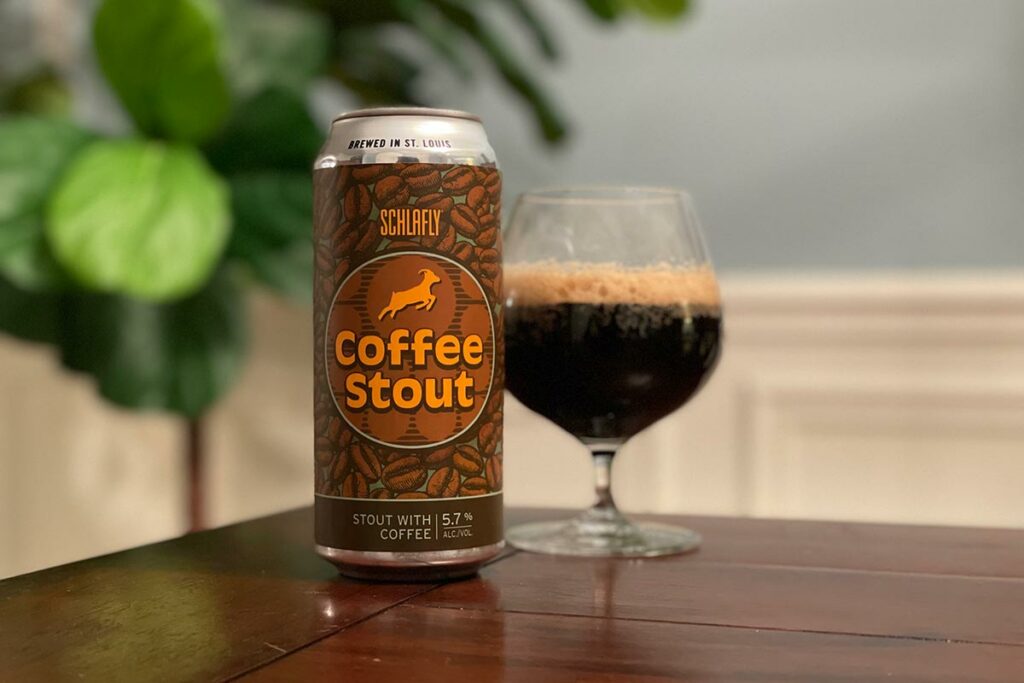 Coffee Stout – Schlafly Brewery
Stout with Coffee
Schlafly's Coffee Stout is made by adding French-roasted coffee from St. Louis roaster, Kaldi's Coffee, with a traditional stout. They use a unique cold toddy extraction process to make the coffee have less acidity in the beer.
This was the first coffee beer I ever had years ago. It is a fairly traditional coffee beer, but in all the best ways. It has a robust coffee profile, strong notes of roasted barley and coffee in the aroma, and a sweet coffee and chocolate profile throughout.
Who's it for: This is a great option if you are new to coffee beers and are looking to dip your toes in this wonderful genre of beers.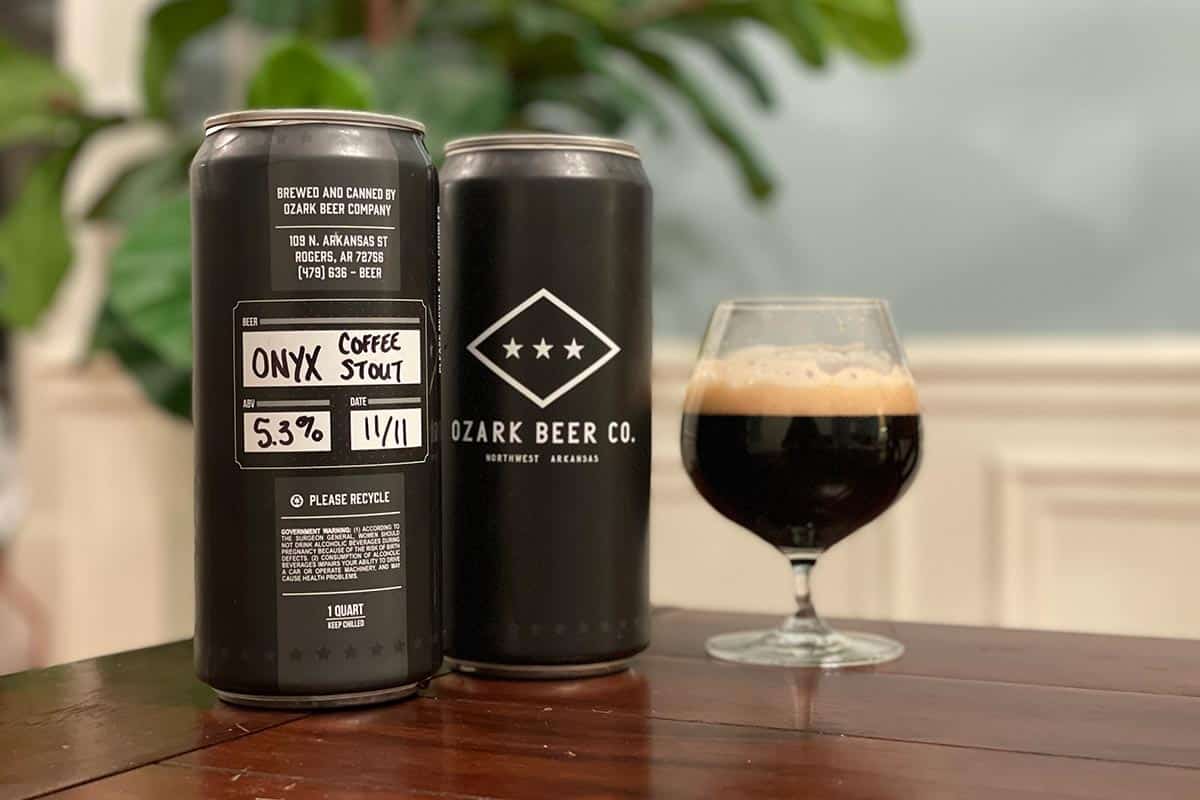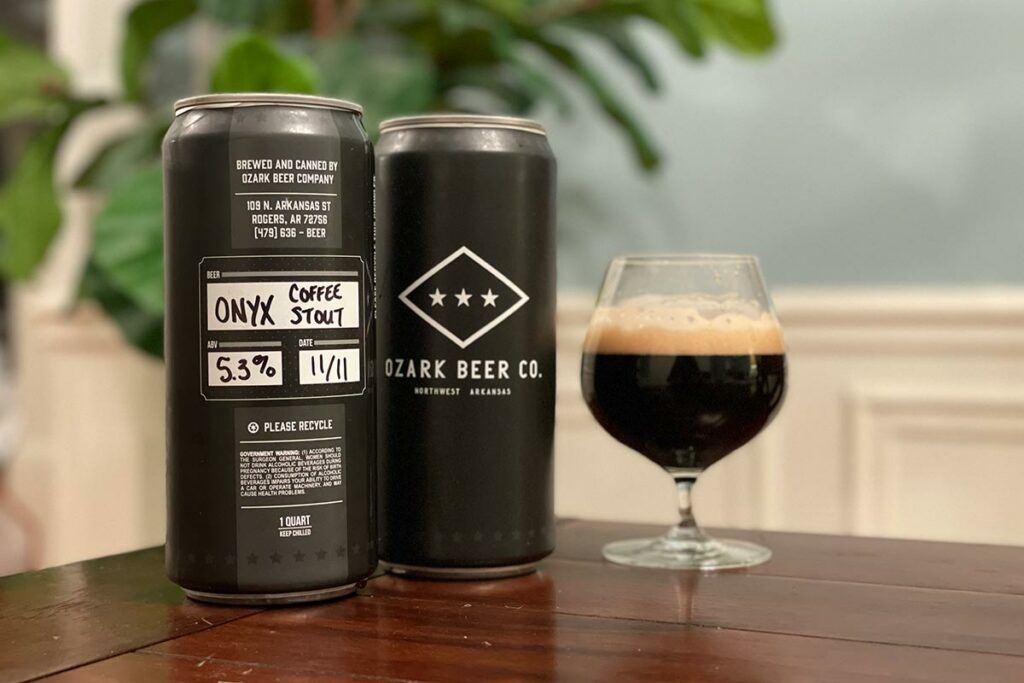 Onyx Coffee Stout – Ozark Beer Company
Collaboration Stout with Onyx Coffee Lab
This coffee stout features coffee from one of the most well-respected specialty coffee roasters out there, Onyx Coffee Lab. Ozark paired their milk stout with Onyx's French-roasted, cold-extracted Monarch blend for an excellent coffee beer. The milk stout makes the beer a bit lighter and creamier than some of the others on the list, but it is one of the best. It is delicious with a well-balanced profile between the milk stout and coffee.
Who's it for: Specialty coffee lovers who want to try one of their favorite roasters in beer form.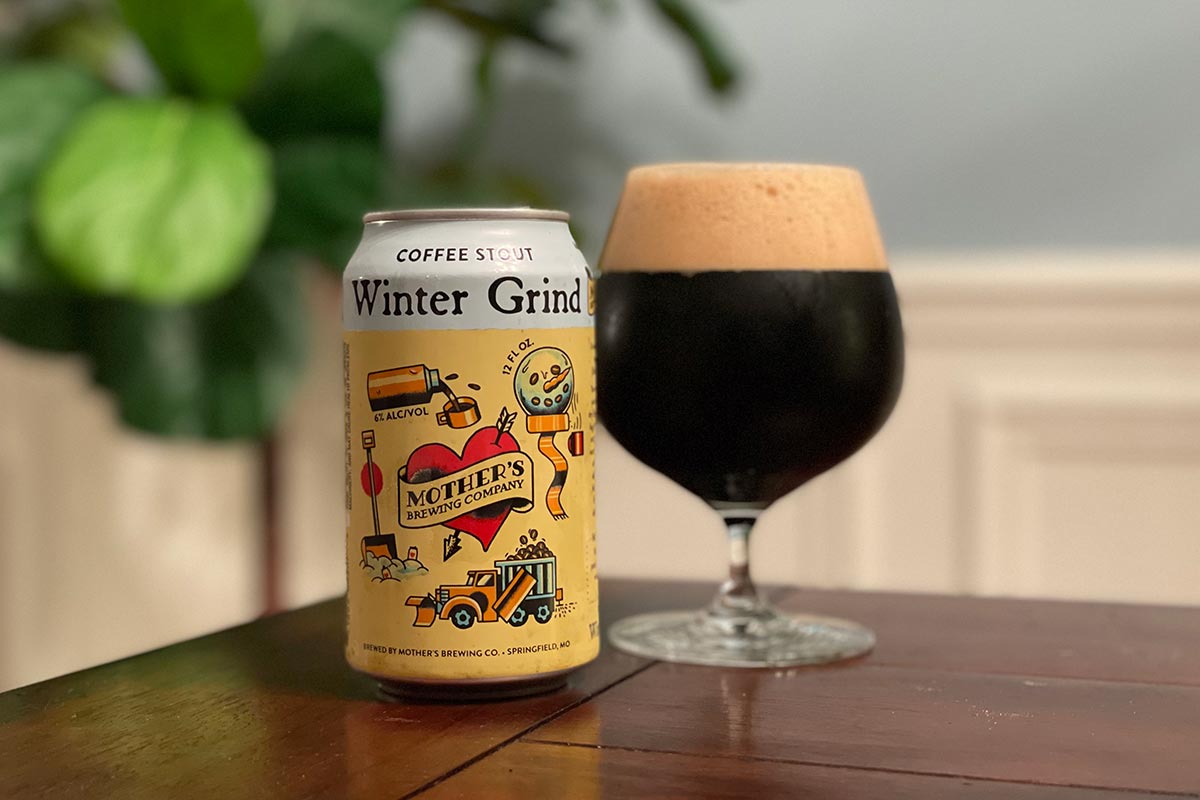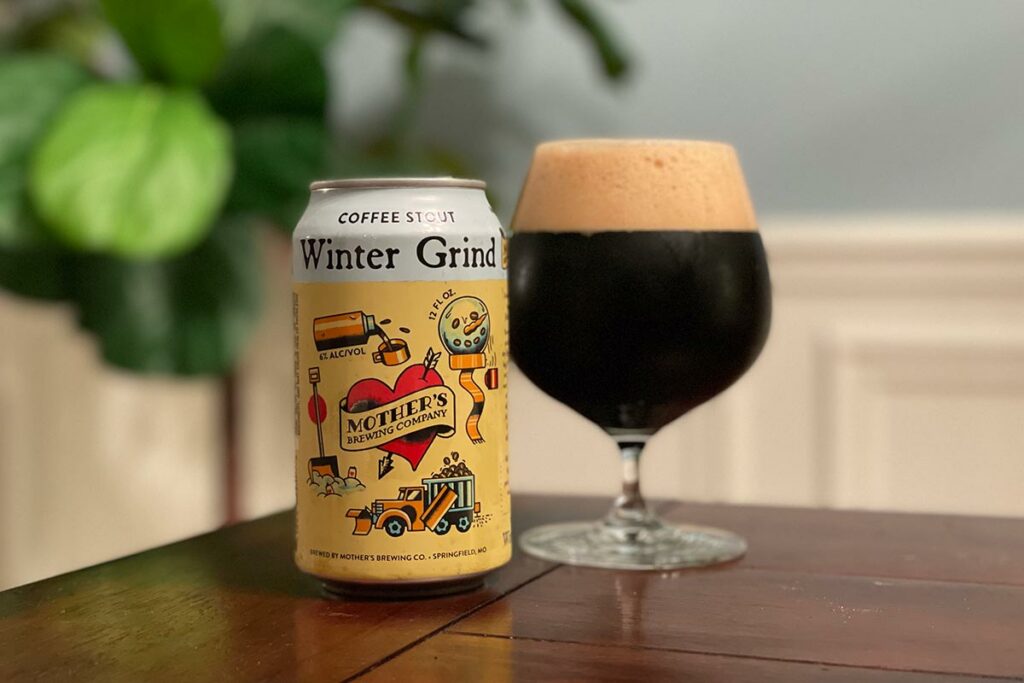 Winter Grind – Mother's Brewing
Coffee Stout
This coffee stout from Mother's Brewing out of Springfield, Missouri has consistently been one of my favorite coffee stouts year after year—and this year may be their best batch yet. This is one of the most robust coffee expressions in a stout I tried with the beans from Springfield roaster, The Mud House, taking center stage the entire drink.
Who's it for: If you prefer a little beer with your coffee and the coffee profile is never strong enough, try this one and let me know what you think!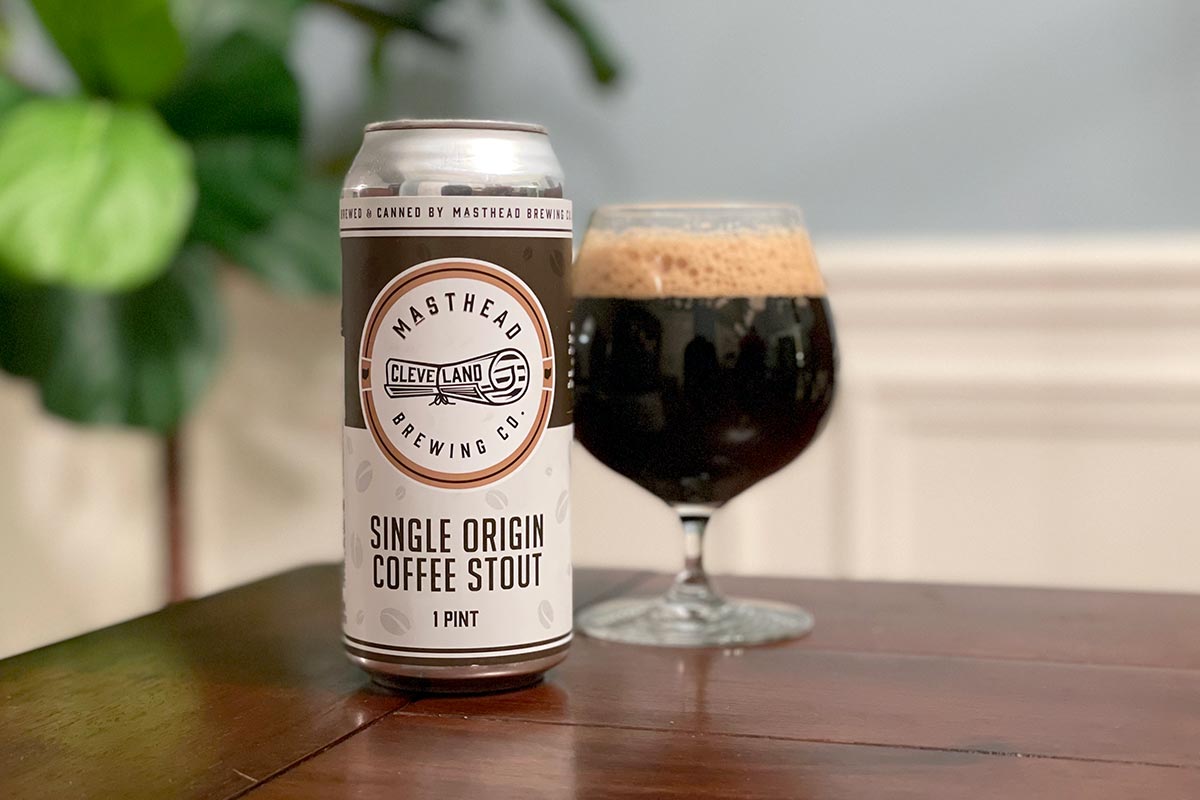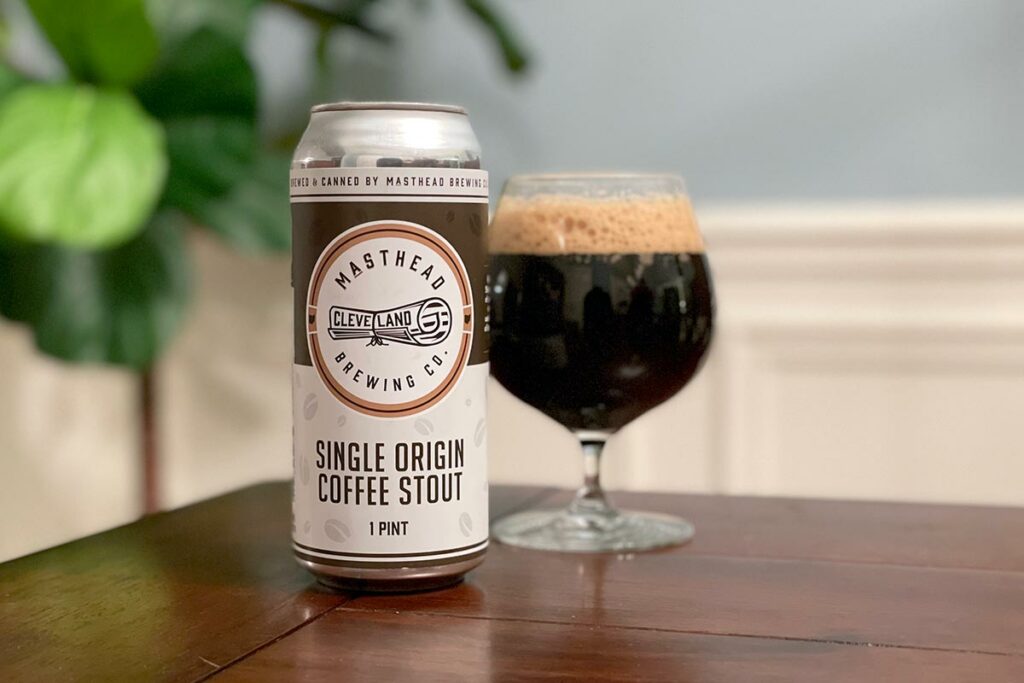 Single Origin Coffee Stout – Masthead Brewing Co.
Coffee Stout
This is a classic coffee stout from Cleveland brewery, Masthead Brewing Co., and is paired with Cleveland roaster Six Shooter Coffee's beans. It is slightly sweeter and lighter than some of the other coffee stouts but has a nice balance between the roasty character of the stout and the lighter Ethiopian coffee.
Who's it for: This is an all-around well-balanced and approachable coffee stout and a great option for any new coffee beer drinker.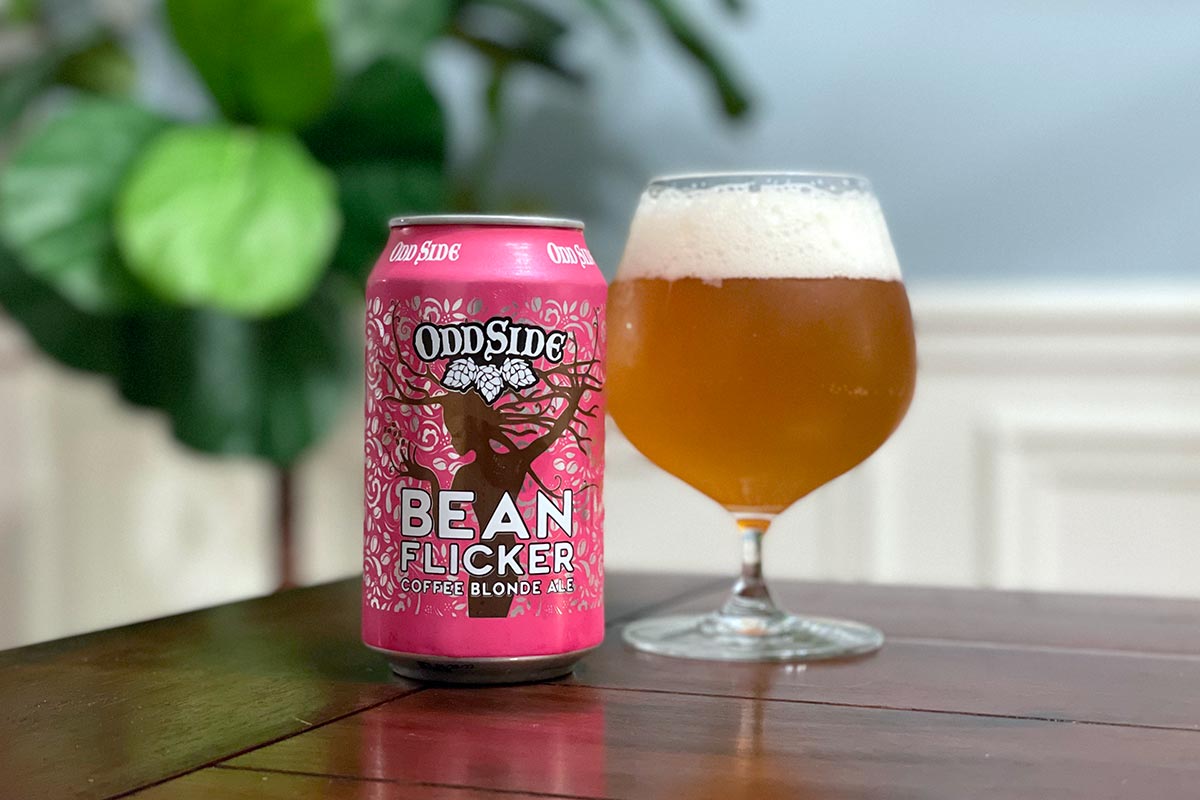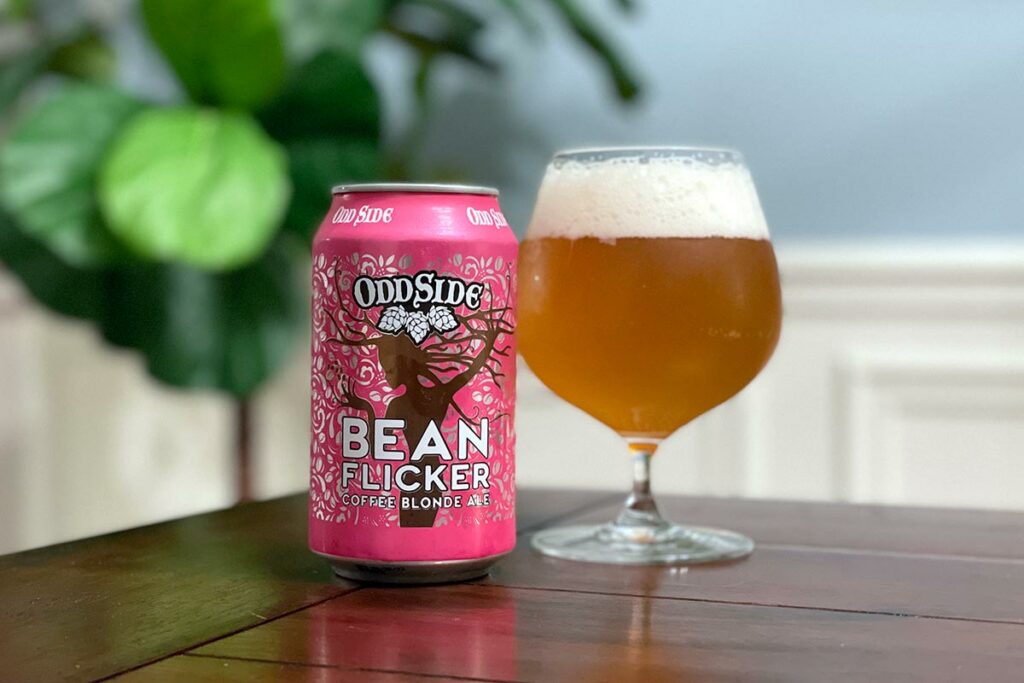 Bean Flicker – Odd Side Ales
Coffee Cream Ale
This is likely the lightest-bodied coffee beer I've ever had. The cream ale is smooth and sweet with the coffee notes gently in the background. This one is pretty much the opposite of the beers to come in the next section.
Who's it for: Prefer lagers or cream ales? This is the best coffee beer for you to try.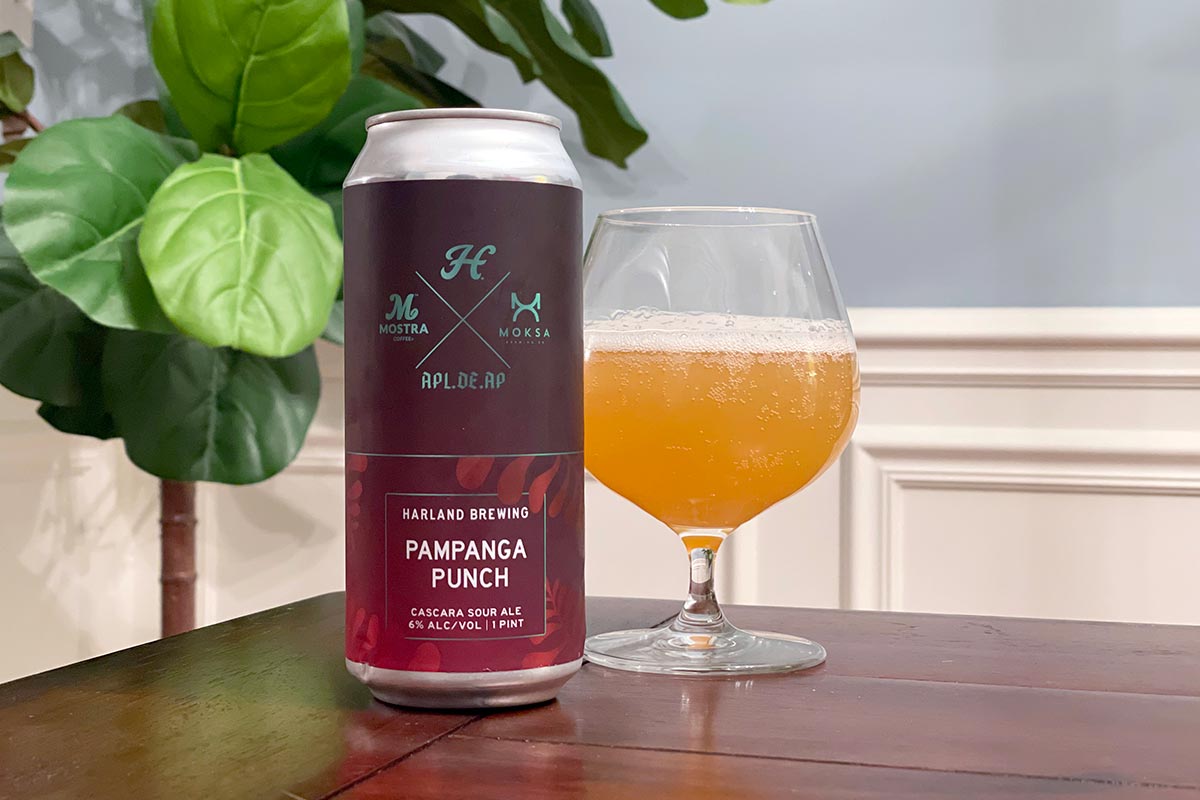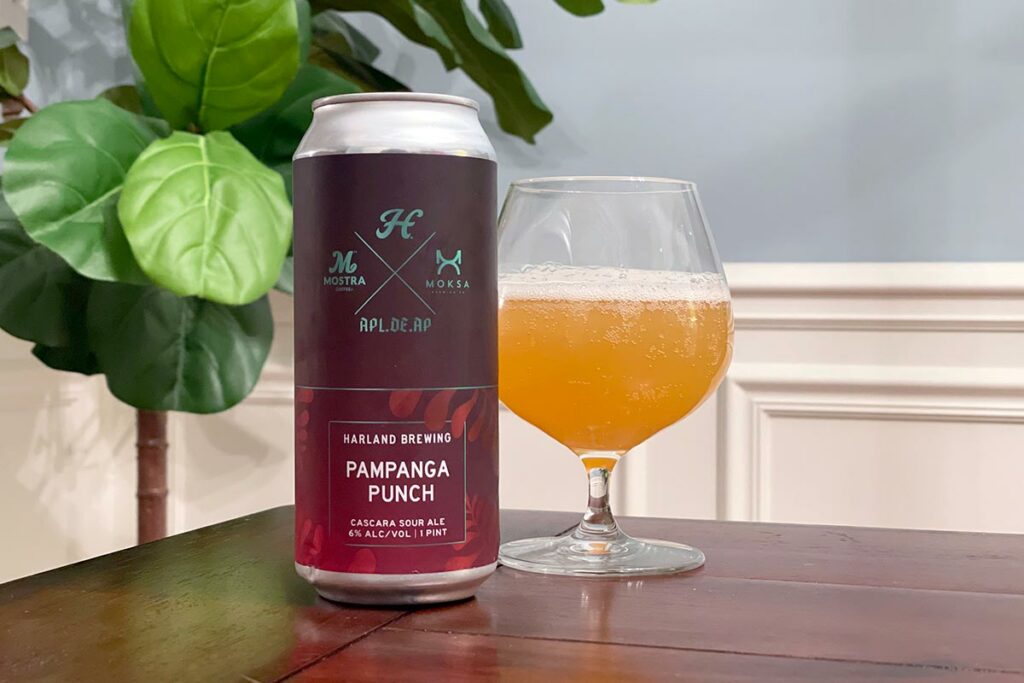 Pampanga Punch – Harland Brewing + Moksa Brewing Co + Mostra Coffee
Cascara Sour Ale
With likely the most exciting collaboration in the set, this Pampanga Punch was a collab between Harland Brewing, Moksa Brewing, Mostra Coffee & Apl.de.ap of the Black Eyed Peas, this is the only beer in the set that doesn't use coffee but instead cascara, the pulp around the coffee cherry. It is a fruited sour with cascara, calamansi, guava, and mango as the adjuncts. It is probably the most unique beer in the site and unlike any of the others included. It is a perfectly balanced sour with enough punch to make you pucker, but also equally crushable. It was named in honor of Apl.de.ap's hometown in the Phillipines, Pampanga, and it's refreshing, tropical profile harkens what you'd expect to find on the beach there.
Who's it for: This is one of the most delicious and drinkable sours I've had, while still being wildly complex. If you enjoy sours at all, this is a coffee-inspired one you absolutely should try.
---
Want an easy way to discover amazing coffee?
Check out the free Pull & Pour Coffee Club to receive a weekly text with one of my favorite coffees at the moment straight to your phone. Check it out
Imperial Coffee Beers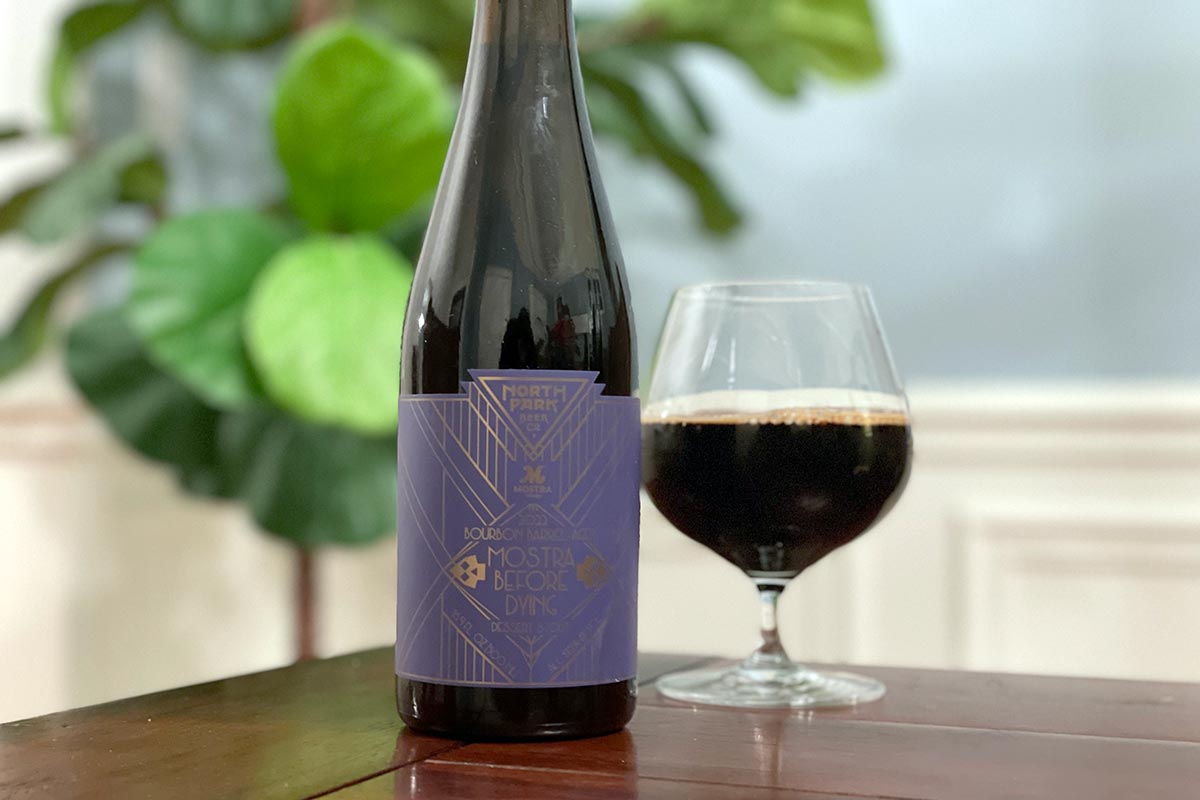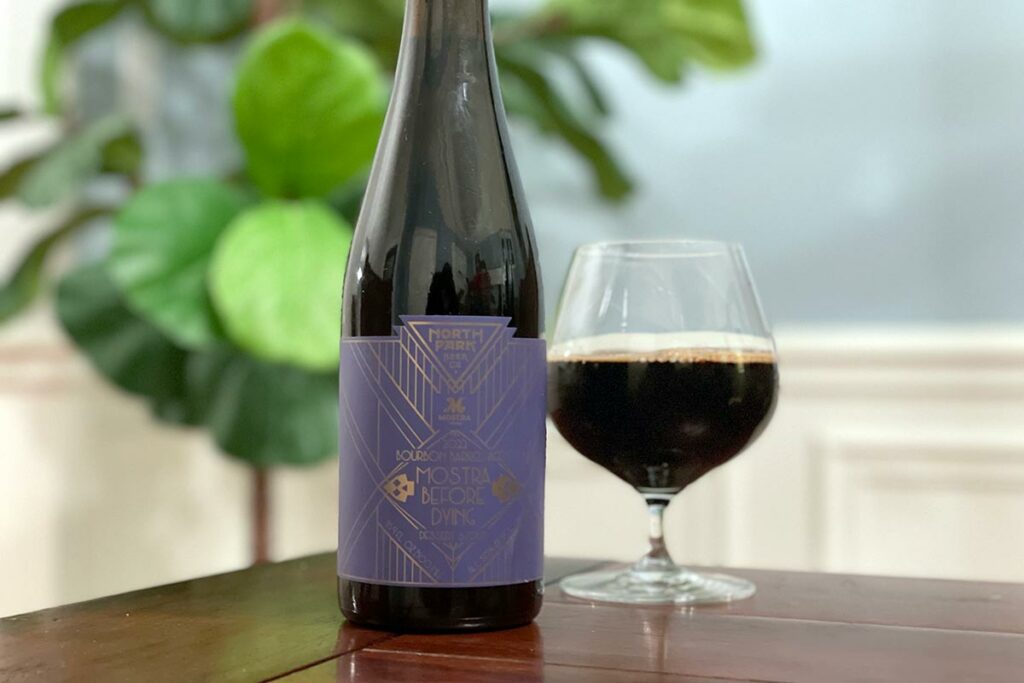 Mostra Before Dying – North Park Beer Company + Mostra Coffee
Imperial Coffee Stout
We ended the last section with a collaboration beer featuring Mostra Coffee and we begin the imperial section with another Mostra collab. This beer was created for Mostra's TME (The Mostra Experience) membership and could not be more different from the Pampanga Punch above though.
This stout comes from North Park Beer Company, winner of Brewery Of The Year at the 2022 Great American Beer Festival. It boasts a boisterous ABV of 13.5% and is a blend of imperial stouts aged in Weller, Heaven Hill, and Blanton's bourbon barrels featuring roasted hazelnuts, vanilla beans, and roasted cacao nibs. It is then finished with Mostra Coffee's Indonesia Sumatra Kzerinci Valley Coffee. The flavors are beautifully balanced with prominent hazelnut and coffee notes throughout. It has a velvety mouthfeel and is one of the most decadent, special beers in the set.
Who's it for: This, as with most of the beers in the imperial section, is not for the faint of heart. It is big & bold, but absolutely delicious. If you are looking for a notable coffee beer to share with someone on a special occasion, this is one to go for.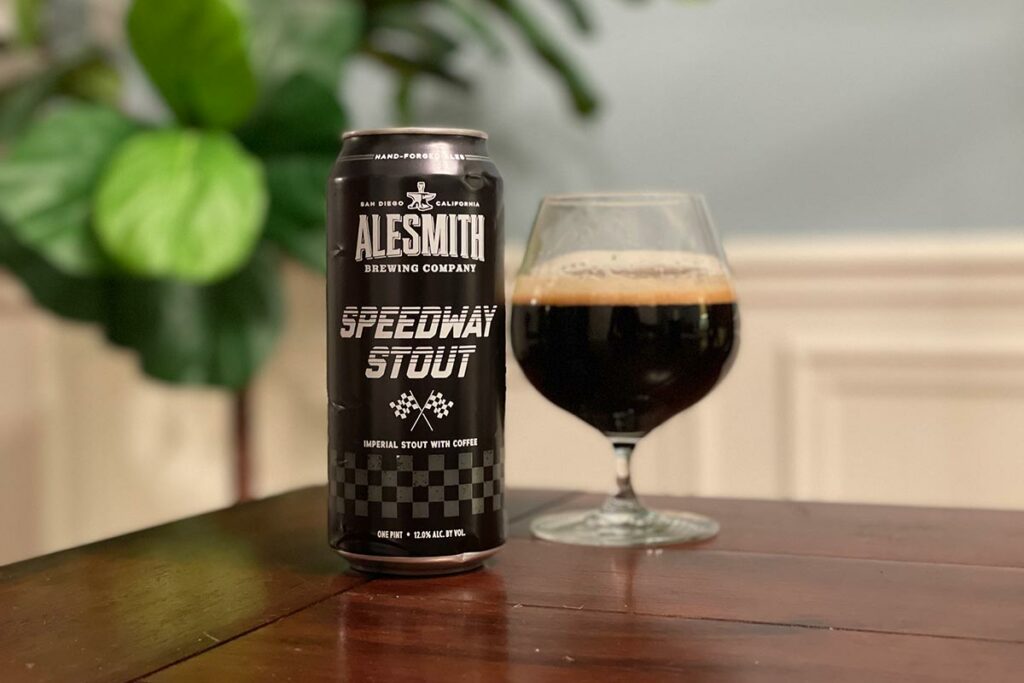 Speedway Stout – Alesmith Brewery
Imperial Stout with Coffee
Speedway Stout from Alesmith Brewery is one of the more well-known imperial coffee stouts. With an ABV at 12%, this is no joke of a beer. It's thick, heavy, and full of delicious coffee notes and chocolate and roasted malt. And while that may sound intimidating to some, this stout is delicious, creamy, and surprisingly easy to drink.
Who's it for: If you enjoy a big stout profile with tons of flavor, this is a great one to try. It also has pretty good distribution, so there is a good chance you'll be able to find it at your local beer shop.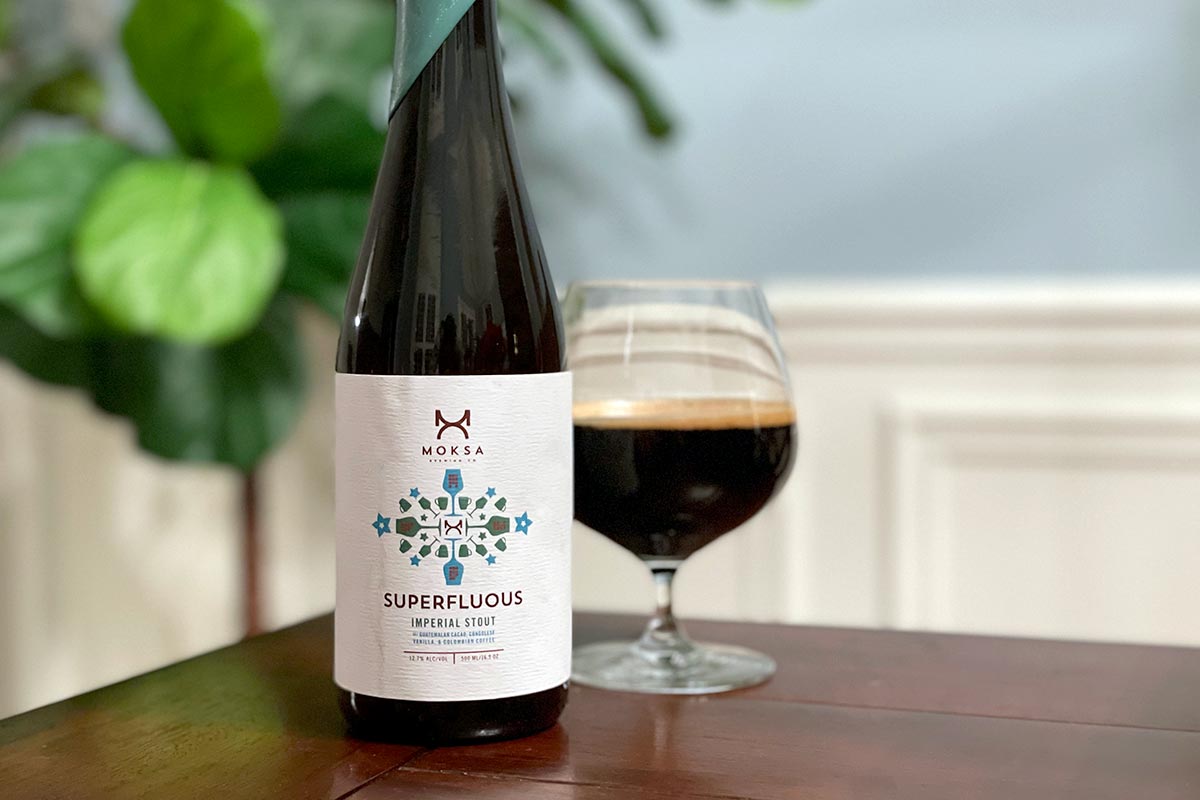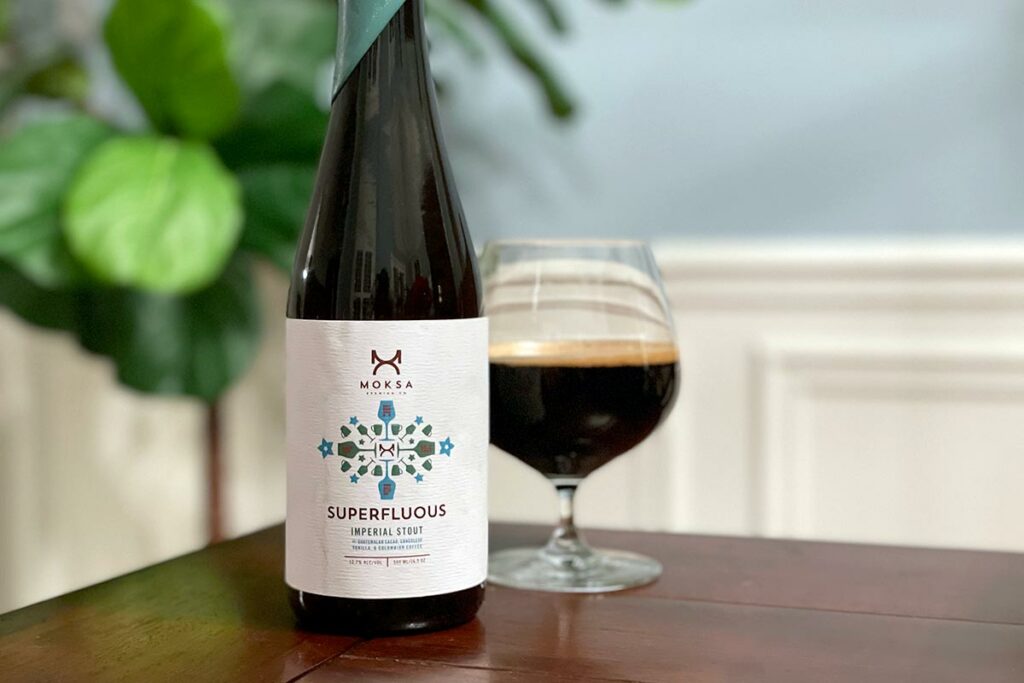 Superfluous – Moksa Brewing Co
Imperial Stout with Guatemalan Cacao, Congolese Vanilla & Colombian Coffee
Superfluous is a complex juggernaut of a beer with 6 lbs per barrel of Guatemalan cacao nibs, 1 lb barrel bbl of Congolese vanilla beans, and over 2 lbs per barrel of Columbian coffee.
The chocolate and coffee notes balance themselves very nicely and are complemented by the sweetness of the vanilla. At 12.7% ABV, Superfluous is definitely an imperial stout, but with how smooth it drinks, you would never know. While some 500mL bottles would be hard to drink by yourself, Superfluous is not a hard one to kill by yourself in a single night.
Who's it for: If you like the complex quality of imperial stouts, but don't love their heaviness of them, this is the perfect beer for you. The coffee, chocolate, and vanilla all pair perfectly together in one of the more approachable imperial stouts I've ever had.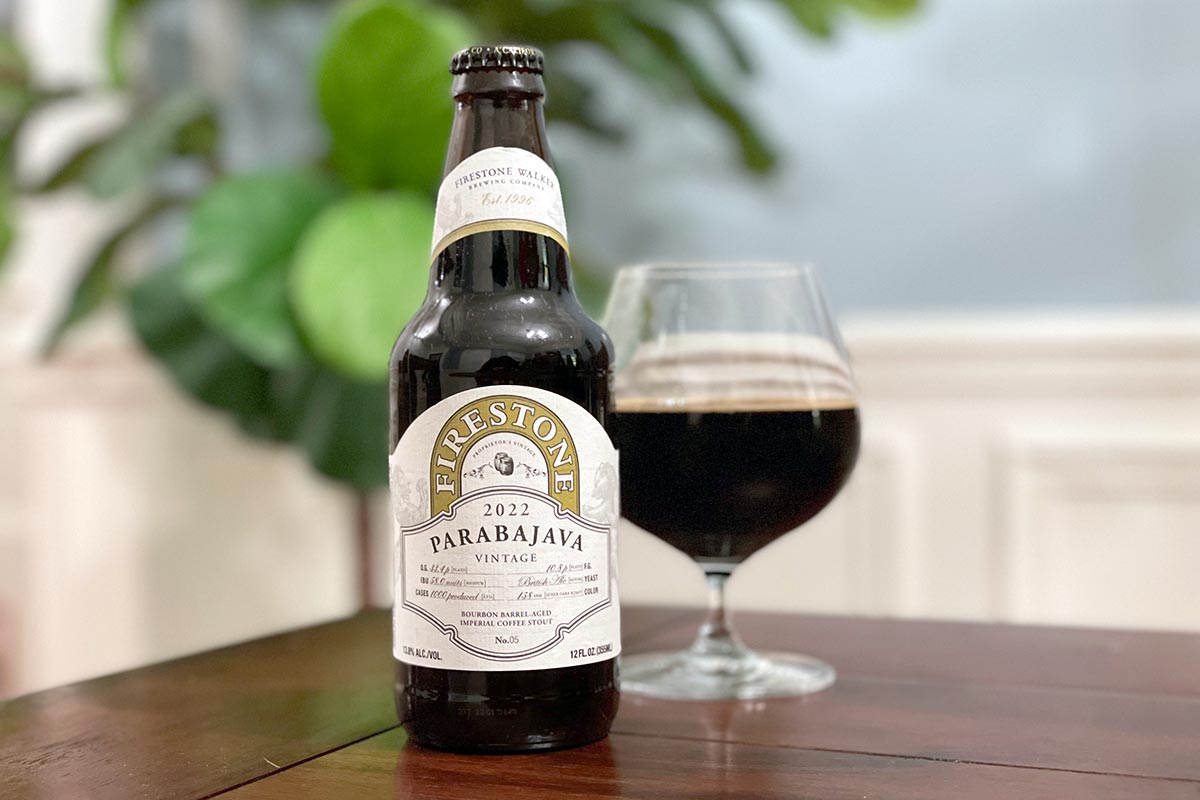 Parabajava 2022 – Firestone Walker
Imperial Coffee Stout
This 2022 Parabajava is the 5th year Firestone has been creating this coffee twist on their barrel-aged stout. This version is made with Ethiopia Kayon Mountain Coffee from HoneyCo Coffee Roasters. It is aged for a year in bourbon barrels and is as complex as it is dark. At 13.8%, this is a heavy-hitter, but very drinkable. It is one to enjoy now or cellar for later.
Who's it for: Firestone Walker is well-known for their Vintage series and the excellent beers in it. If you are a fan of their other Vintage beers, this is a great coffee-focused one to try.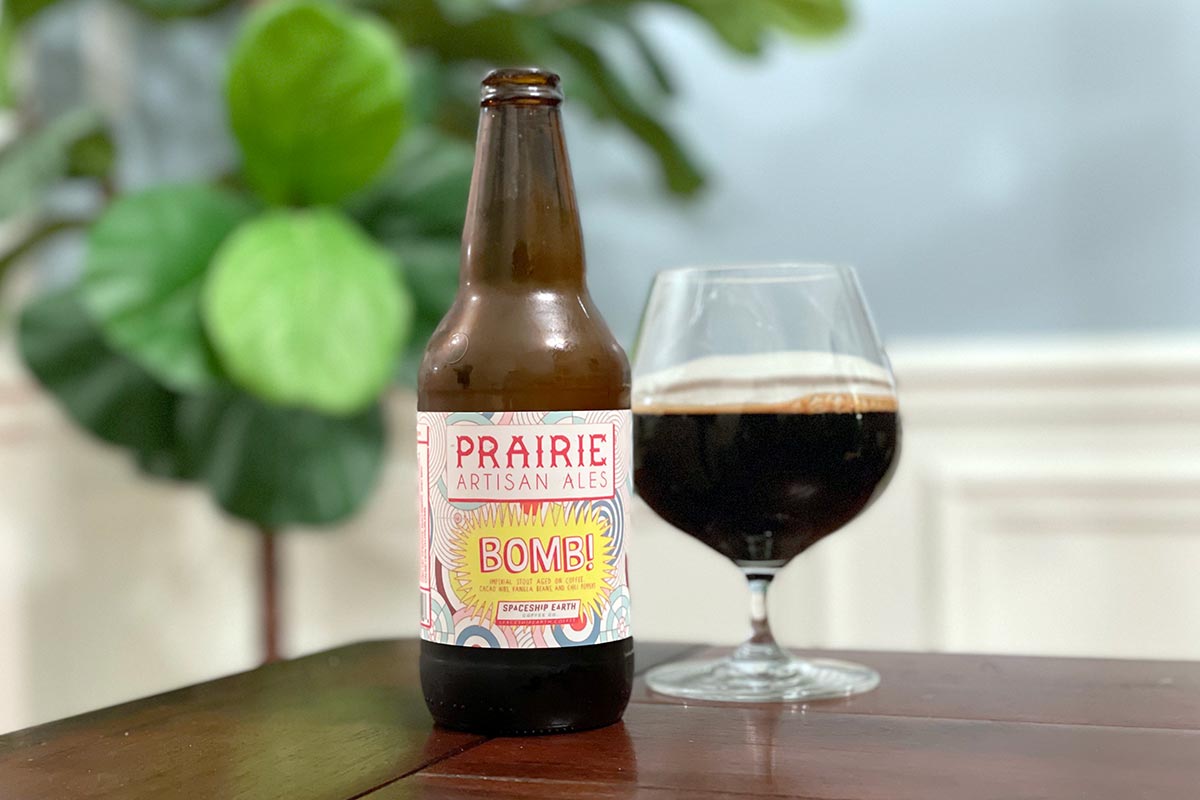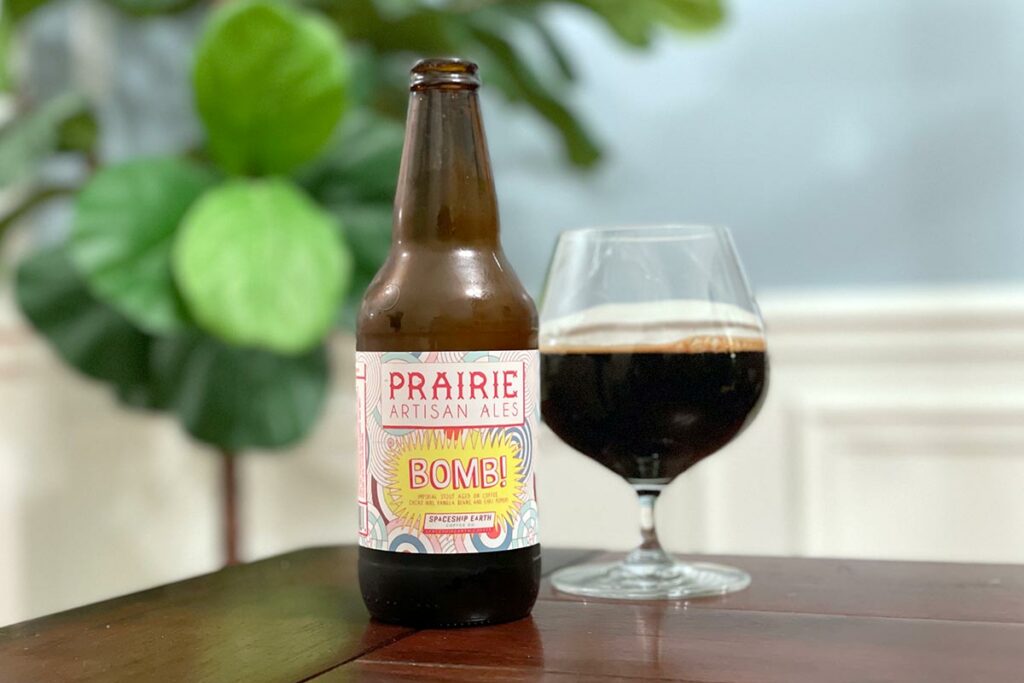 Bomb! – Prairie Artisan Ales
Imperial Stout aged on Coffee, Cacao Nibs, Vanilla Beans, and Chili Peppers
The Bomb! series from Prairie is one of the most iconic coffee beers. It can be found around the world and is available in 45 of the 50 states. There are countless variations of it now, but this is the original that started it all. It uses espresso beans from Spaceship Earth Coffee, as well as multiple other adjuncts to make it incredibly complex.
Bomb! was one of my first introductions into imperial coffee beers and one I've been enjoying for years.
Who's it for: If you live in a place that's harder to find unique beers, this is a great one to look for. With such broad distribution, it's likely available close to where you live.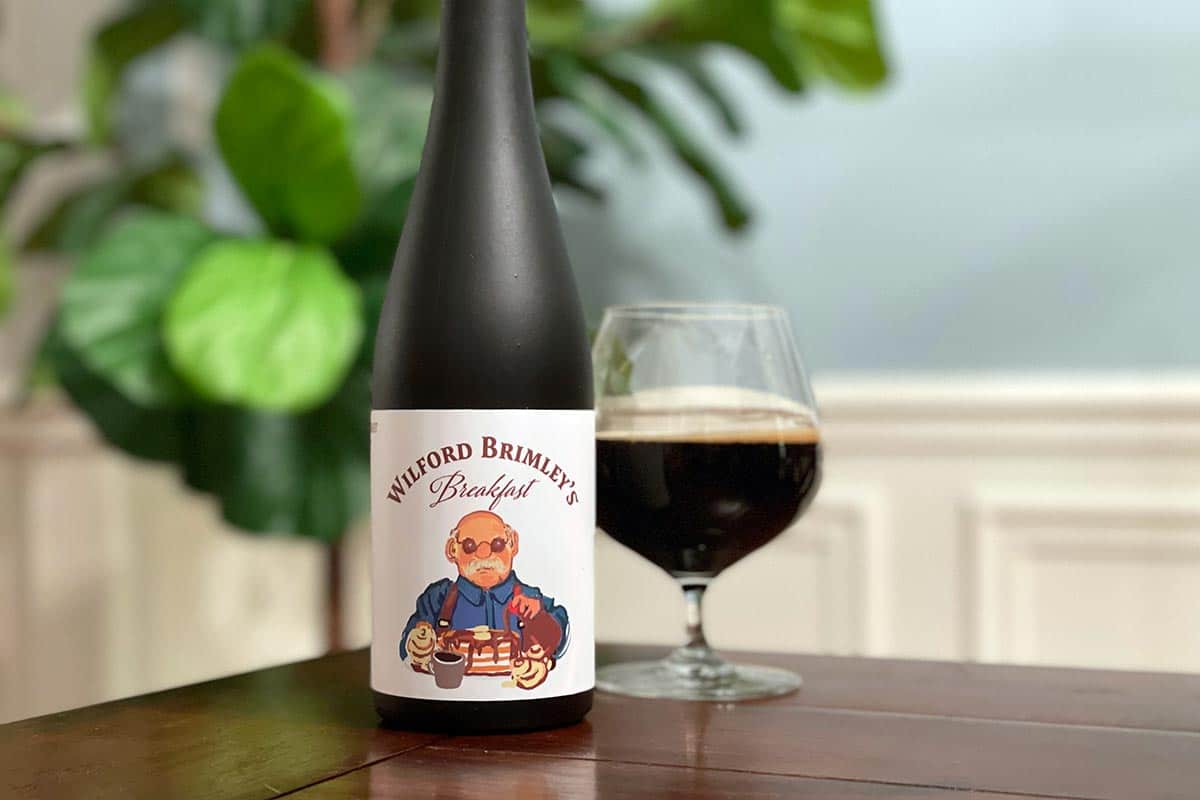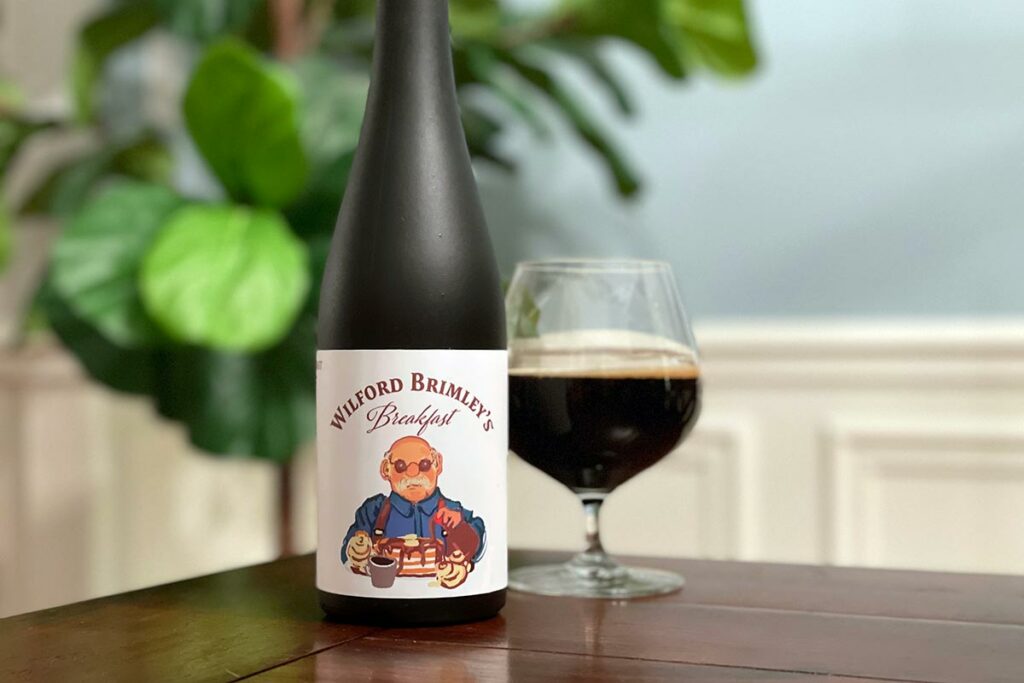 Wilford Brimley's Breakfast – New Groove Artisan Brewery
Imperial Double Pastry Coffee Stout
New Groove Artisan Brewery out of Boiling Springs, South Carolina, outdid itself with this robust imperial pastry stout. It features maple syrup, coffee from South Carolina roaster, Little River Roasters, cinnamon, and Ugandan Vanilla beans—truly breakfast in a glass. At 11% ABV, this one is a bit lower alcohol content than some of the other imperials in this list, but it is just as heavy of a hitter. With a rich, complex profile, this one is almost as decadent as they come.
Who's it for: Looking for something sweet and decadent? This is a great beer to try.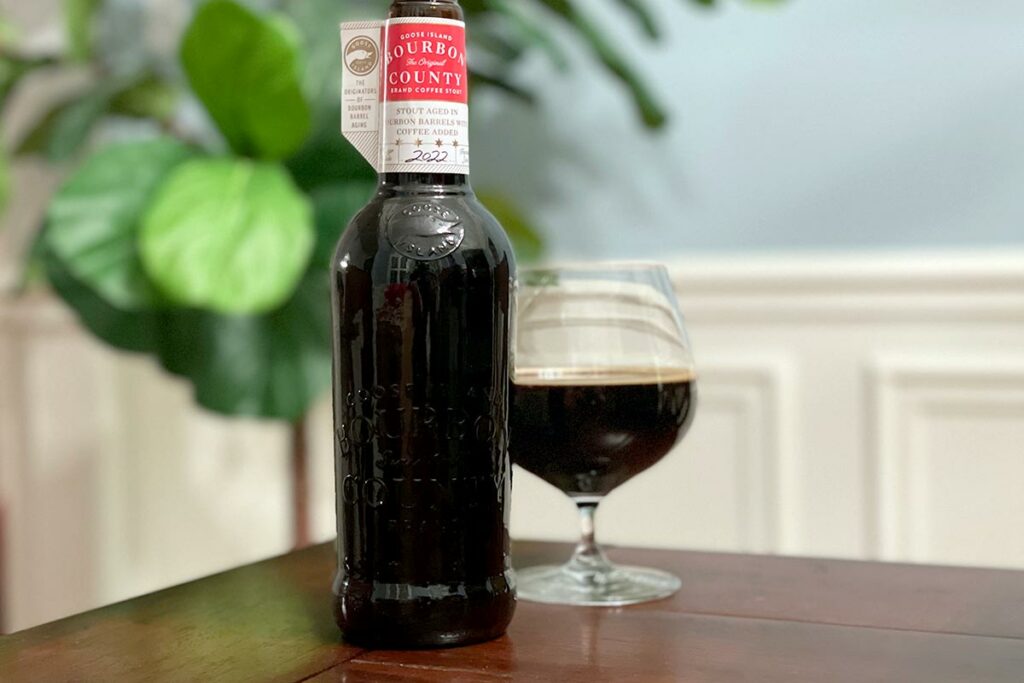 Bourbon County Coffee Stout – Goose Island
Stout Aged in Bourbon Barrels with Coffee Added
The Bourbon County program from Goose Island is one of the most well-respected in the world and the annual release of their Bourbon County Stout is always filled with anticipation. Each year Goose Islan also features some variations of their base Bourbon County Stout and 2022 featured a coffee rendition. The 2022 Bourbon County Coffee Stout is made with Intelligentsia Coffee's Burundi Turihamwe beans.
Who's it for: If you are a collector of Bourbon County stouts, try to pick up this special coffee variation.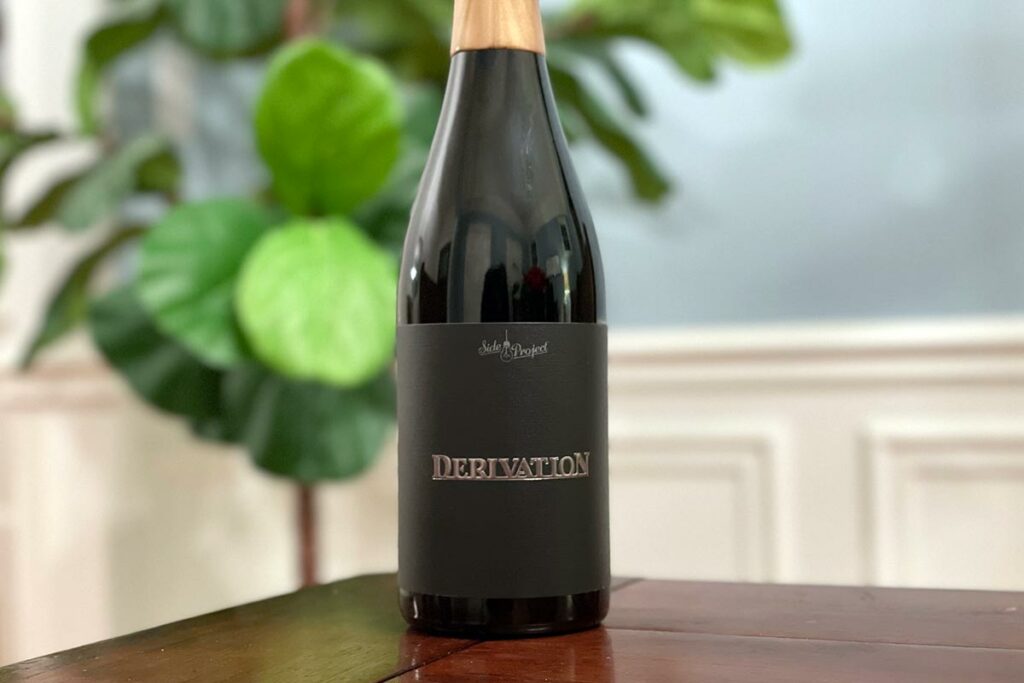 Derivation (Blend #16) – Side Project Brewing
Imperial Stout
We end the imperial section with one of the most sought-after beers in the world. Coming from St. Louis brewery, Side Project, Derivation Blend #16 is the 2022 variation of the popular Derivation stout. This blend is from a selection of bourbon barrel-aged imperial stouts aged 27 to 42 months before being infused with Sump Coffee, bourbon barrel-aged maple syrup and Ugandan vanilla beans. At 15% it is the highest ABV of the set and also likely the highest rated (currently at 4.8 / 5 on Untapped).
This one is so special I haven't even tried it yet. I'm aging my bottle a bit to enjoy in the coming months or years on a special occasion.
Who's it for: This one is incredibly hard to find and almost exclusively only available on-site at their St. Louis location. So, if you want to try this one you'll likely need to pay a pretty penny for it on the 3rd party market.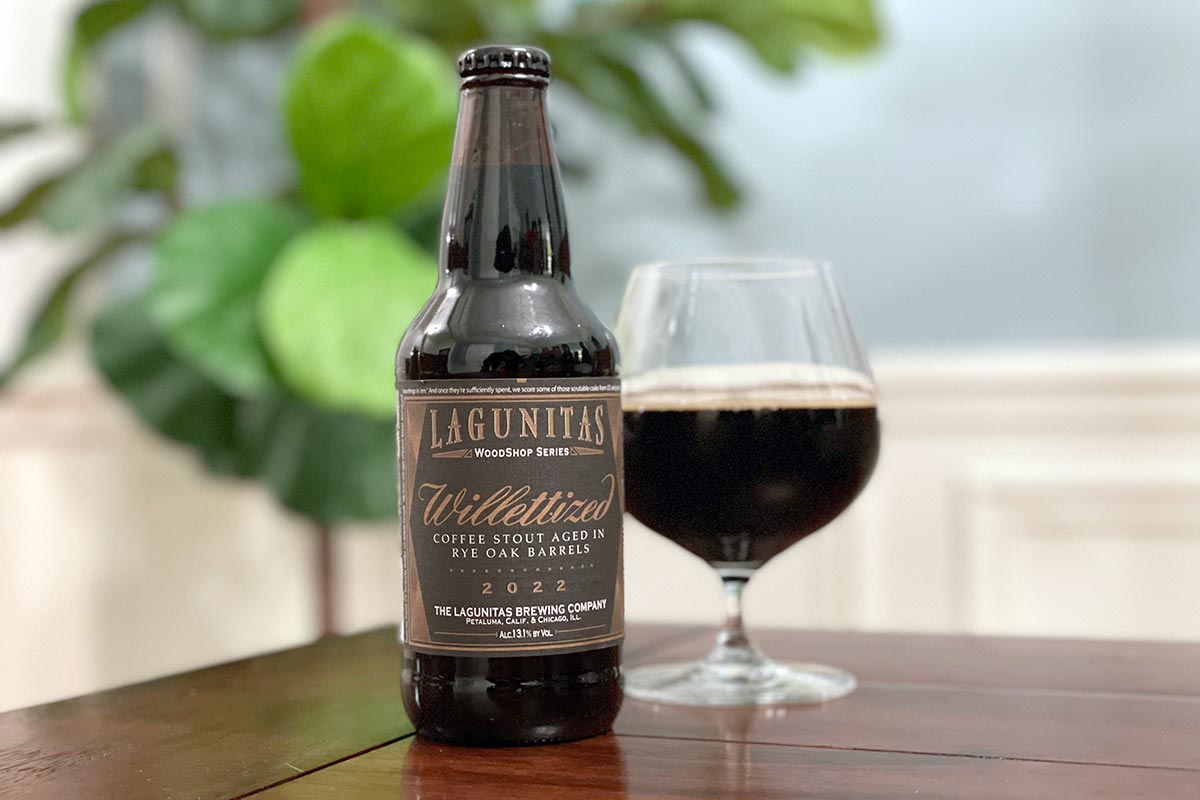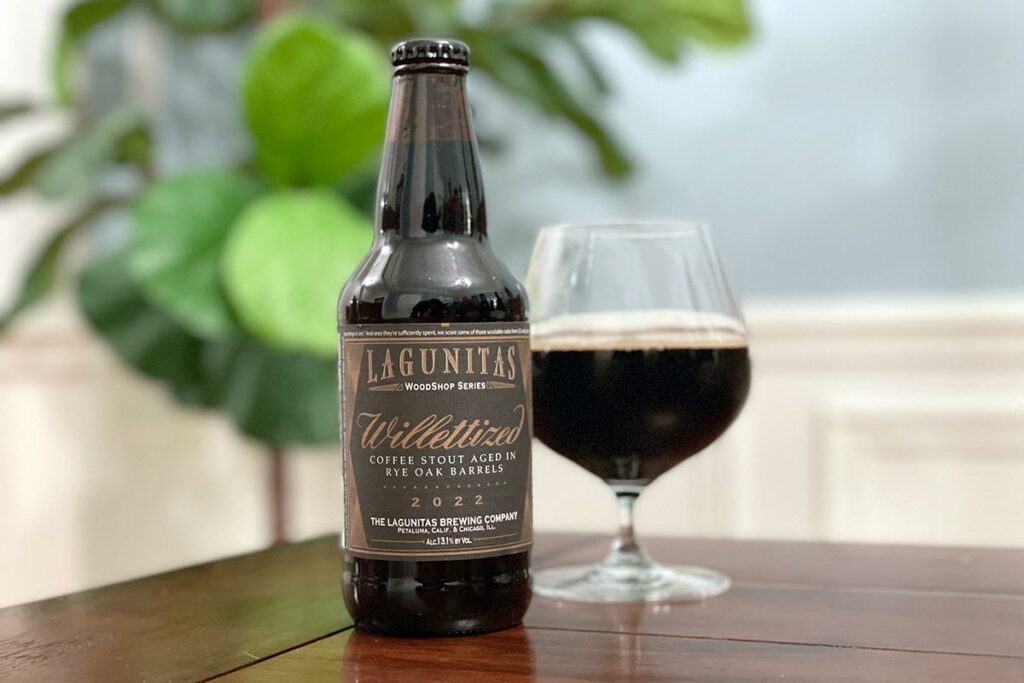 Willettized – Lagunitas
Coffee Stout Aged in Rye Oak Barrels
This limited-release coffee stout is from Laguintas' Woodshop series. It is aged in Kentucky bourbon and rye barrels from Willett Distillery. It is a chocolatey, coffee-forward, and smoky beer with a strong bourbon focus.
Who's it for: Most of the barrel-aged beers are aged in bourbon barrels alone, so it is fun to see one that is more rye-focused. It you prefer ryes to bourbons, this is a good coffee beer to try.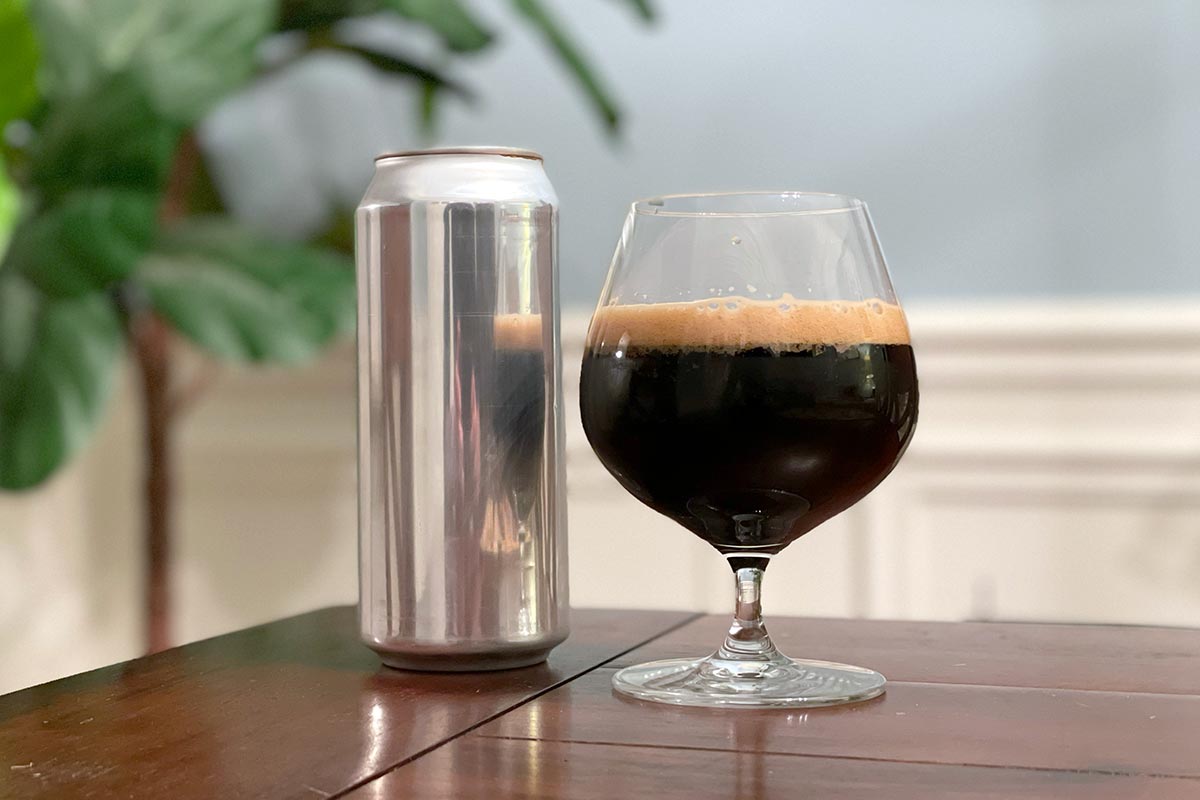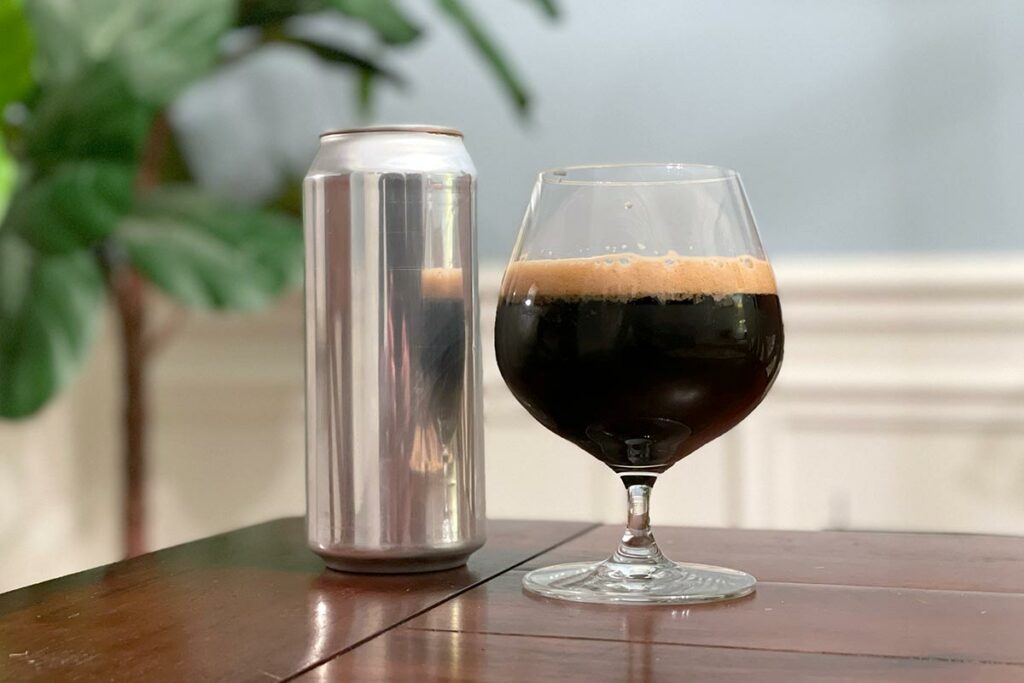 Doom Forge (2023) – Jester King
Imperial Double Coffee Stout
In January 2023, I visited Jester King outside of Austin. I arrived a day before their "Doom Metal Fest" where they release their annual Domm Forge coffee beer. I sweet-talked the bartender into letting me buy one, but he took off the label so I wouldn't share it early—hence the silver can.
This imperial coffee stout is very drinkable and comes in at the lower end of the ABV range for imperials at 9.3%. It is made with a washed coffee from Huehuetenango, Guatemala from Sweet Bloom Coffee Roasters.
Who's it for: The roasty coffee notes are strong in this one, but in regards to imperial stouts, it is one of the most approachable. If you enjoy a strong coffee profile and want a more approachable imperial stout to try, this is a great one to try.
---
The pull & Pour Coffee Club
The easiest way to discover amazing specialty coffee
Receive a weekly text with a hand-picked coffee
Free to join, pay only for what you order
No commitment, opt-out any time
Whole bean, roasted to order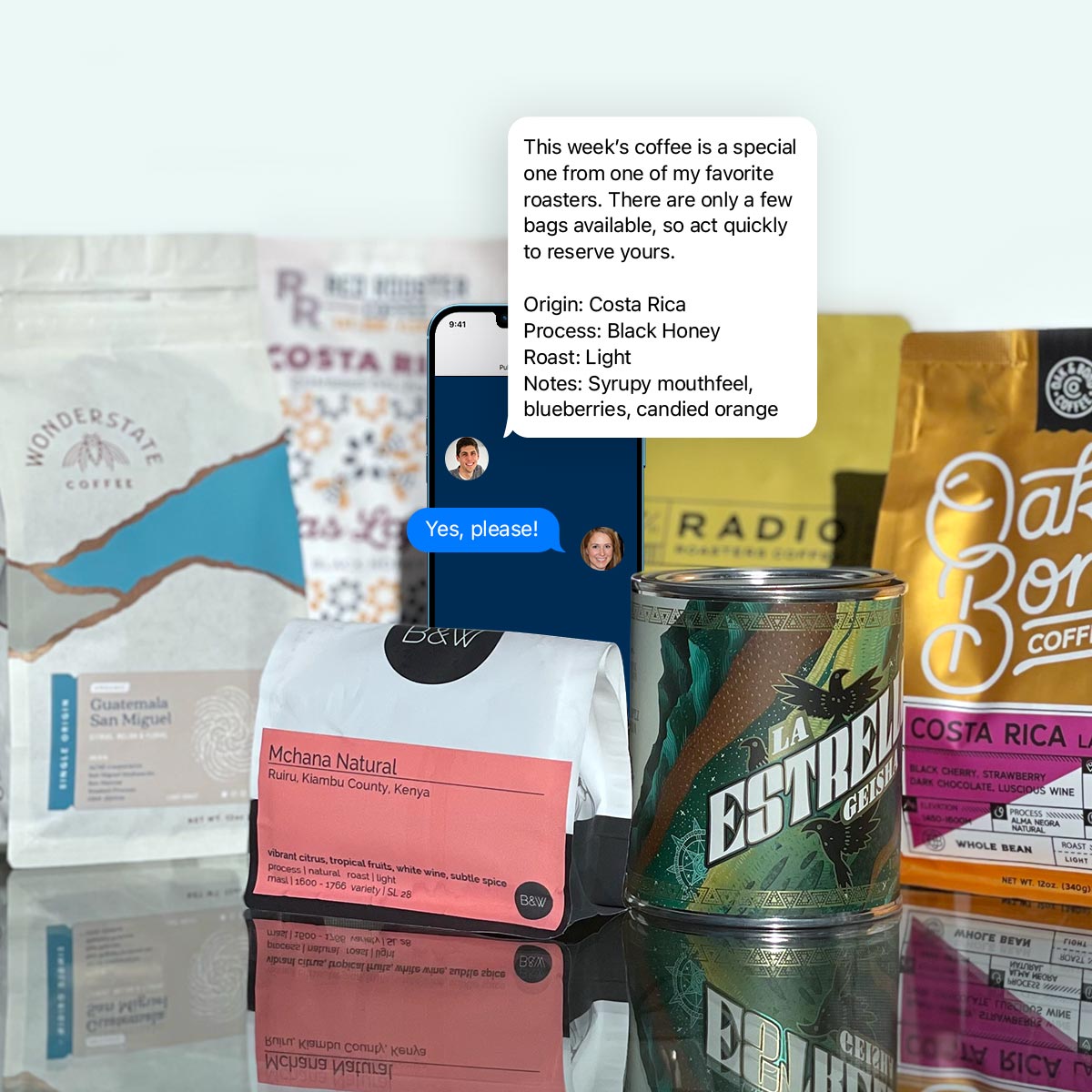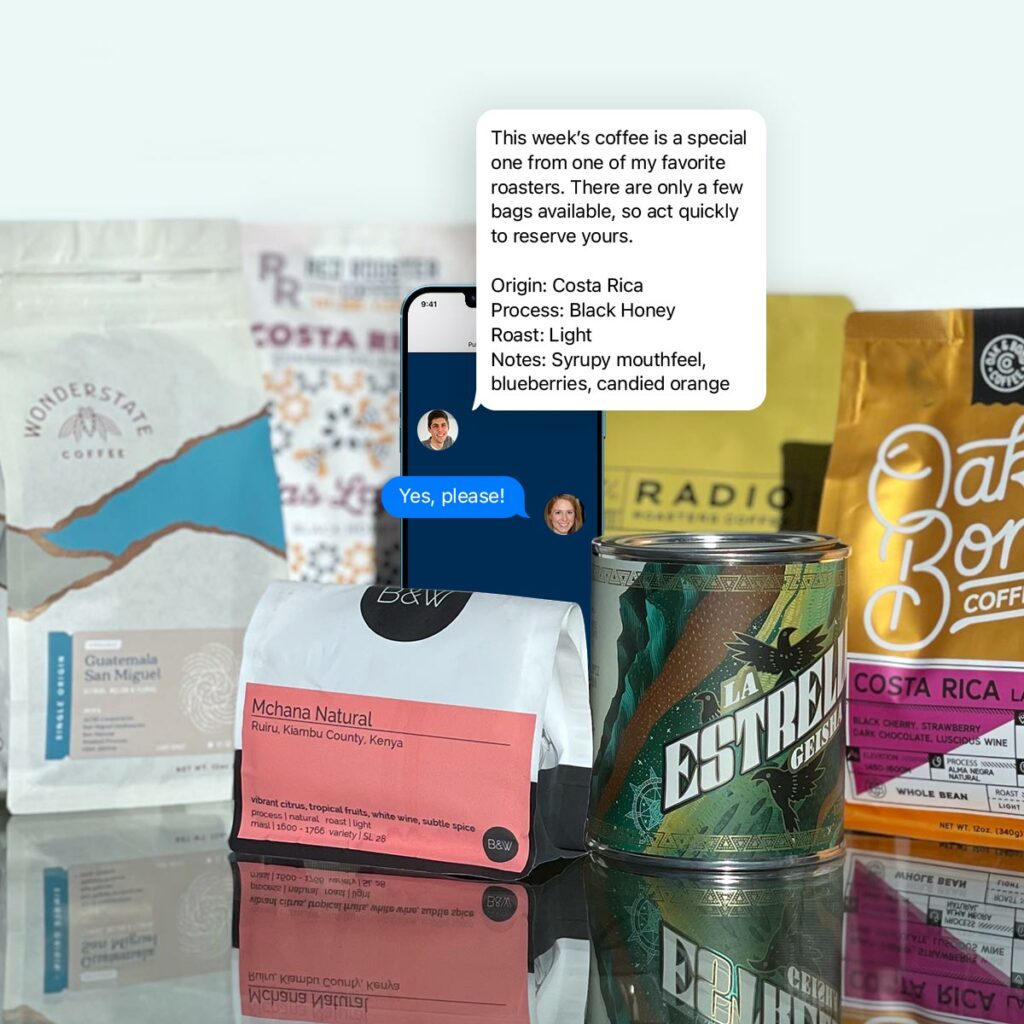 Flavored Coffee Beers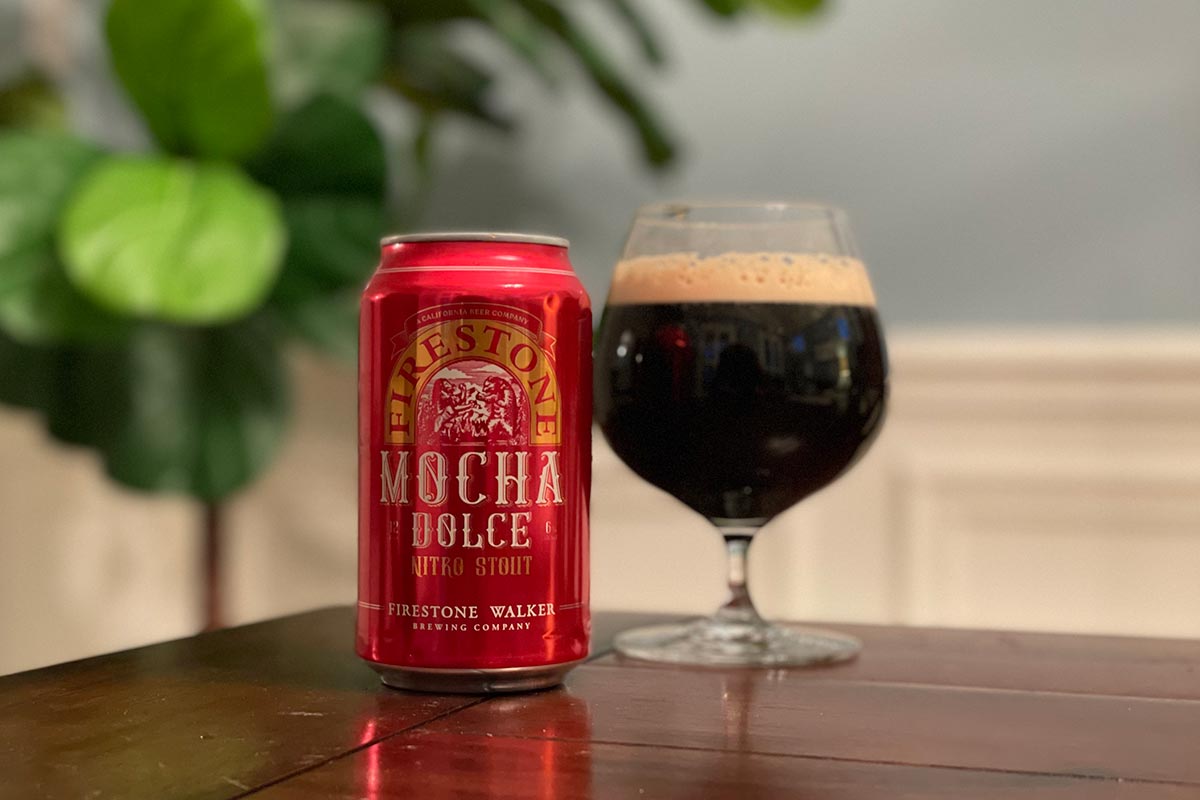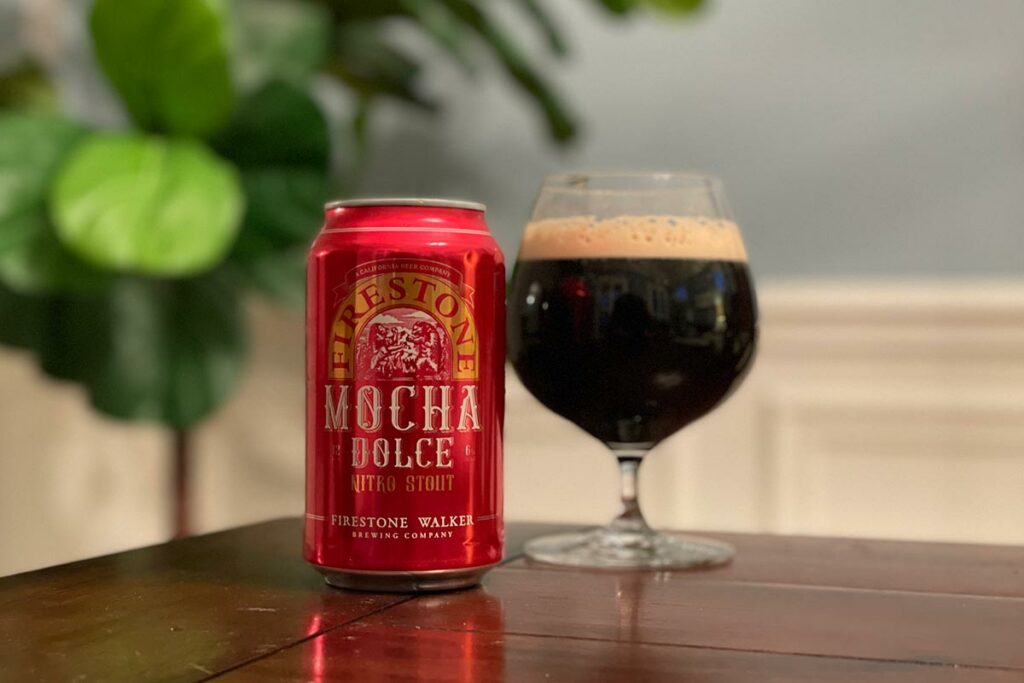 Mocha Dolce Nitro Stout – Firestone Walker
Coffee, Vanilla & Cocoa Nib Nitro Stout
This seasonal nitro stout from Firestone is infused with Madagascar vanilla beans, cocoa nibs, and fresh-roasted coffee beans to create a smooth and creamy stout. The coffee used in the beer is HoneyCo's single-origin Columbia Granadilla medium-roast coffee, which is balanced quite nicely with the vanilla and cocoa. The nitro aspect of the stout really makes this one shine though with a creamy profile hard to replicate without nitro.
Who's it for: If you enjoy nitro stouts, this is one to try!
Speedway Stout: Double Fudge Edition – Alesmith Brewery
Imperial Stout with Cacao Nibs, Cocoa Powder, Vanilla Beans, & Ryan Bros. Coffee
This Double Fudge variation on the main Speedway Stout is a fun twist on the classic Speedway Stout from Alesmith. They've balanced the cocoa, vanilla, and coffee nicely like some of the other beers in this section and I think I may enjoy it even more than the original version. It was very drinkable—though I've found this one (like many of the larger cans and bottles) is a good one to split with a friend.
Who's it for: If you enjoy the main Speedway Stout, this is a great variation to try.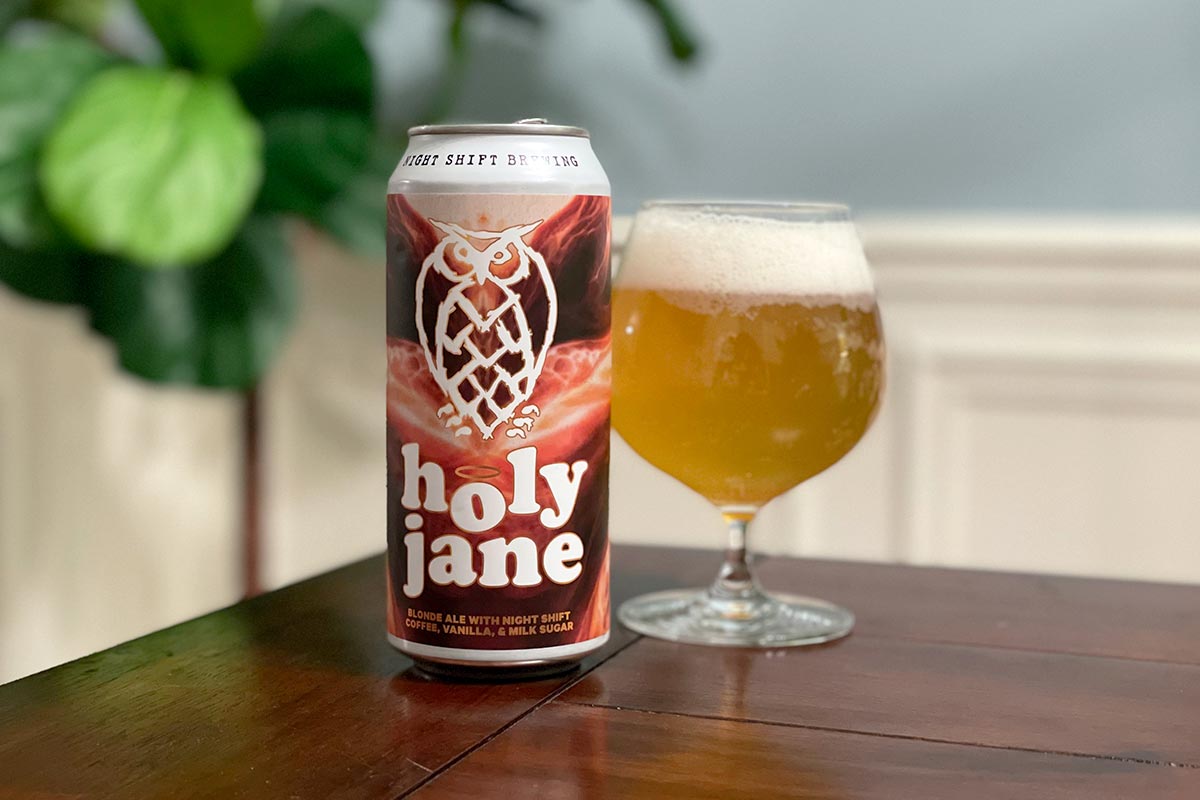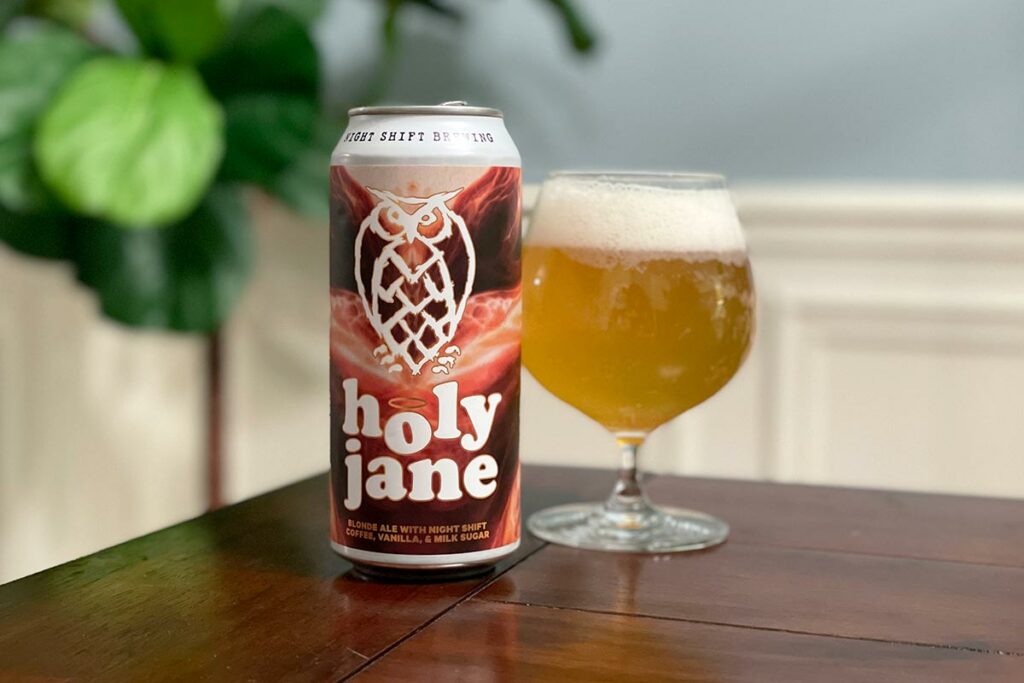 Holy Jane – Night Shift Brewing
Blonde Ale with Night Shift Coffee, Vanilla, & Milk Sugar
Holy Jane has a blonde ale as its base with added coffee, vanilla, and milk sugar. While it is light in profile, it isn't overly sweet as the description may imply. It has a more muted coffee profile with none of the roastiness of some of the heavier coffee stouts. It is refreshing and one you could easily drink any time of the year.
Who's it for: Holy Jane is perfect for anyone a bit intimidated by the heavy coffee stouts above. The coffee presence is much lighter than many other coffee beers and the blonde ale base and sweet additives make this a very light and refreshing coffee beer option.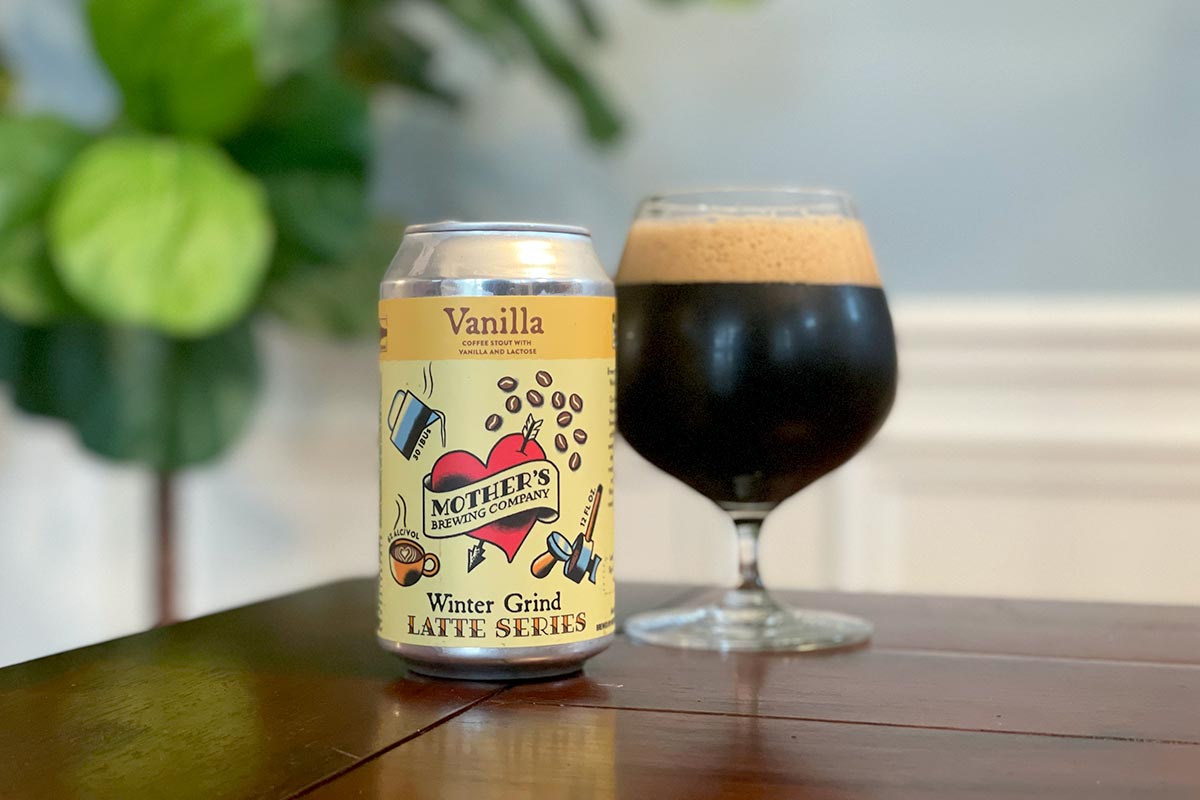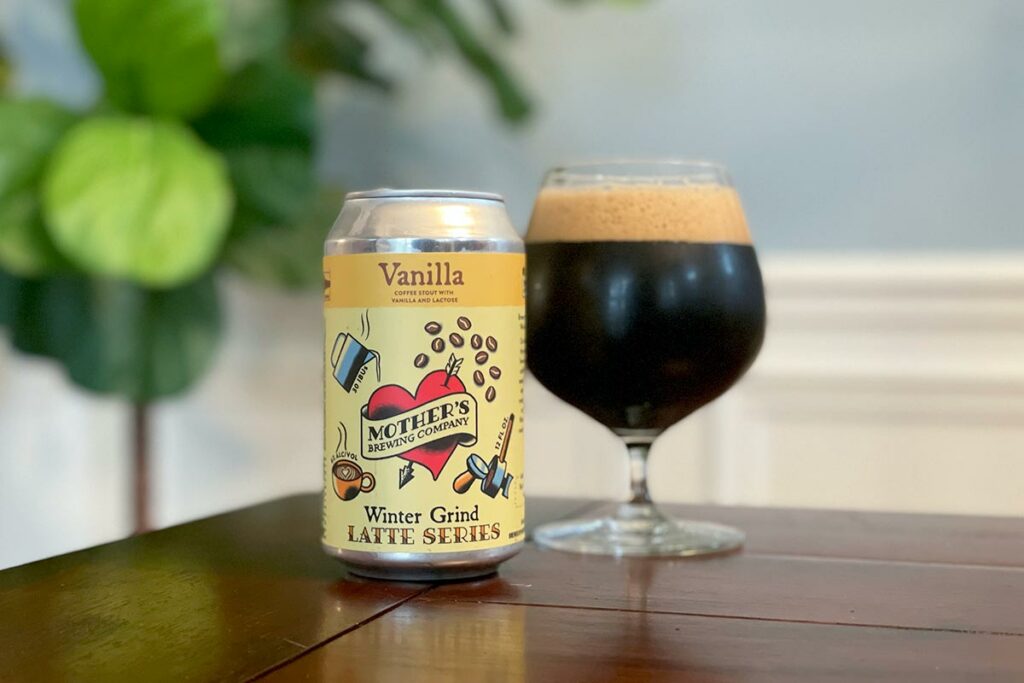 Vanilla Winter Grind – Mother's Brewing Company
Coffee Stout Brewed with Vanilla & Lactose
This Vanilla Coffee Stout is part of Mother's Winter Grind "Latte" series for 2022. It takes their base coffee stout and adds vanilla & lactose to the brew creating a slightly sweeter and creamier coffee stout. The vanilla sweetness is fairly mild, but it does cut some of the intense coffee notes that dominate the base Winter Grind coffee stout.
Who's it for: The Vanilla Winter Grind—or any of the Latte series offerings from Mother's Brewing Company—are great options for someone who appreciates a bit more sweetness in their stout and finds coffee stouts dominate with coffee notes a bit too much.
---
Final Thoughts
While this list is robust, there are many more that could be added. The coffee beer scene is strong and there is something for everyone regardless if you want breakfast in a glass, a heavy-hitting 12% imperial, or a sophisticated sour. Regardless of your preference use this list as a guide to finding the coffee beer perfect for you.
Also, the list of coffee beers is vast. If you have a good one I should try, let me know and I'd love to try to pick it up!