Disclosure: Pull & Pour received coffee samples for this post, however, as always, all opinions are 100% my own.
Overview
Blue Bottle Coffee, a roaster based in Oakland, California, is one of the original specialty coffee roasters and has grown into one of the largest, most well known and respected roasters in the world. In addition to world-wide cafés and single-bag shipments, Blue Bottle offers a subscription with a variety of frequency, bag size and coffee style options.
The Coffees
Note: I received three 6 oz shipments from Blue Bottle Coffee for this post, however, as always, all opinions are 100% my own. I received no compensation outside of the coffee itself.
My subscription was from their "Single Origin Assortment," which features light-roasted, single origin options from around the world.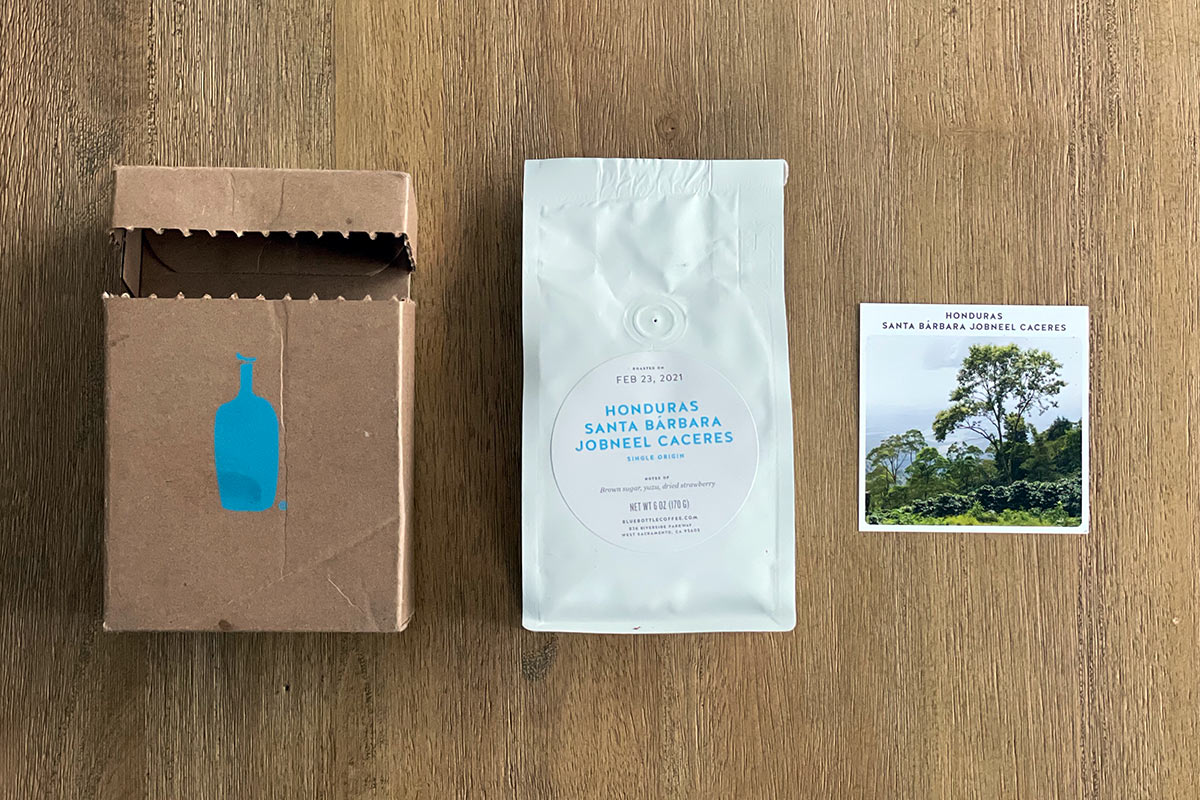 Delivery 1 – Honduras Santa Barbara Jobneel Caceres
The first coffee I received was a deliciously complex coffee from Honduras. It was a washed coffee and exclusively the Catimor variety. It featured a medley of notes from berries to citrus to raw sugar. It was sweet, rich and bright, while still being approachable. While it would definitely appeal to a coffee drinker who prefers lighter and brighter coffees, it wasn't so bright or exotic that it would turn off a lot of coffee drinkers.
This was definitely a coffee I would be willing to purchase again outside of the subscription.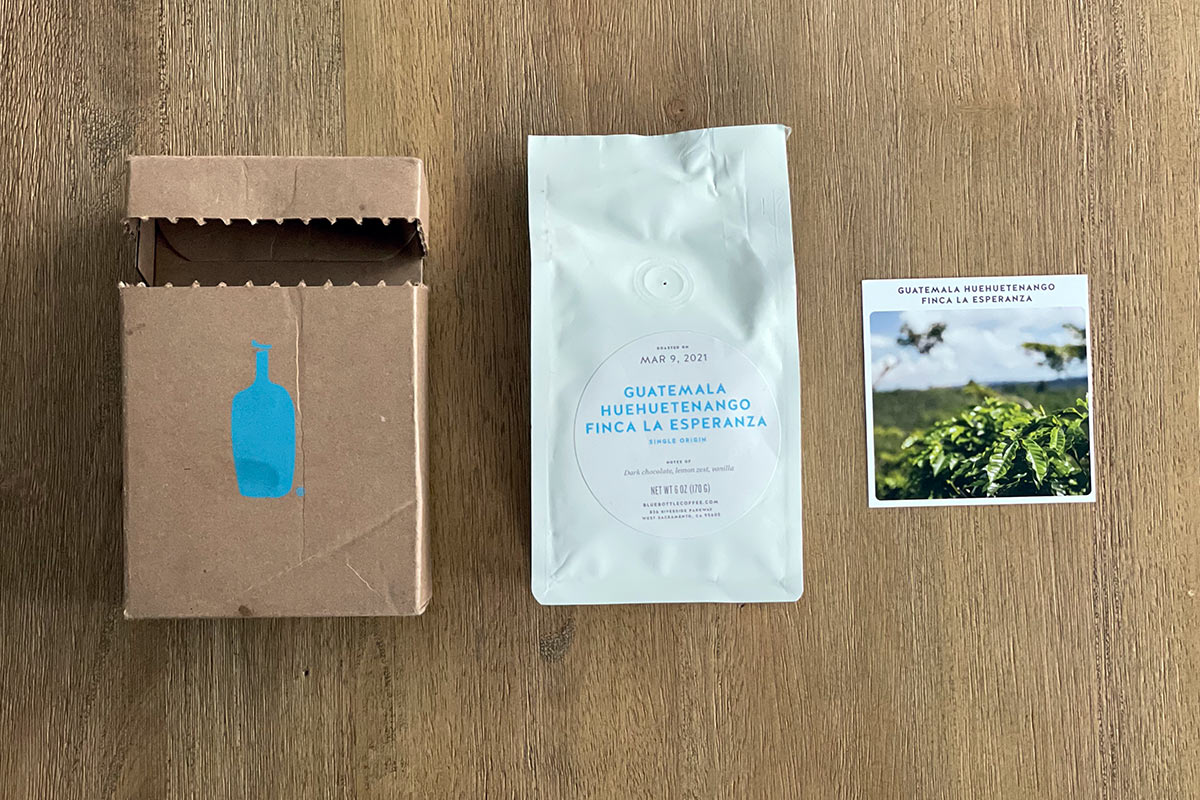 Delivery 2 – Guatemala Huehuetenango Finca La Esperanza
The second delivery was a washed coffee from Guatemala. It was full of chocolate notes and quite a bit different than the first coffee. It was smooth, rich and very approachable. It didn't fit my preferred style as much as the first Honduran coffee, but was still very good. It would be a perfect fit for anyone looking for a more traditional Central/South American cup.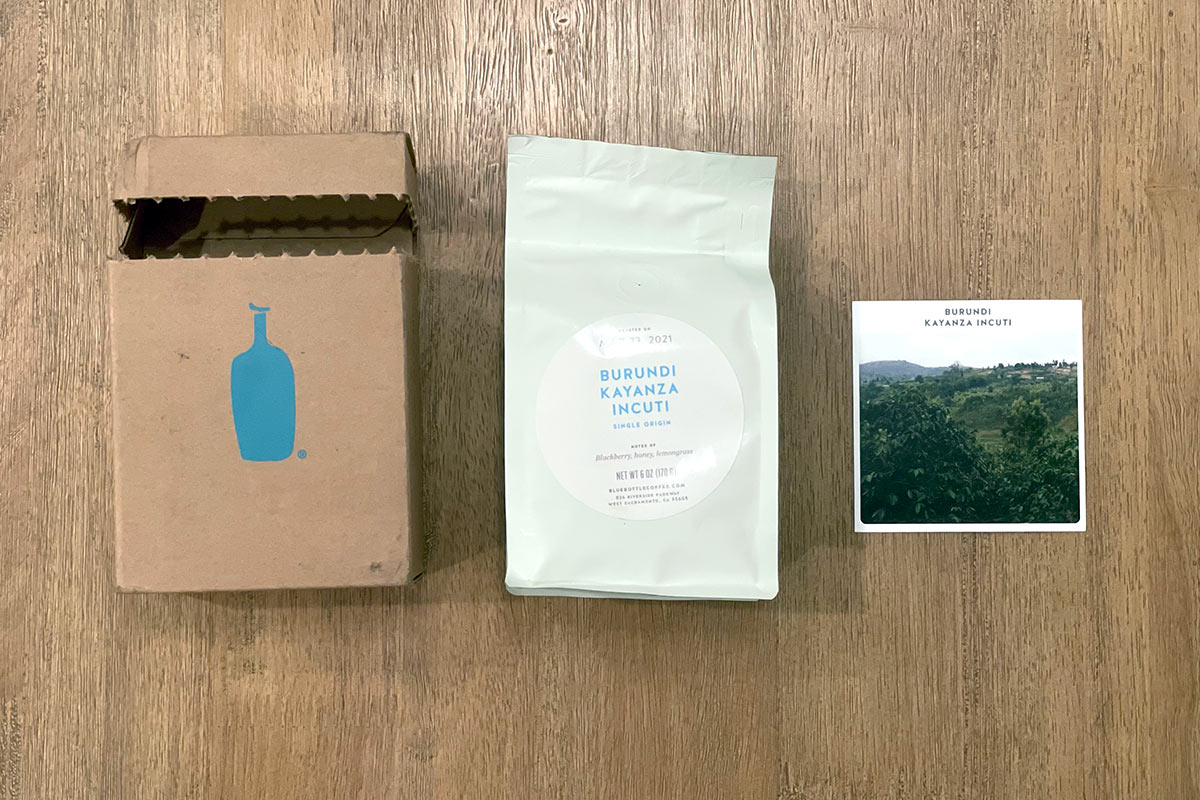 Delivery 3 – Burundi Kayanza Incuti
The third delivery was an African coffee from Burundi. Burundi can be hit or miss I have found, but I really enjoyed this coffee. It was delicate with a complex sweetness and strong notes of lemongrass supported by more subtle fruit and berry notes. It had a lovely tea-like body and honey aroma. I really enjoyed this coffee and found it to be a really nice representation of the Burundi origin, which I have found has the issue of being a bit one-dimensional at times.
Cost
Blue Bottle Coffee subscriptions can range in cost from $11 to $52 per shipment. All of their shipments including shipping in the price. Here is a breakdown of some of their pricing:
Half Bag (6 oz):

Single Origin Assortment: $13 ($2.17 per ounce)
Blend Assortment, Espresso Assortment, Bella Donovan, Beta Blend, Giant Steps, Three Africas, 17ft Ceiling Espresso, Hayes Valley Espresso: $11 ($1.83 per ounce)
Opascope Espresso, Night Light Decaf: $11.50 ($1.92 per ounce)

Standard Bag (12 oz):

Single Origin Assortment: $22 ($1.83 per ounce)
Blend Assortment, Espresso Assortment, Bella Donovan, Beta Blend, Giant Steps, Three Africas, 17ft Ceiling Espresso, Hayes Valley Espresso: $18 ($1.50 per ounce)
Opascope Espresso, Night Light Decaf: $20 ($1.67 per ounce)

Double Bag (24 oz):

Single Origin Assortment: $38 ($1.58 per ounce)
Blend Assortment, Espresso Assortment, Bella Donovan, Beta Blend, Giant Steps, Three Africas, 17ft Ceiling Espresso, Hayes Valley Espresso: $33 ($1.38 per ounce)
Opascope Espresso, Night Light Decaf: $34.50 ($1.44 per ounce)

Triple Bag (36 oz):

Single Origin Assortment: $52 ($1.44 per ounce)
Blend Assortment, Espresso Assortment, Bella Donovan, Beta Blend, Giant Steps, Three Africas, 17ft Ceiling Espresso, Hayes Valley Espresso: $45 ($1.25 per ounce)
Opascope Espresso, Night Light Decaf: $47 ($1.31 per ounce)
At their smallest half-bag shipment size, the cost per ounce can get a bit high, but is fairly consistent with the price per ounce for shipments that size from other subscriptions. At the full bag size, the cost per shipment is pretty consistent with other subscriptions, as well, and maybe even a bit less expensive since shipping is included. Also, if you can justify a larger subscription of the double or triple bag, the price per ounce drops considerably.
Another aspect of the Blue Bottle subscription pricing that I like is that you get the same price regardless of your subscription frequency and they don't try to lock you into less expensive pricing with extended subscription commitments.
Note: This pricing and shipping options are for US subscriptions only. For international subscriptions, Blue Bottle offers their Half Bag (6oz) and Standard Bag (12oz) sizes at different price points.
Customer Service
Blue Bottle offers a robust FAQ page, as well as a contact form and email address to receive support. I wrote via the email address to test their response time and heard within 24 hours (even on the weekend). Their FAQ page has a dedicated section for subscriptions, which was able to answer many of the questions I had.
User Experience
Everything about the signup experience for Blue Bottle's subscription is well designed and well thought out. It is clean, simple and easy to use. You start by selecting the style of subscription you want and then move to quantity and frequency. The entire process takes only a few minutes and was one of the best onboarding experiences I've experienced.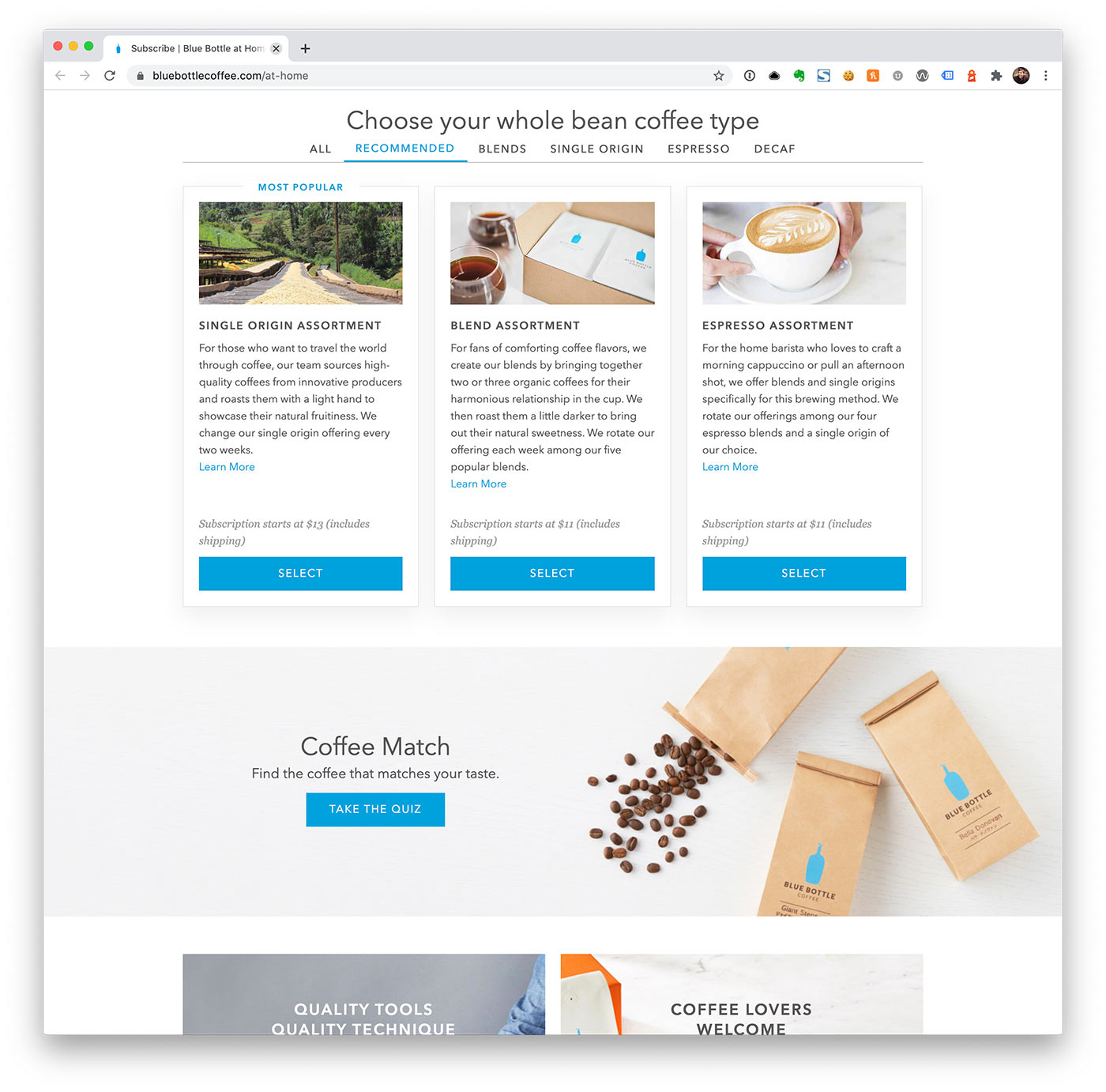 After signing up the account area is easy to use as well. There aren't a ton of options, but the ones they provide are clearly presented and easy to adjust. They make it easy to pause your subscription, make changes to it or add a new one.
Throughout the subscription the communication on when you will be receiving coffee is clear with emails at every important step along the way.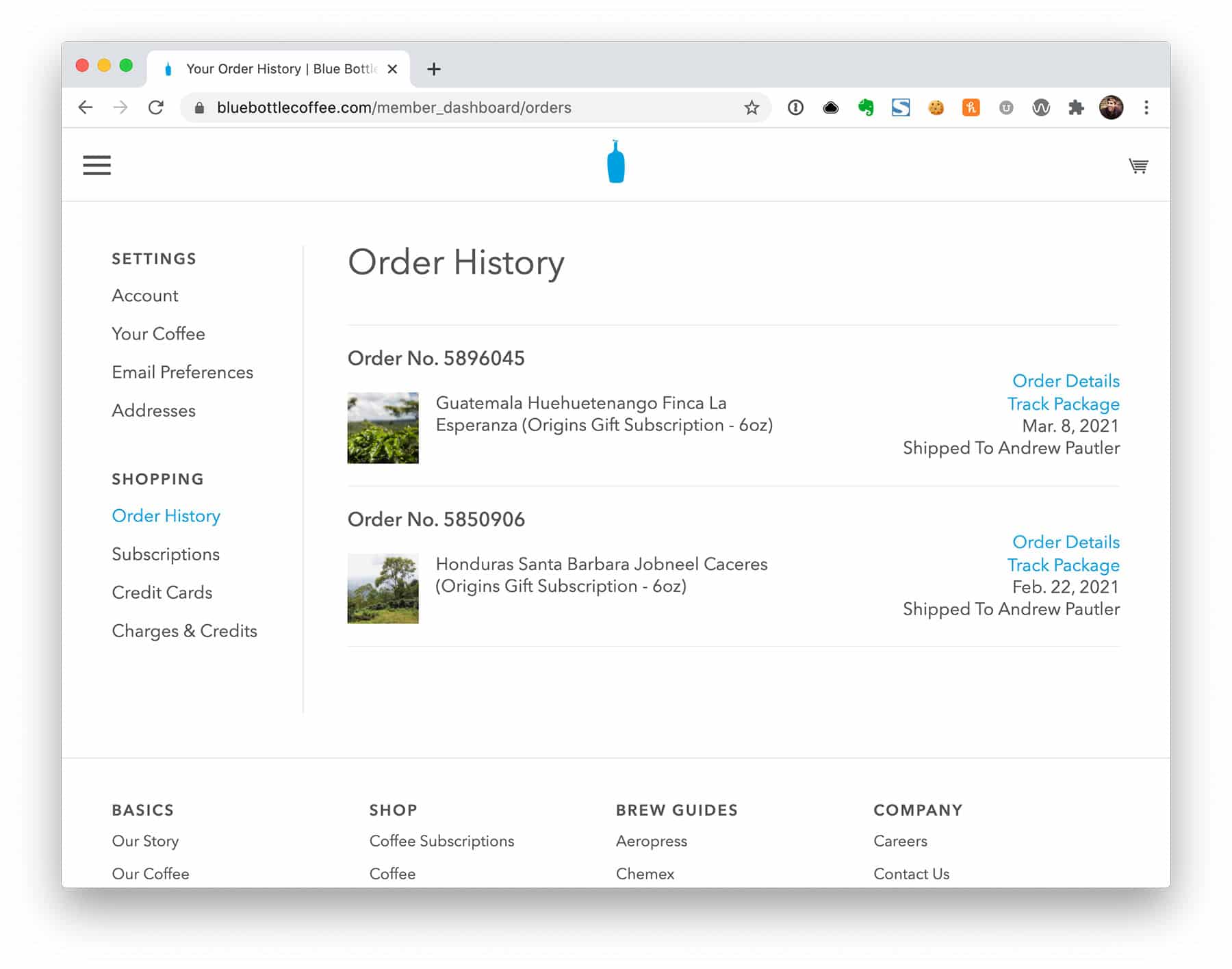 Customizations
Being able to easily customize your coffee subscription (how often coffee ships, the size of your shipment, what's included, etc.) is one of the most important features a coffee subscription can offer. Blue Bottle Coffee subscriptions offers members a variety of customizations that include:
Pause subscription: You can choose to pause your subscription at any time. When pausing you can choose to either skip your next shipment or pause it until any date you select (within eight months).
Shipment size: You can select between 6oz, 12oz, 24oz or 36oz for every shipment.
Shipment frequency: You can select between every week, every other week, every three weeks or every four weeks for subscriptions.
Coffee: You can select if you want an assortment of single origin, blends or espresso beans. You can also select from one of eight specific coffees if you prefer to receive the same coffee with each shipment.
Grind: Subscriptions are only available with whole bean coffee.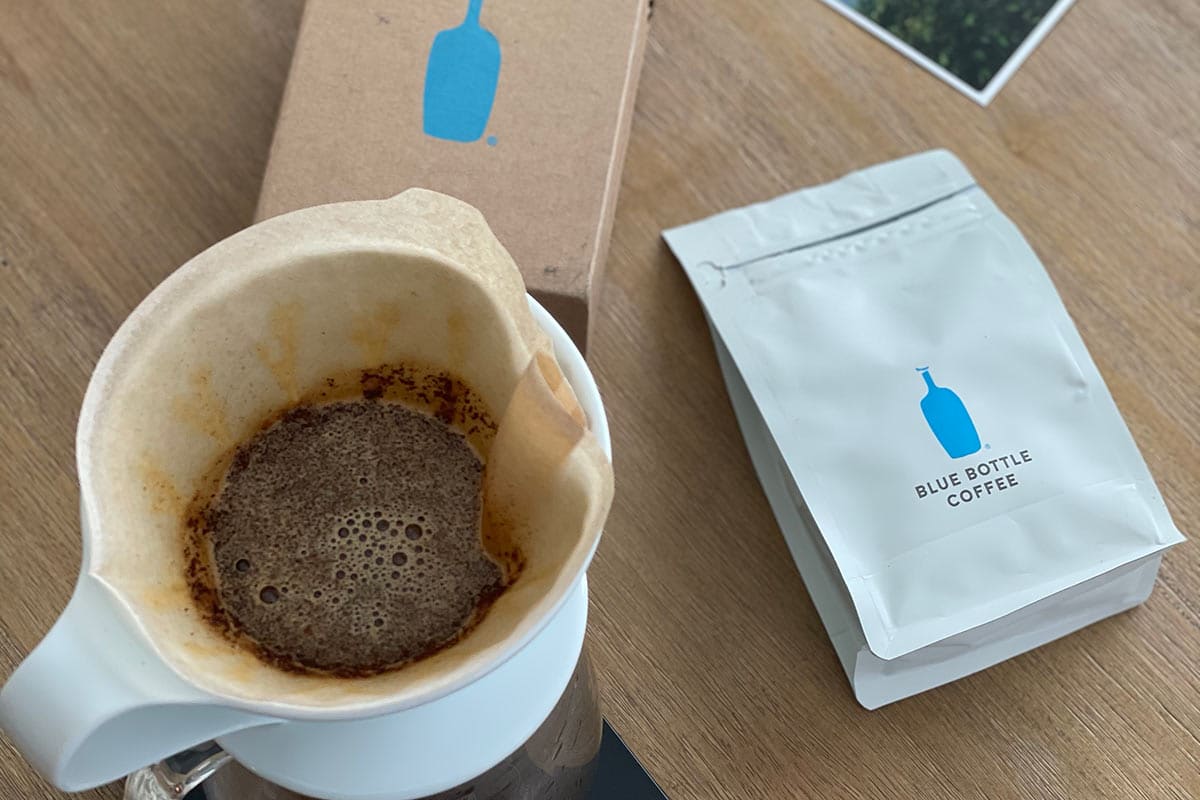 Coffee Quality
Blue Bottle is known around the world for their high-quality coffee. Regardless of which subscription option you select, you will receive high-quality, specialty coffee. The single origin assortment features the most limited and high-end coffees from single-origin farms from around the world and as such is the most expensive.
Coffee Freshness
All coffees are shipped within 24 hours of roasting, which is the industry standard for the best roasters.
All coffee is shipped via either USPS First Class, USPS Priority or USPS Priority Express. In their FAQ section, Blue Bottle estimate shipping time to be 1-5 days depending on the method and your location. For my subscription, each shipment arrived within four days of roasting. Much of this depends on shipping timing based on the current state of USPS and your location, but from California to Missouri it took three to four days to arrive with every shipment.
Coffee Variety
The variety of coffee you receive depends somewhat on the coffee subscription you select. Blue Bottle offers 11 different subscription options. Eight of the 11 options are single coffee subscriptions, so the coffee you will receive every time will be the same by design. The other three (Single Origin Assortment, Blend Assortment and Espresso Assortment) offer rotating coffee offerings. Currently there are six single origin subscription coffee options, six blend subscription coffee options and three espresso subscription coffee options.
Coffee Sourcing Standards
As I mention with every review, coffee certifications aren't the end all be all and have their flaws. That said, they can help set the standard for the sourcing standards of a roaster or subscription company.
For Blue Bottle, they don't require their coffees to be certified organic or Fair Trade, but do say that 85% of the coffee they purchase is organic.1 And while they do purchase some coffee from producers that are Fair Trade certified, they realize that many simply do not find the certification worth the cost. As such, Blue Bottle likes "to factor a producer's efforts toward greater quality as well as environmental and economic responsibility into [their] purchasing decisions, regardless of their certification status."2
Packaging
Every subscription shipment arrives in a simple, brown kraft box with the iconic Blue Bottle icon on the front. Within each box is the coffee (in the clean, white, minimal Blue Bottle packaging), as well as a card about the coffee and a personalized card with details about the subscription.
Differentiation
The options and flexibility the Blue Bottle subscription offers are similar to other subscriptions offered by other roasters and coffee companies. The big differentiator with this subscription is the exclusivity of the Blue Bottle coffee. Blue Bottle is one of the best known specialty coffee roaster around the world and is known to have some of the best coffees available. Their subscription gives you exclusive access to this coffee (at a slight discount) on a regular basis.
The Bottom Line
Each of the coffees I have tried from Blue Bottle have been excellent, unique single origin offerings. If you enjoy a high-quality, yet curated coffee experience, the Blue Bottle Coffee subscription is an outstanding option. You are guaranteed to get a consistent selection of some of the best specialty coffee available with the peace of mind of it arriving on time, when you want it.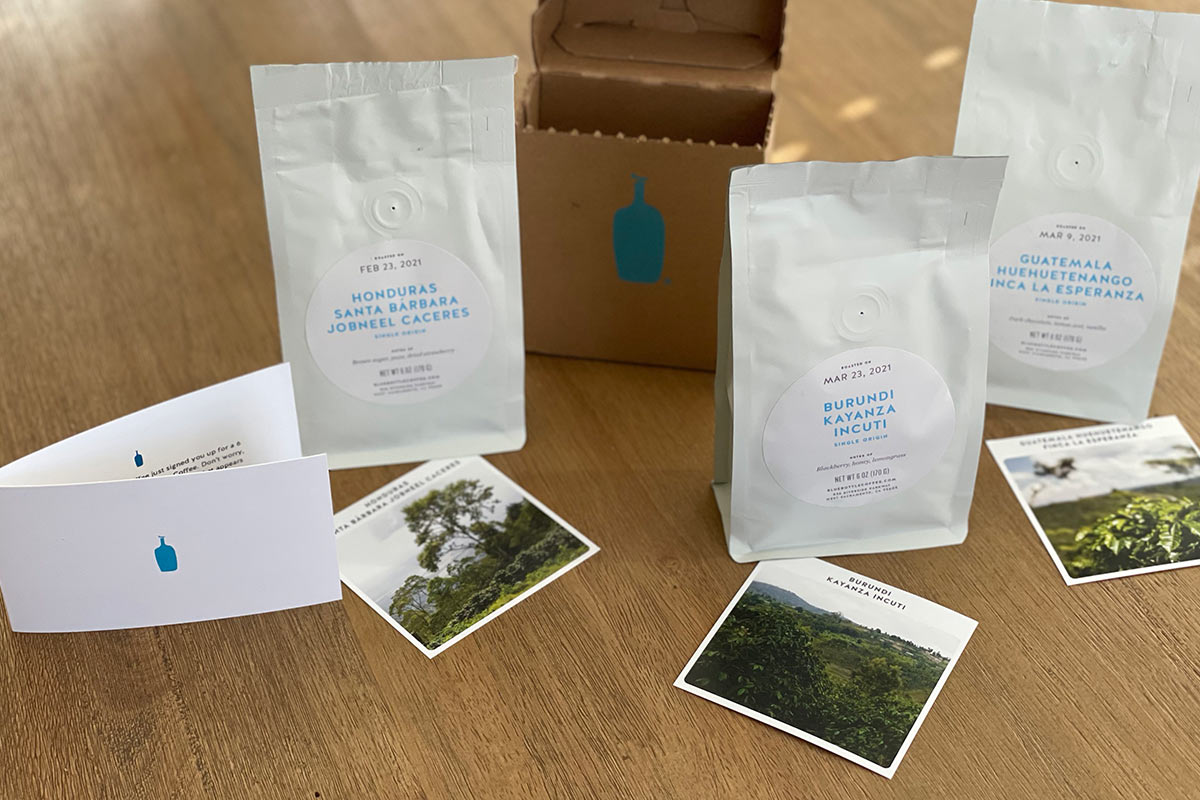 References
https://bluebottlecoffee.com/help/is-your-coffee-certified-organic
https://bluebottlecoffee.com/help/are-your-coffees-fair-trade-certified