Overview
Atlas Coffee Club is a travel-themed coffee of the month subscription. Each month Atlas Coffee Club features a different coffee origin from around the world. Their goal is to offer a global coffee tour to highlight the different coffee growing regions from around the globe.
The Coffees
Note: I received 3 shipments from Atlas Coffee Club for this post, however, as always, all opinions are 100% my own. I received no compensation outside of the coffee itself.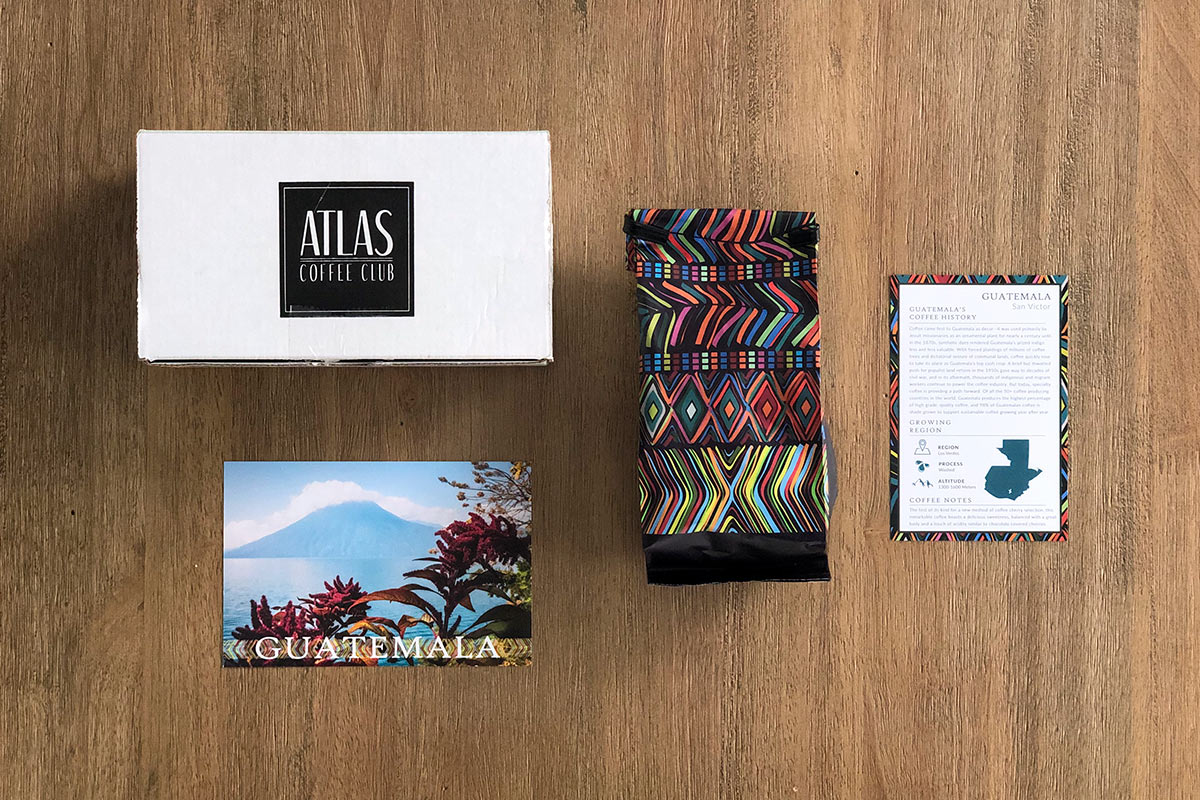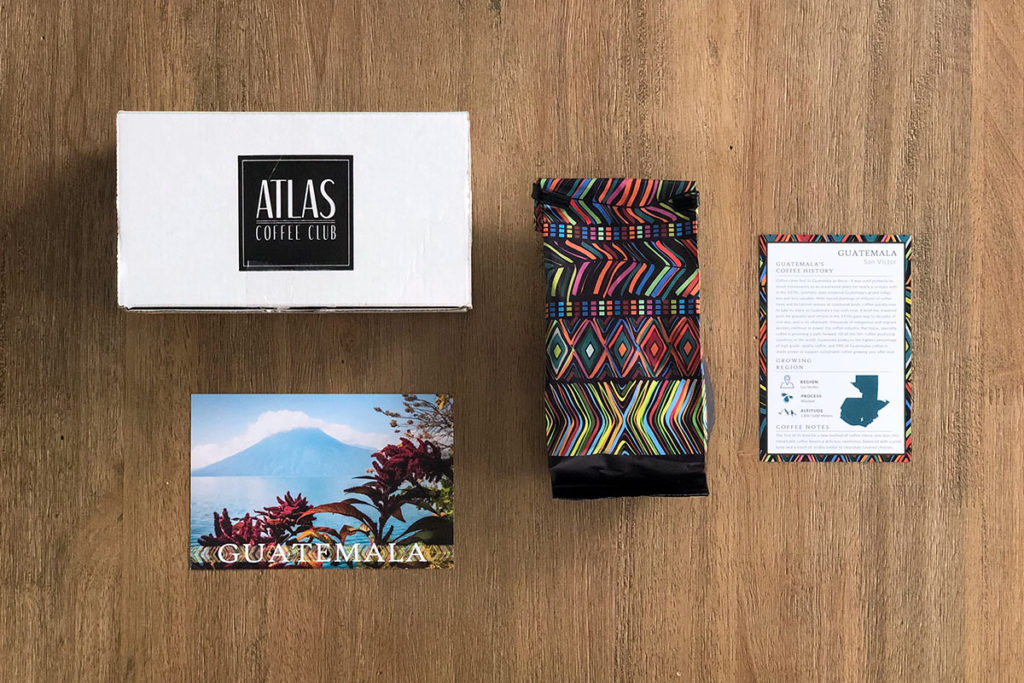 Delivery 1 – Guatemala (San Victor)
The first coffee I received was from the Los Verdes region of Guatemala. It was a washed process with tasting notes of milk chocolate, nougat and dark cherry. It was a medium roast and a bit darker than my preferred roast level. It was a smooth, balanced Guatemalan coffee though that likely would appeal to many drinkers.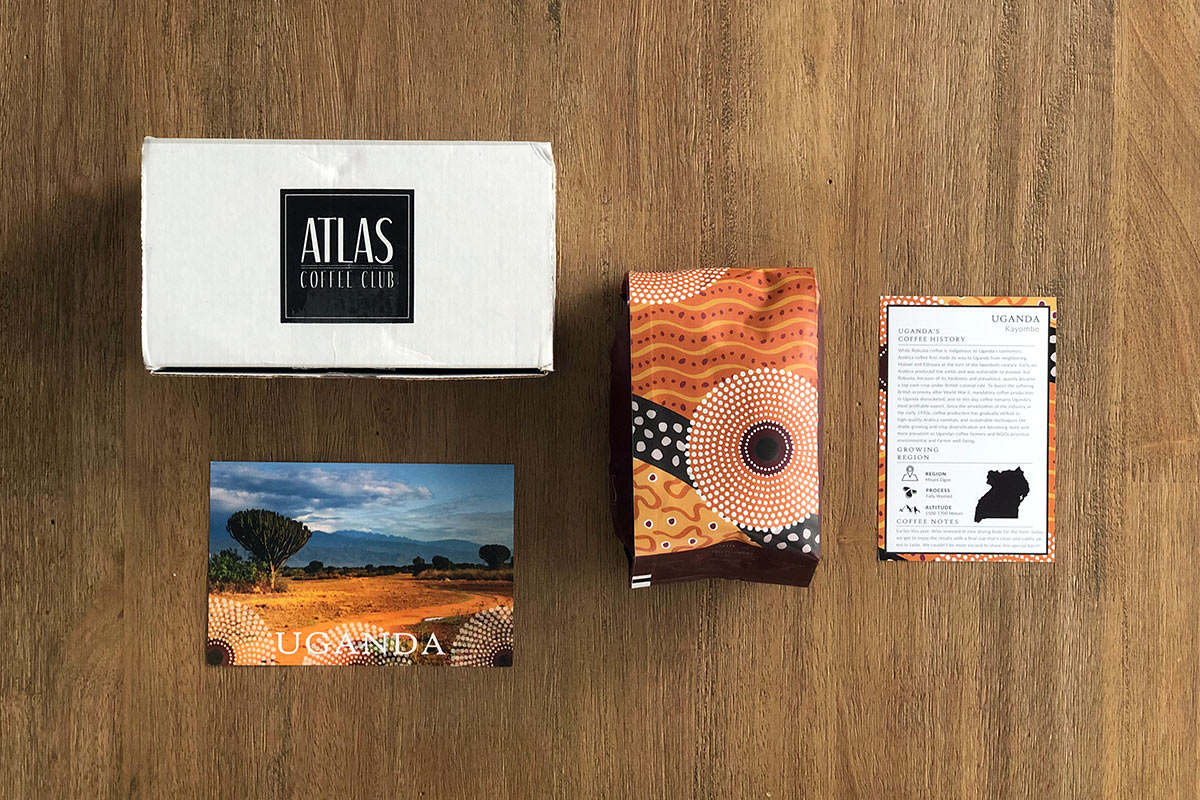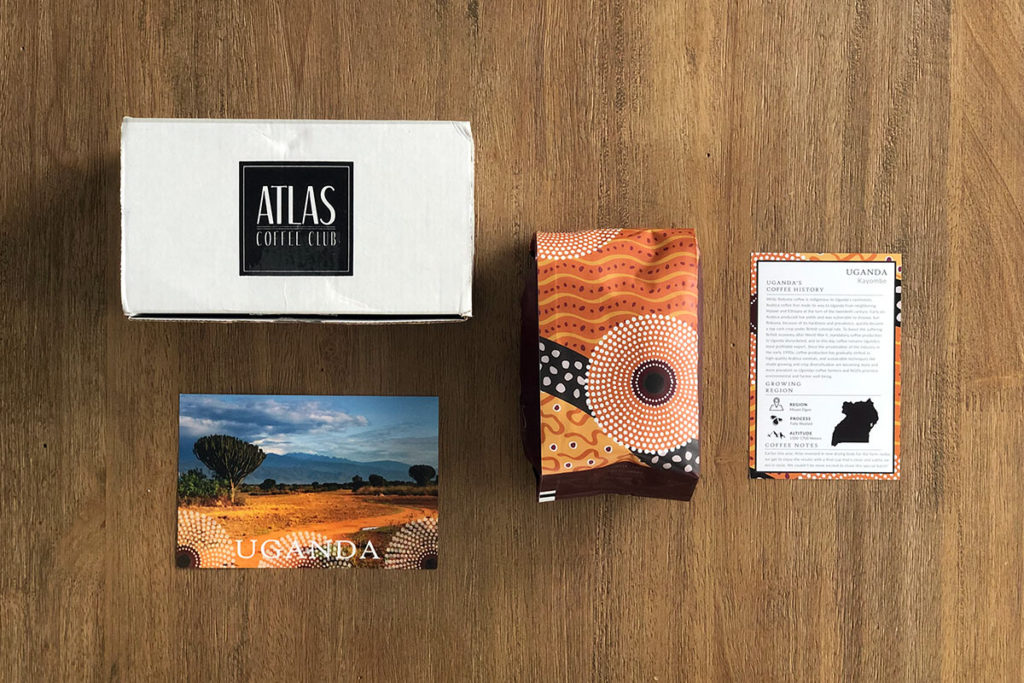 Delivery 2 – Uganda (Kayombe)
My second delivery was an African coffee from the Mount Elgon region of Uganda. It had notes of baking spice, caramel and graham cracker. It was a medium roast as well, but much closer to a light roast than the Guatemalan coffee. Profile-wise it aligned with my preferences a bit more and was bright, sweet and robust. It was also quite approachable, so I think many coffee drinkers would enjoy it regardless of personal preferences.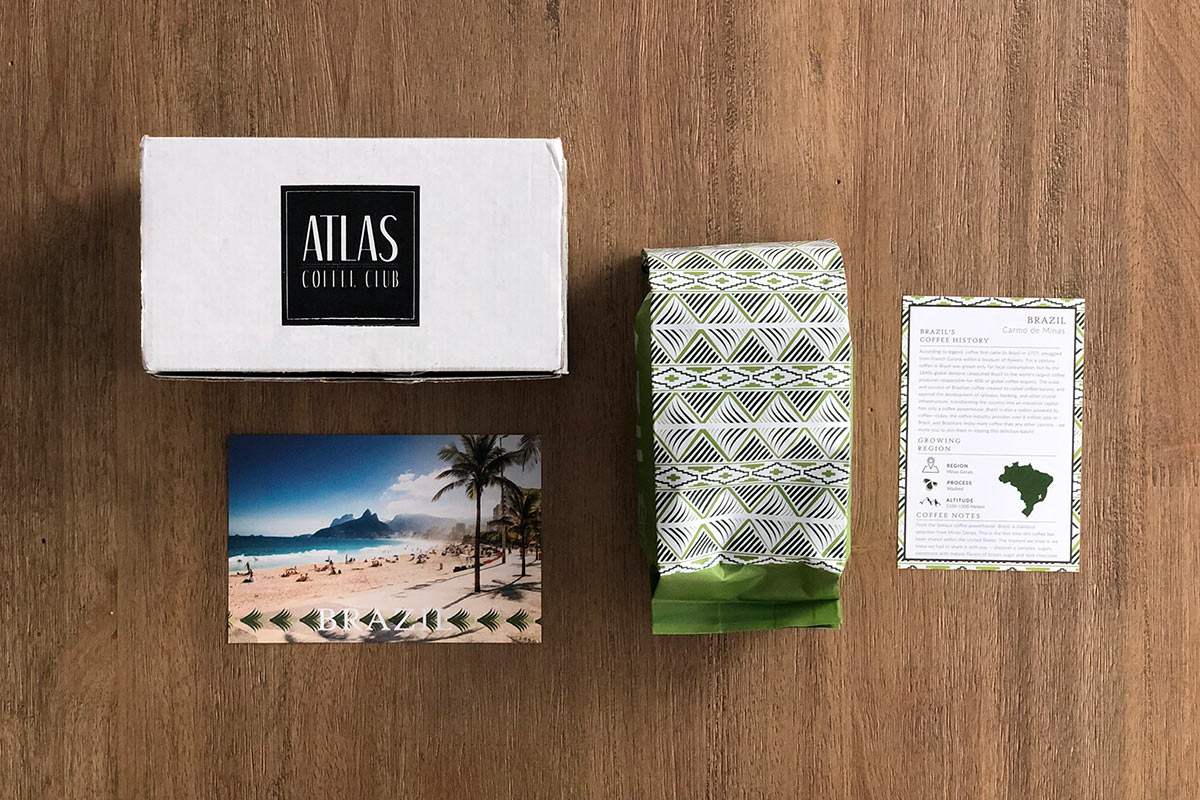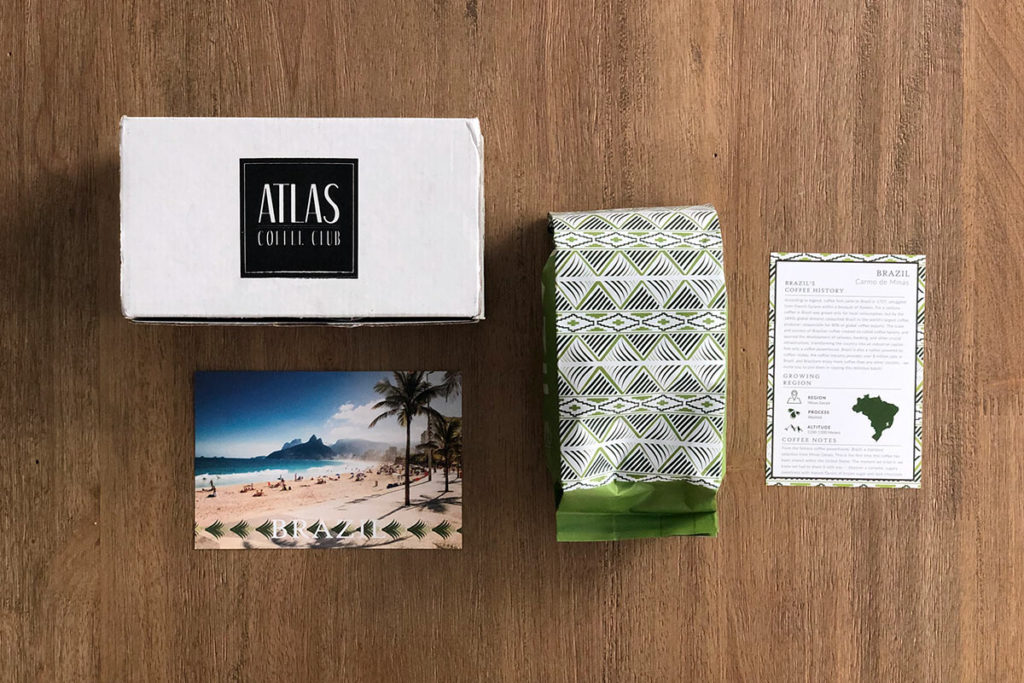 Delivery 3 – Brazil (Carmo de Minas)
My third delivery was a washed coffee from the Minas Gerais region of Brazil. It was a light roasted coffee with notes of dark chocolate, brown sugar and blackberry. It was quite approachable, but also complex with layered flavors of chocolate and raw sugar. It, like the other two, did a nice job of being interesting, but also very drinkable so it would appeal to a wide coffee audience.
Cost
Atlas Coffee is only available via their subscription. They offer three coffee amounts that vary in cost:
Half Bag (6 oz): $9 + $5 shipping = $14.00 or $2.33 per ounce
Full Bag (12 oz): $14 + $5 shipping = $19.00 or $1.58 per ounce
Double Bag (24 oz): $28 + $5 shipping = $33.00 or $1.375 per ounce
At their smallest shipment size, the cost per ounce is quite high. At the full bag size though (which I assume most people would order), the cost per ounce is quite comparable or even a bit lower than many other coffee subscription services.
Note: shipping costs vary slightly, but are usually around $5, which is what I used for the calculations above. If you are an international customer, they add $6 to each shipping to cover the additional shipping costs.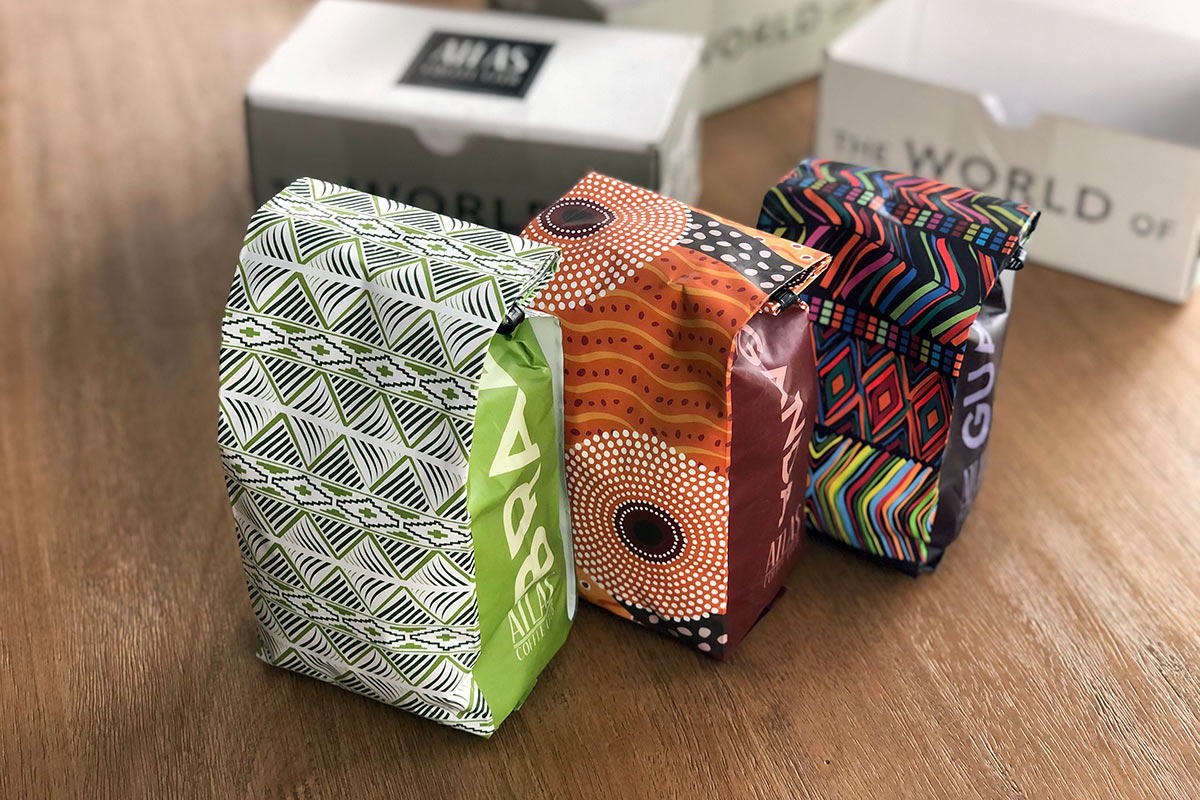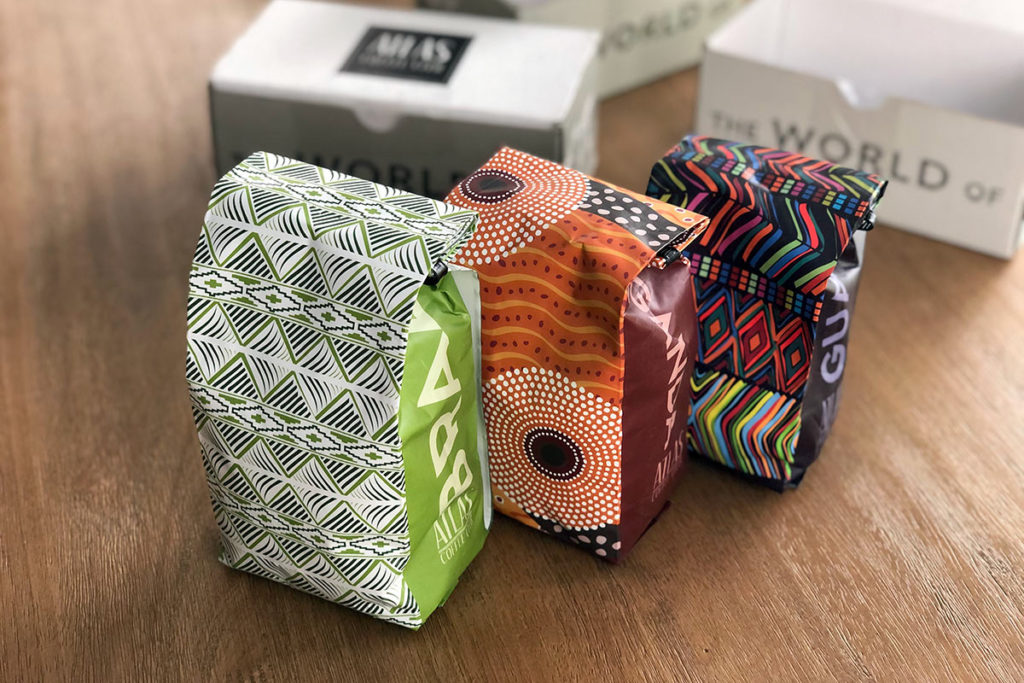 Customer Service
Atlas Coffee Club offers a robust FAQ page on their site, as well as email support and phone support where you can speak with a member of their support staff Monday – Friday 8am through 6pm CST.
The few interactions I had with their support received prompt, helpful replies within 12-24 hours. My third shipment was delayed with USPS and they contacted me before I realized it was an issue letting me know they were aware of the issue and eventually sent a replacement once it was clear it had been lost by USPS.
Ready to try Atlas Coffee Club?
Use code PULLANDPOUR50 to get 50% off your first bag.
User Experience
Atlas Coffee Club has a well designed website with an easy signup process. They offer you clearly laid out options to build your subscription (see Step 1 below). The site is built on Shopify, so the checkout is quick, standardized and secure.
Once signed up, they offer a fun and easy-to-use portal area (see screenshot in Customizations section below) that allows you to change any of your subscription options, as well as a variety of other options.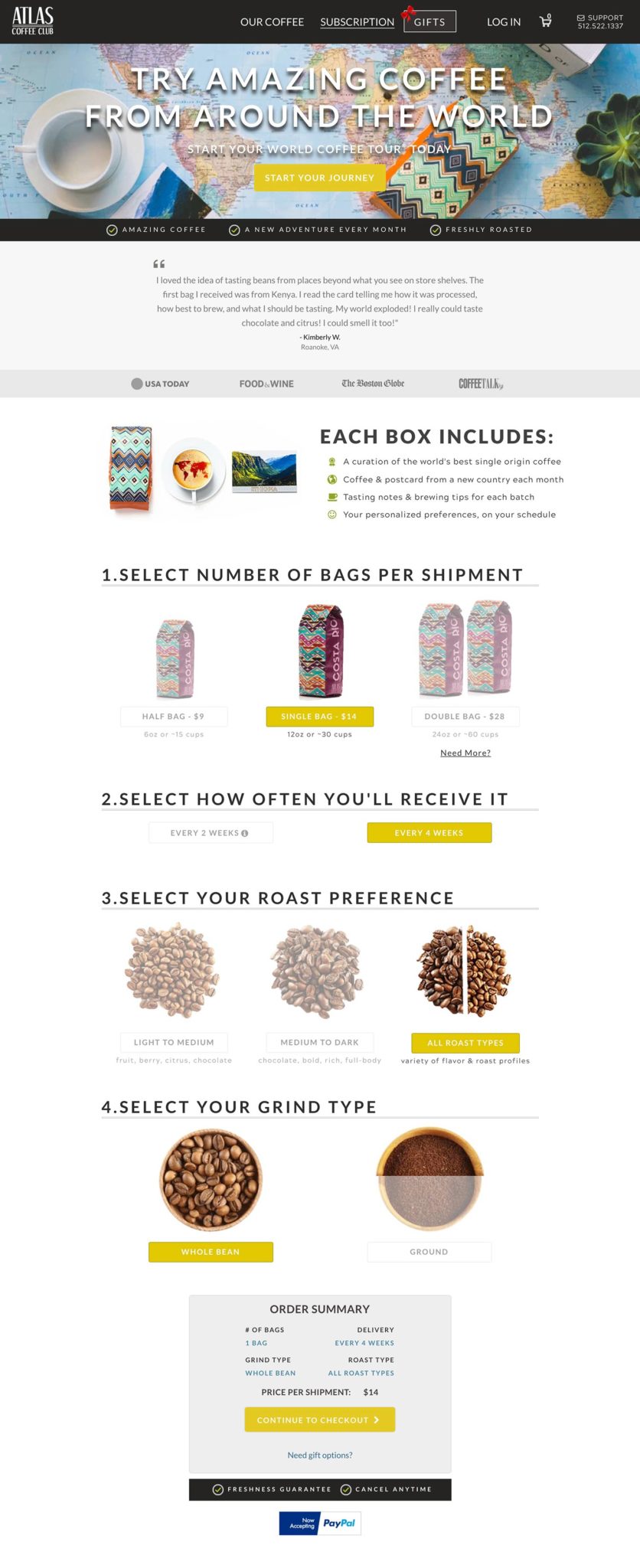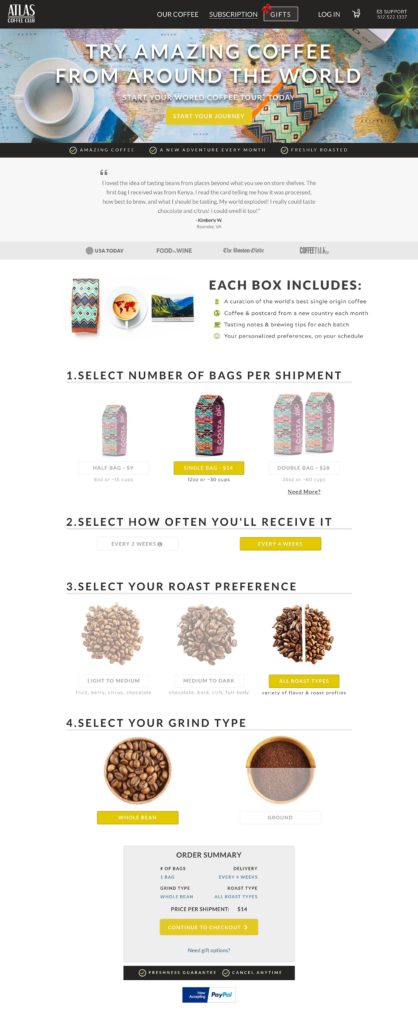 Customizations
Being able to easily customize your coffee subscription (how often coffee ships, the size of your shipment, what's included, etc.) is one of the most important features a coffee subscription can offer. Atlas Coffee Club offers members a variety of customizations that include:
Skip a shipment: You can choose to skip a shipment at any time and select the exact date you'd want the next shipment to ship.
Shipment size: You can select between 6oz, 12oz or 24oz (two 12oz bags) for every shipment.
Shipment frequency: At signup you can select a frequency of every two weeks or four weeks. Once you have signed up though, you can select between one and ten weeks as your frequency for every order within the user portal.
Grind: You can select between whole bean or ground for your subscription. Within ground though, there are no additional customizations for grind size.
Roast Level: You can select if you want light to medium, medium to dark or all roast levels for your subscription.
A few areas where you do not have additional customizations include:
Coffee: You do not have any customizations when it comes to the specific coffee you receive each month.
Origin: You are not able to customize your origin or origin preferences within your subscription. Origins change monthly and rotate from origins around the world.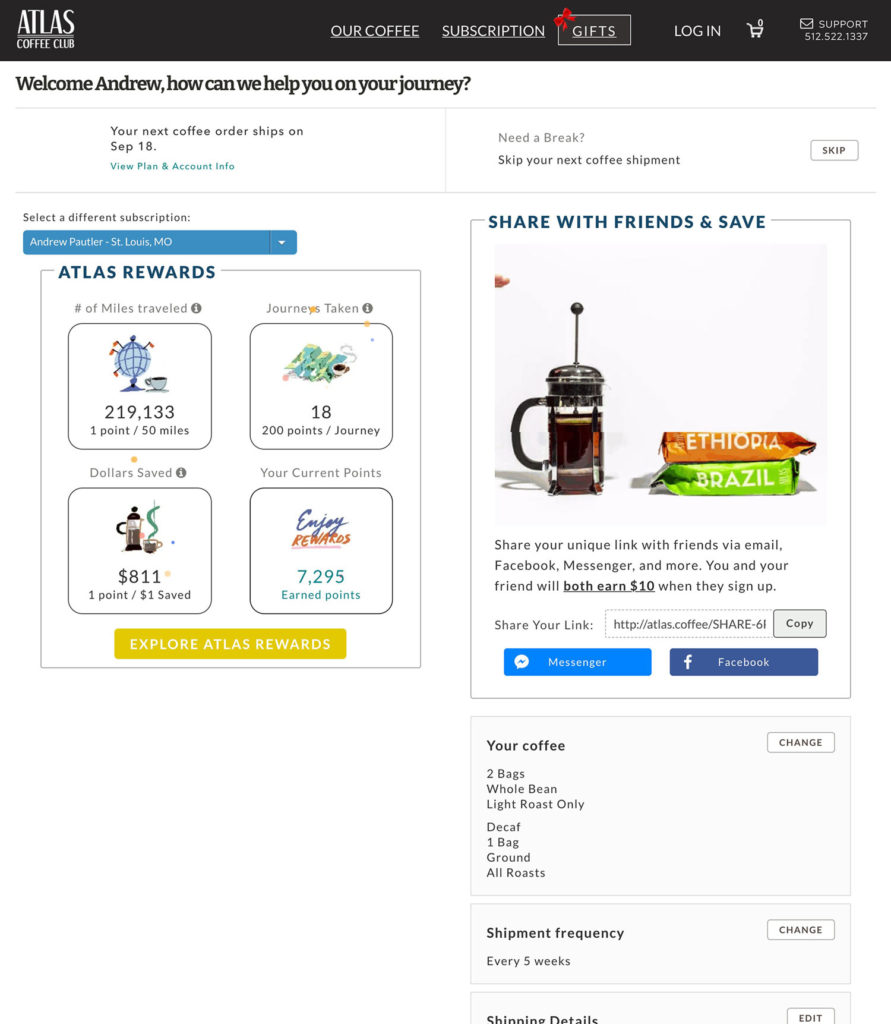 Coffee Quality
For anyone new to specialty coffee or unfamiliar with the different styles of coffee available from different origins, I think he/she would be very satisfied with the quality of coffee Atlas Coffee Club provides. As a coffee enthusiasts who has tried thousands of coffee from hundreds of roasters, I found the quality to be good, but not exceptional. Each of the coffees were approachable and highlighted the different styles of coffee unique to each region, but none were extraordinarily complex or unique.
Coffee Freshness
During the month a coffee is offered, it is roasted daily and shipped immediately to subscribers. It usually arrives to subscribers within 3-5 business days of roasting. This is about as fast as you can get any coffee from a subscription service (and actually is ideal timing to allow the coffee to degas after roasting).
Coffee Variety
Each month Atlas Coffee Club features a different coffee producing country around the world. There is only one coffee offered per month, but the origin varies month to month and they are intentional about having it be different each month. Within the three months of my subscription they jumped from Central America to Africa to South America.
Offering a single coffee per month (or a very limited number of coffees) is fairly common for subscription companies that roast their own coffee (and is somewhat assumed with a "coffee of the month" style subscription. Compared to other coffee subscriptions that essentially drop ship coffees from many other roasters though, the selection is much more limited.
Coffee Sourcing Standards
The coffee from Atlas Coffee Club is not certified organic, Fair Trade or any other sourcing standard certifications. That said, the values of Fair Trade and sustainability do seem to be important in the coffees they source. In their FAQ, they write "Fair trade and sustainability are things we care deeply about and is reflected in every coffee that we source and share with our subscribers." They also state that all the farms they work with "pay above 'fair-trade' prices"1
Packaging
Every delivery comes in an Atlas Coffee Club-branded box and includes:
A postcard about the country the coffee came from. The postcard has a beautiful photo on one side and general (non-coffee-specific) information on the back, as well as a place to actually write a note and send the postcard.
A card about the coffee that includes details about the origins coffee history, details about the growing region (name, processing, altitude), notes about the coffee, tasting notes, suggested brew method and roast level.
Patterned coffee bag. Each month the coffee comes packaged in a fun, patterned bag with the origin name large across the side. The bags are bright, exciting and one of the elements I think Atlas is most well-known for.
Differentiation
While Atlas Coffee Club shares many similarities with other subscription services, there are a few key differences:
"World Tour" of Coffee: Atlas Coffee Club's tagline is "Try coffee from around the world: coffee of the month club delivering exotic coffee to your door." While there is only one country per month, they intentional rotate countries around the world, so within even a few month period you will try coffee from multiple continents and coffee-producing origins.
Atlas-roasted coffee: Atlas Coffee Club only roasts and sends their own coffee, which means the only place to get the coffee you try in your subscription is through Atlas Coffee Club.
Rewards program: They offer a unique rewards system where you collect journeys (every month is a new journey) and miles travelled (you earn miles based on how far a coffee travelled). Journeys and miles travelled convert into points, which you can use to receive free shipping or discounts on future orders. It's a fun rewards system that plays into the larger Atlas Coffee Club brand of traveling around the world with your coffee.
The Bottom Line
Atlas Coffee Club is a fun coffee subscription that really embraces the global nature of coffee. They help subscribers embrace the different places coffee is grown from around the world and offer a "world tour" of some of the top coffee origins across the globe.
While their coffee is good, I don't know if it is at the same quality as some of the top tier speciality coffee roasters across the country. I think Atlas Coffee Club is the perfect subscription for someone relatively new to the world of specialty coffee and is looking for a curated experience to try coffee from around the world.
Ready to explore the wonderful world of coffee with Atlas Coffee Club?
Use code PULLANDPOUR50 to get 50% off your first bag.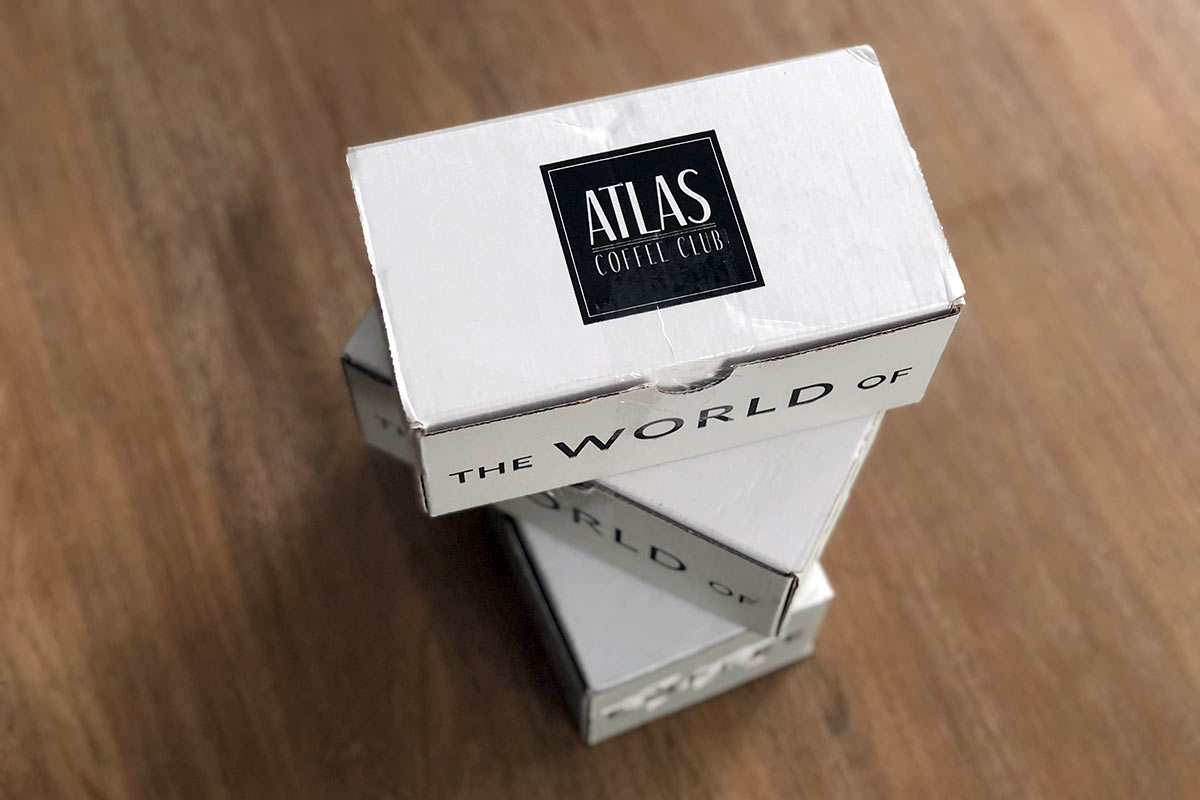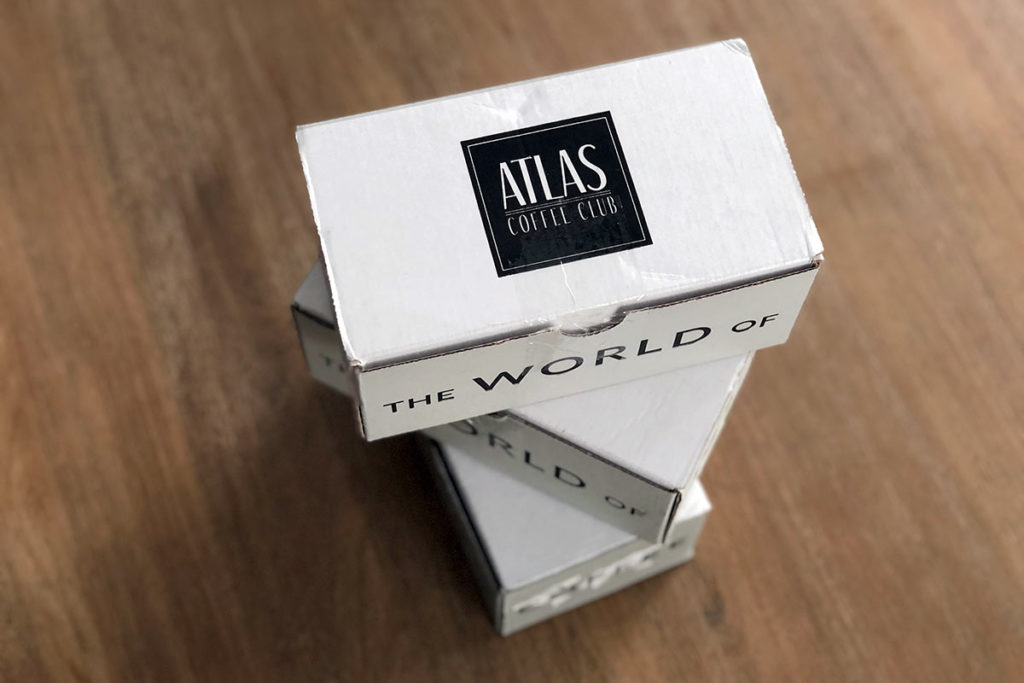 References
https://atlascoffeeclub.com/pages/faqs