Overview
Angel's Cup is a coffee subscription that positions itself more as an online coffee tasting club than a standard subscription. They partner with roasters around the country to offer blind tastings of various coffees in small sample sizes. They offer two subscription options; The Cupping Flight includes four 1.15oz samples for $10.99, and The Black Box includes four 2.75oz samples for $22.99.
The Coffees
Note: I received 2 shipments from Angels' Cup for this post, however, as always, all opinions are 100% my own. I received no compensation outside of the product itself.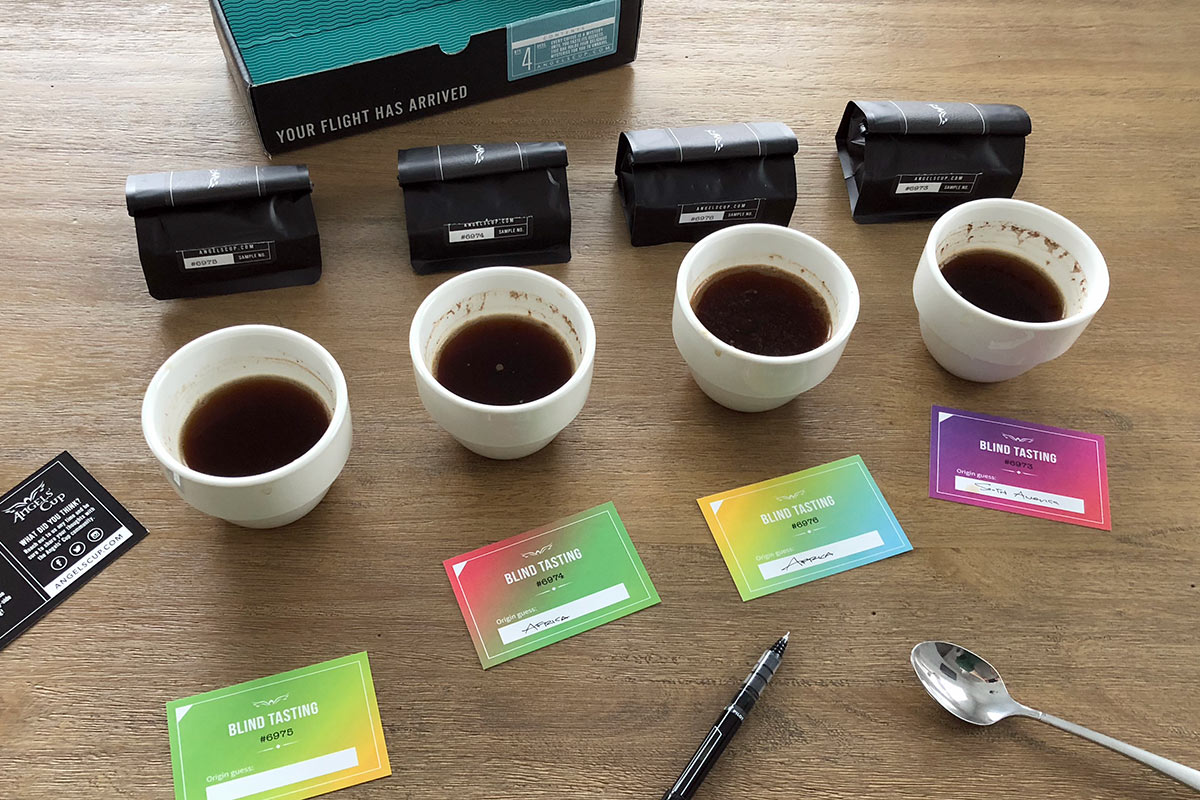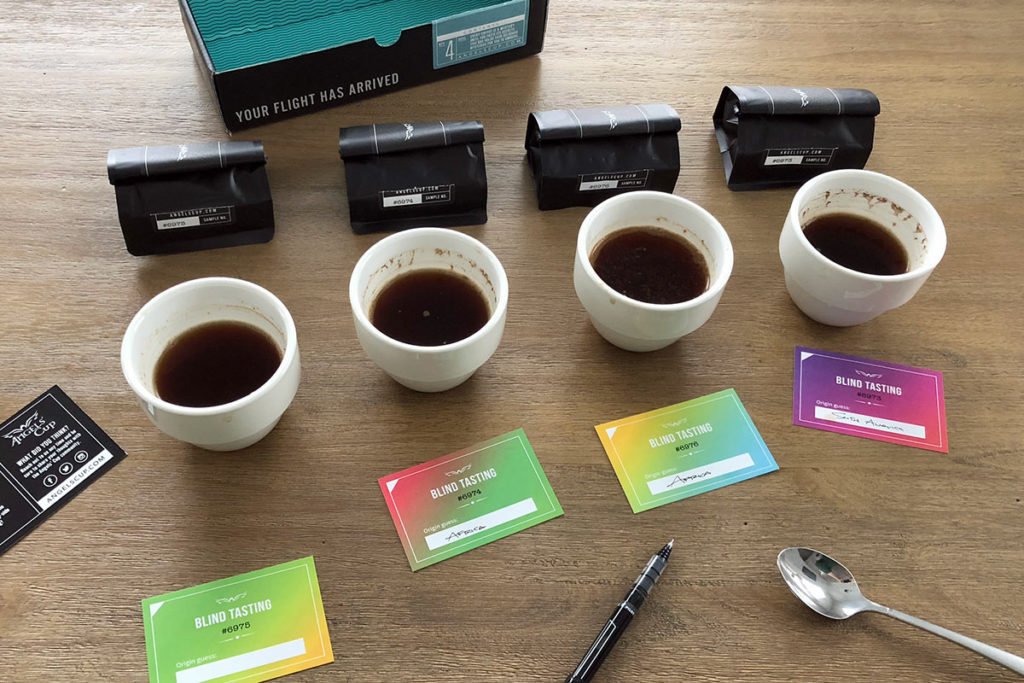 Delivery 1 – The Black Box #1
Every Black Box or Cupping Flight includes four samples of coffees that are identified by a number to allow for blind tasting and reviewing. In addition, each box comes with four blind tasting cards that has the coffee number and a place to write your origin guess on one side and some information about the coffee on the back (roaster, origin, processing, flavors and notes about the coffee). The first shipment also included a card which gave more information about Angels' Cup and how to use their app to record your notes about the coffee.

The first black box I received included the coffees #6973, 6974, 6975 and 6976. These coffees were:
#6973 – Honduras – Marcala Cual Bicicleta from Barrington Coffee
#6974 – Rwanda – Nyamasheke, Kanzu from Regalia Coffee
#6975 – Philippines – Sitio Belis from Paradise Coffee
#6976 – Uganda – Gibuzale, Snarf Snarf from Docent Coffee
These coffees varied in origin, processing and flavor profile. While some of them didn't align with the flavor profile of my "ideal" coffee, they were all very good, high-quality coffees. I also really enjoyed the challenge of identifying the coffees by their origin through the blind tasting.
Delivery 2 – The Black Box #2
The second black box I received included sample numbers: #7110, 7111, 7112, and 7113. These aligned with:
#7110 – Kenya – Kanguya from Land & Water Coffee
#7111 – Ethiopia – Kayon from Land & Water Coffee
#7112 – Ethiopia – Guji, Shakiso from Black Oak Coffee
#7113 – Zambia – Mafinga Hills from Black Oak Coffee
The second box was even better than the first. It included a less diverse set of coffee (only two roasters and all from Africa), but the origin and flavor profiles of this set aligned better with what I prefer, so I was very happy with this set.
---
Ready to try Angels' Cup?
Enjoy our exclusive Pull & Pour 25% off discount on your first delivery of a recurring subscription with the promo code: pullandpour25.
Cost
The cost for a subscription ranges from $10.99 to $22.99 depending on the plan you sign up for. The Cupping Flight is $10.99/shipment and includes a total of 4.6oz of coffee (four 32g samples). The Black Box is $22.99/shipment and includes a total of 11oz of coffee (four 78g samples). They also offer a single bag option (All Stars) that is $19.99 and includes 12oz of a single coffee. Shipping is free on every order (within the United States, shipping to Canada is $6), so the cost of the box is the final cost. Here is the breakdown of prices per ounce:
The Cupping Flight

4.6 ounces – $10.99 or $2.39 per ounce

The Black Box

11 ounces – $22.99 or $2.09 per ounce

All Stars

12 ounces – $19.99 or $1.67 per ounce
Given the price per ounce, I would usually rate the cost score a bit lower. That said, instead of a single coffee like you get in most subscription services, you get four unique samples from various roasters across the country, which makes the higher price per ounce more justified.

Customer Service
Angels' Cup offers both a FAQ page and a contact form throughout the site. Responses to my support requests were fast (even before it was clear I was interested in writing a review of the service). I spoke directly with Jeff (one of the co-founders) and was impressed with not only his response time, but his willingness to help throughout the process.
User Experience
The Angels' Cup website is well designed, professional and full of helpful information. The account area, while fairly sparse, was easy to use. I think what really sets Angels' Cup apart though is their free app that acted as a great companion when tasting the coffees. After downloading the app, you enter your coffee number and then it walks you through the process of reviewing it. They offer quick, basic or advanced options that go from simply recording notes and how much you enjoyed it in the quick mode to detailing each of the characteristics I usually comment on for reviews in their advanced mode. It was super easy to use and at the end allowed you to compare your scoring/notes with the actual roaster of the coffee.
Customization
Being able to easily control your subscription (the frequency of shipments, the size of your shipment, what's included, etc.) is one of the most important features these services offer.
Here's how Angels' Cup stacked up when it came to customization ability:

Pause Subscription: You can pause your subscription at any time and pick how many shipments you want to skip.
Shipment size: You can choose between the Cupping Flight (four 1oz samples), the Black Cup (four 2.75oz samples) or a full bag (12oz) and change your subscription at any time.
Shipment frequency: You can choose between weekly, every two weeks or monthly for shipments and change your frequency at any time.
Grind: Whole beans only, which I don't count as a negative because of the implications it has on quality, but does limit some people who do not have a (high-quality) coffee grinder.
Roast: They allow you to choose whether you prefer light, medium or dark roasts.
Coffee: This is the main area Angels' Cup falls short when it comes to customizations. You have no control over what coffees you receive each month. I think they'd consider that a positive versus a negative; the entire purpose of this subscription is to explore/taste new coffees and hone your coffee tasting skills. That said, it would be nice to be able to specify a favorite origin or profile to influence what coffees you receive.
Roasters: Coffees come from a large set of specialty coffee roasters from around the country. You don't have any control over what roasters you receive coffee from with a given shipment though.
Origin: All coffees are single-origin (no blends available) but from a variety of origins and producers across the world. You do not have any control over what origins you receive in a given shipment.
Additional customization: You can manage your account easily to track or skip shipments, order a full bag of one of your samples after trying it, and cancel anytime.
Coffee Quality
I'm not familiar with all of the roasters Angels' Cup works with, but I am familiar with a lot of them and they are some of the best roasters around. The eight coffees I tried included some really nice coffees that I think were on par with some of the best specialty coffee I've had recently. Now every box is different, so it's possible you'd get a roaster or a specific coffee that wasn't as high of quality, but from the coffees I tried and the options available, I was impressed.

Coffee Freshness
I received each of my shipments around a week after roasting. Given they need to receive the coffees from the roasters, re-package and then send them out, they probably can't get it to you much faster than that. They package the coffee on Mondays, ship on Tuesday and it usually arrives within 4-7 days. That could be faster, but given the smaller portions of each coffee, you should still be able to easily drink it all within a month of roasting (when the coffee is at its freshest).

Coffee Variety
The potential for variety with Angels' Cup is super high. They have almost 100 roasters they work with and multiple coffee options from each roaster. In the two boxes (eight coffees) I received, there were a total of seven regions, three processing methods, and six roasters. The only mark against the variety is you don't actually get to pick it. It is selected for you with each shipment, so you can't decide the variety you receive.

Coffee Sourcing Standards
Because Angels' Cup doesn't actually source or roast the coffee themselves, they are limited in what they can control with the sourcing standards. Besides choosing to work with roasters that focus on organic or farmer-friendly sourcing methods, they don't control the sourcing. That said, there were a few roasters on their list that I know focus on organic coffees only.

From their website, they say: "The best coffee (the kind we sell) is frequently organic and grown under natural shade (aka bird friendly), simply because the farmers can't afford fertilizers, pesticides, or to cut down trees….That being said, we don't source or roast the coffee ourselves, and we're not 100% sure about the growing conditions of every single coffee. But if you browse the roasters we work with, you'll see they're all responsible organizations that take pride in what they do and are aware of the impact they have on society."

If sourcing standards is the most important thing to you, it would be better to buy directly from roasters you know prioritize that because with Angels' Cup you could get coffee from those roasters, but you could also get coffee from other roasters that don't prioritize their sourcing standard.
Packaging
As a designer, I am a sucker for well-designed packaging. That said, when it comes to coffee, the packaging matters beyond how it looks; it can have a direct effect on the coffee. Read our post about coffee packaging to learn more.
Packaging: Both the Black Box and Cupping flight samples come in a larger box. The coffee was secure and without an issue of damage during shipping.
Container/package: Neither packaging (for the Cupping Flight or Black Box) includes a one-way valve, which usually is essential for fresh coffee. Given the small quantities of the coffee and the rate it will likely be drank, it probably isn't as big of a deal as it is with full bags.
Design: The overall design (packaging, tasting cards, coffee bags, etc.) has been updated recently. It is slick, professional and well-designed. The box & a card inside include helpful step-by-step instructions on how to use the app to review the coffee. The cards include clearly laid out information about the coffee and the roaster.
Roast Date: Each coffee does include its roast date on the bag.
Differentiation
With so many coffee subscriptions available, it's important for services to differentiate themselves from others. Angels' Cup differentiates themselves in three ways:
Blind Coffee Tasting: Tasting the coffees and guessing where they are from is a unique feature Angels' Cup offers that adds an extra level of fun.
Coffee Notes: They offer a great app that allows you to take detailed notes of your coffee and compare them with the roastmaster and others.
Roaster Variety: Offering coffee from 90+ roasters isn't completely unique to Angels' Cup, but it does help differentiate it from a lot of other subscriptions available that have a much more limited selection.
Ready to try Angels' Cup?
Enjoy our exclusive Pull & Pour 25% off discount on your first delivery of a recurring subscription with the promo code: pullandpour25.
The Bottom Line
This is the perfect coffee subscription for me. It allows you to try samples of coffee from roasters around the country in a more cost effective and efficient way than I would be able to do on my own. The blind tasting and ability to compare notes with the true roastmaster adds an extra level of gamification to the process, which is a lot of fun and tests your coffee-tasting skills. If I were to pick a subscription to subscribe to long-term, this would probably be it since I love trying new coffees.

All that said, this isn't the right subscription for everyone. If you are new to specialty coffee or still exploring what you like, this subscription could be overwhelming and a bit daunting.